Looking for an award that truly highlights your stand-out employee's achievements? EDCO has the industry's best selection of high-quality custom crystal awards that will help show your appreciation. Our unique designs are made with pure K9 optical crystal and will capture light perfectly, offering a stunning presentation in any environment. Our team has over 50 years of experience crafting beautiful awards for corporations across the country, and we are ready to help you customize the perfect award to celebrate your stand-out employees. Check out some of our finest awards for your top performing employees below.
Endless Appreciation Art Glass Award
The Endless Appreciation Art Glass Award is a one-of-a-kind glass award perfect for recognizing achievement. This beautiful design is crafted with hand-blown glass and features a uniquely intertwined spiral atop a clear crystal base. This award makes the perfect centerpiece that shows recognition and is stunning to all those who pass by. Your congratulatory message can be laser etched onto a black plate that matches this design perfectly. The Endless Appreciation Art Glass Award is the best corporate award for those who give it their all every day.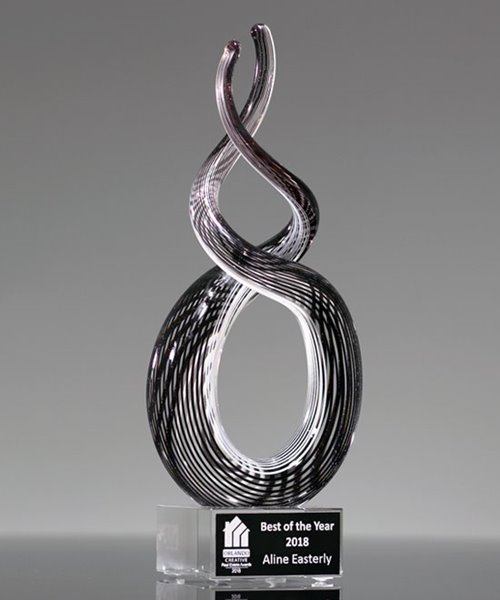 Clear Crystal Octagon Award
The Clear Crystal Octagon Award is a captivating premium quality award perfect for celebrating success. Made from our clear optical crystal, this design features wide diamond-faceted sides and a beveled base that reflects light in a beautiful prism of color. This design offers a large surface area for customization, allowing you to add your company logo and unique message with style. This beautiful crystal award will make a lasting impression on your stand-out employees. Order the Clear Crystal Octagon Award today!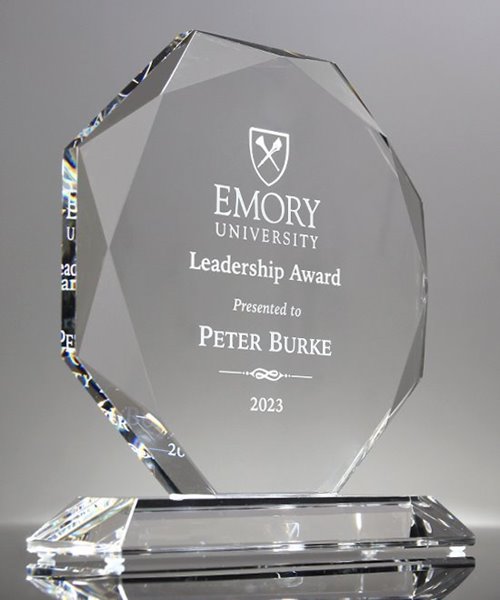 Accomplishment Peak Crystal Award
The Accomplishment Peak Crystal Award is perfect for those who rise to the top of your organization. This award is constructed with clear optical crystal and sits atop a colorful faceted base that reflects light beautifully. This design creates a beautiful prism and will be the star of your next award ceremony. Customization is available on both the base and body of the award, allowing you to show your added appreciation with a unique message. This award is perfect for an employee who always displays peak performance.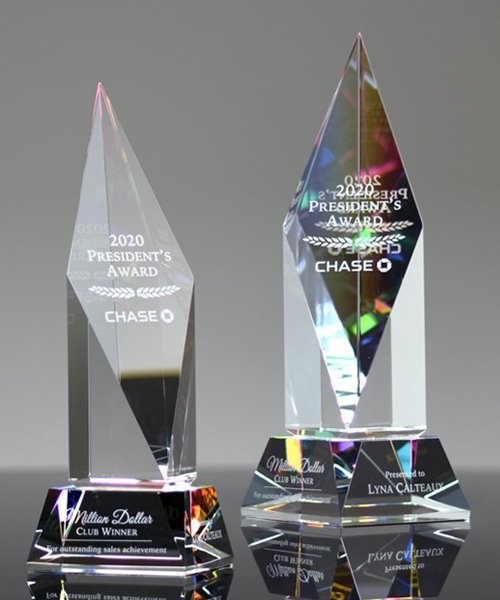 Crystal Triumph Award
The Crystal Triumph Award is a powerful and unique design that represents victory. Shaped in a victory tower, this bold crystal award is made from flawless optical crystal and sits atop a jet-black crystal base. The award has a large space available for customization, so you can add your company logo and an engraved message. It is the perfect award for celebrating your stand-out employees' next major milestone.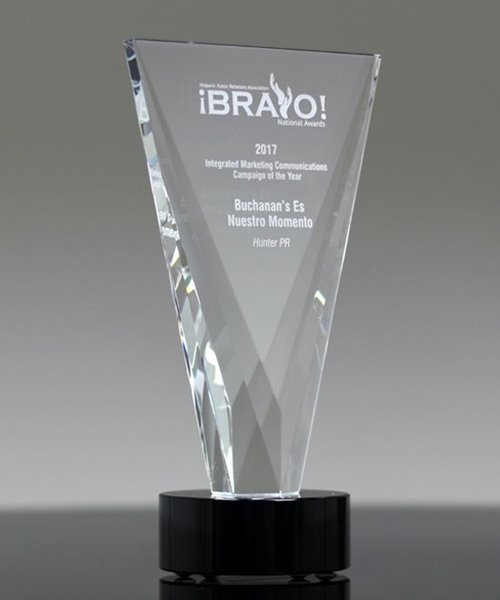 EDCO is your home for Corporate Awards. Our high-quality awards will be sure to impress and show your dedicated team the appreciation they deserve. Find the perfect award for your stand-out employees today.