When most people think of the rewards for corporate achievement, they think of trophies and plaques that are meant to be displayed on a desk or hung up on a wall, serving little other functional purposes. While these kinds of awards can certainly be stunning pieces of art that will convey how appreciative you are of the recipient's hard work, they shouldn't be the only kinds of awards your company gives out. A successful and robust employee recognition program includes a variety of employee recognition awards in addition to trophies and plaques like vases for several reasons.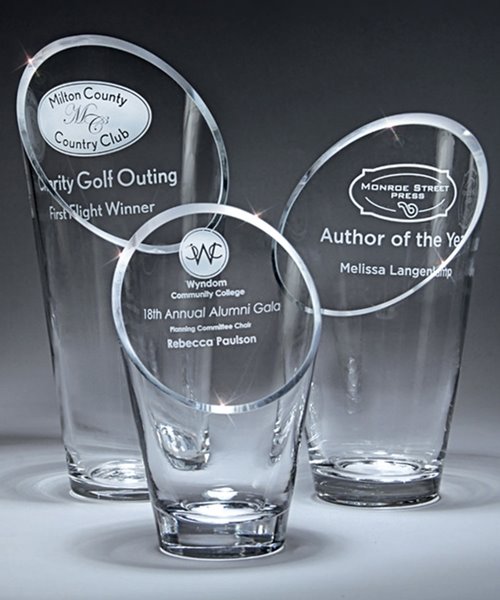 Why Reward Achievement with Vases?
There are many things your employees do that deserve recognition and appreciation, so why give out the same kind of awards for each instance? For example, if you want to recognize a salesperson of the year, you'd probably want the recipient to be gifted an award that's different than what the employee of the month gets. And if you want to celebrate an employee's 10th, 15th, or 20th year with the company, you likely want to give them a different award than the salesperson of the year. Different achievements like these carry different weight and mean different things to your company, and you can probably think of a variety of other accomplishments that vary in importance. Giving different awards out for different achievements makes each more meaningful and shows employees that you're truly paying attention to their efforts.
Another reason to diversify the awards in your employee recognition program with vases is that your employees will likely have different preferences. For example, a vase would be a great award for someone who always has flowers at their desk or someone who enjoys interior design and can use a vase for something unique. These gestures will show employees that you care about them, their efforts, and their interests.
Unlike most other employee recognition awards, vases actually serve a functional purpose. A vase can store more than flowers, they can also hold utensils, pens, potpourri, candles, herbs, and more. They are also something an employee can display and use for years to come. When you give an employee a vase, you give them an award that is both decorative and practical and looks great either way.
Beautiful Vases to Reward Corporate Achievement from EDCO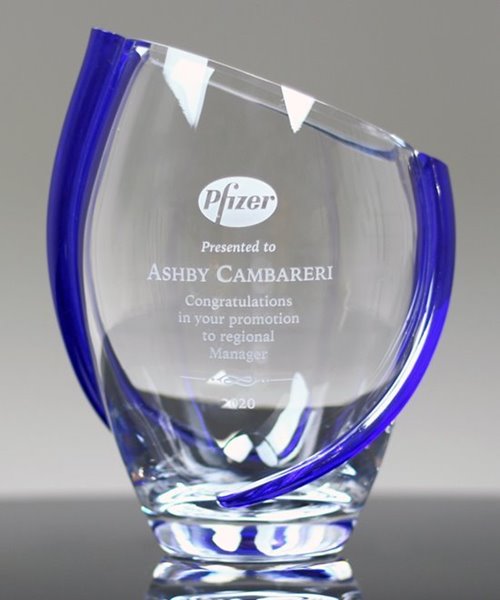 The Prestige Crystal Vase features a modern design with two cobalt swirls on either side. The curvaceous shape gives the vase a unique shape, and at 10 inches tall, it's large enough to fit a wide variety of different items. The size also means there's ample etching space so you can easily fit your company logo, the recipient's name, and a message thanking them for their efforts.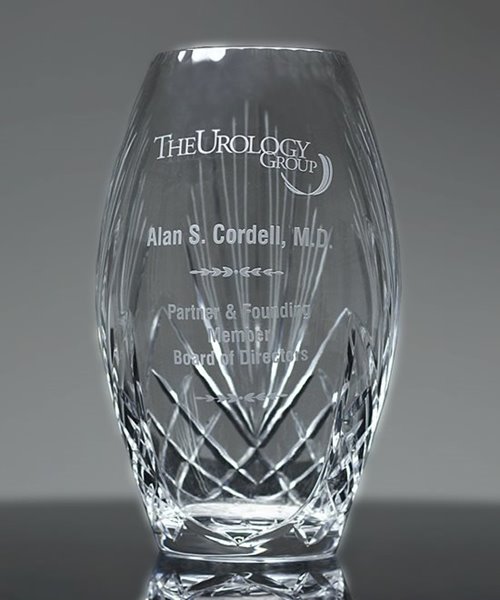 Majestic Crystal Vase
The Majestic Crystal Vase is just that – majestic. This beauty has been hand cut from 24% lead crystal and comes in two sizes – 10 inches or 12. Regardless of the size, this vase will beautifully reflect light and give the recipient a reminder of your appreciation every time they see the gorgeous rainbows it creates when the light hits it just right.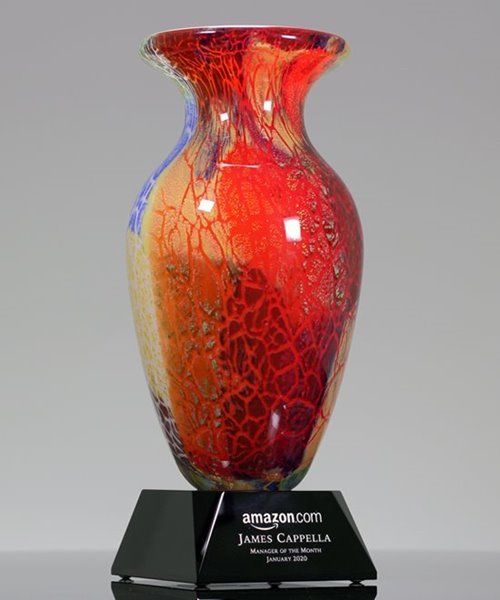 Chameleon Art Glass Trophy Vase
This gorgeous vase sits atop a black crystal base, making it the closest to a trophy of all the vases. The base features plenty of room for your company logo, the recipient's name, and whatever special message you'd like etched, but the real star of the show is the art glass vase itself. It features an intricately unique design with a mixture of different colors and patterns throughout, and the blowing process means no two are identical.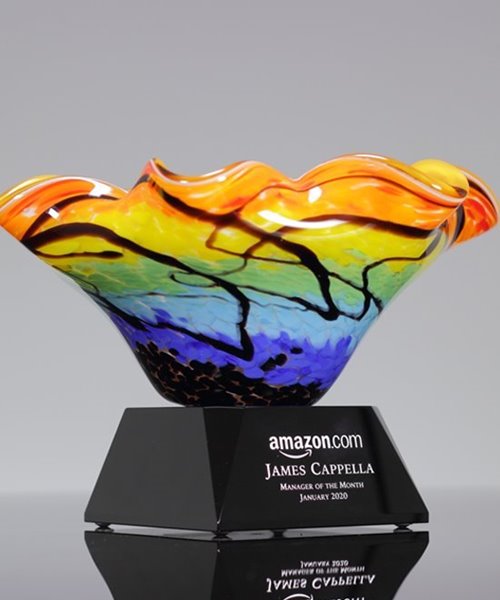 Fascination Art Glass Trophy
The Fascination Art Glass Trophy is aptly named because the recipient will be fascinated with the unique patterns created by the colors in the glass. As a result of the glass blowing process, no two are the same! The beautiful mosaic on the Poseidon Bowl is the star of the show, and it sits atop a black crystal vase where your company logo, the recipient's name, and your message will be etched.
When you need vases or any other kinds of awards to upgrade your employee recognition program, there's nowhere better to get them than the nation's leading supplier of recognition – EDCO. Shop our vast selection today!