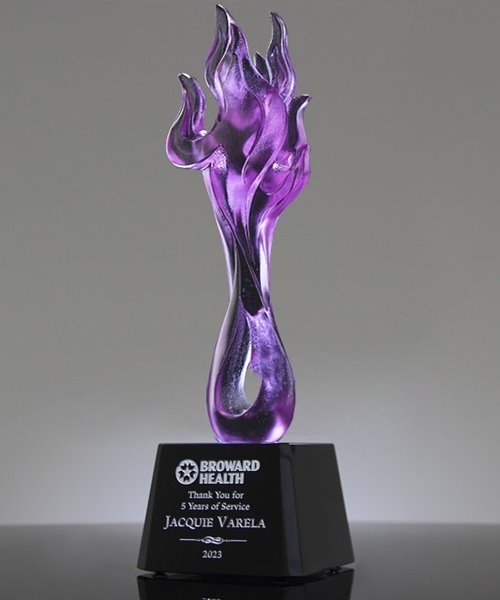 EDCO is the premier supplier of Colored Crystal Awards in the USA.
We take pride in creating memorable, personalized awards for employers to give recognition to their valued workers. Colored crystal awards are the perfect solution for those looking for a way to motivate and encourage their employees to continue their stellar performance!
Our colored crystal awards are artistic recognition trophies made of crystal and accented with marble, stainless metals, and ebony wood. Our unique collection includes fascinating crystal designs with dramatic streams of color.
Our awards are truly custom, and no two awards are exactly alike.
Each of our colored crystal awards also includes custom engravings and inscriptions, custom wording, and the option to drop-ship awards directly to individual employees.
Our colored crystal awards selection includes: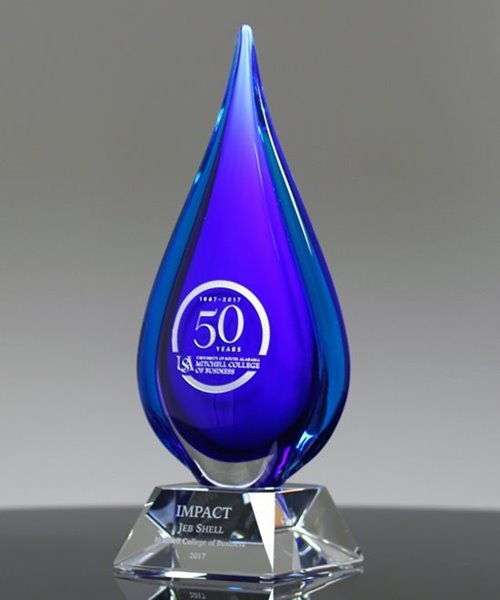 We offer a suite of over 170 blue crystal awards and trophies in a variety of hues and shapes. With dozens of premium artisanal designs, you are sure to find a blue crystal award perfect for your employee recognition program. 
Among our most popular blue crystal awards are the Luminous Blue Crystal Award, the Euphoria Crystal Award (pictured), and the Azure Fontana Vase.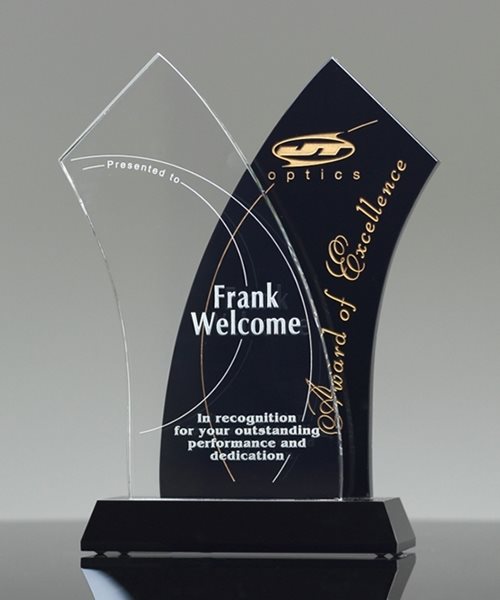 Black crystal awards work as great employee appreciation tools for any business. From simple plaques to elegant shapes featuring eagles and horses, we have exactly the type of sleek black crystal award you are looking for.
A few of our recommended black crystal awards include the Tuxedo Wave Crystal Award (pictured), the Rising Diamond Crystal Award, and the Encore Black Crystal Award.
Multicolor crystal awards are great when the time comes for employee appreciation. The use of multiple colors, figures, and shapes make these particular crystal awards stand out like no others. We offer a range of premier options for any business seeking to recognize employees with something special. 
Some of our favorite multicolor crystal awards we offer include the Opulent Whirl Crystal Award (pictured), the Forever Art Glass Award, and the Spectra Art Glass Trophy Vase.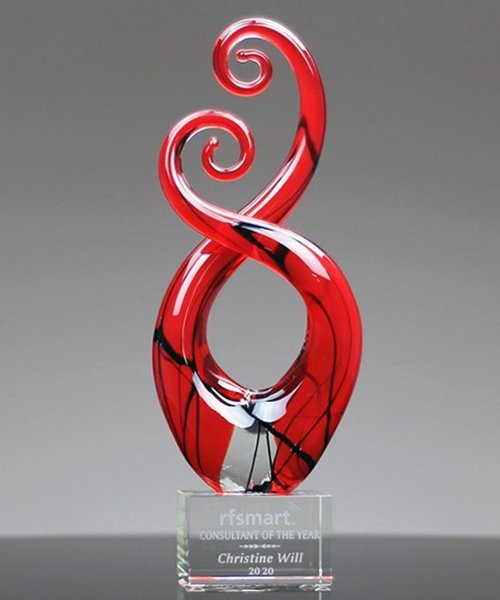 Red crystal awards feature many designs that revolve around flames and hearts, which make them an excellent choice for appreciating passionate employees. We also offer red crystal trophies in many different geometric shapes, plus even a Red Apple Award for teachers!
Three of our ideal choices for red crystal awards would include the Red Gem Diamond Award, the Harmonia Art Glass Award (pictured), and the Heart of Life Crystal Award.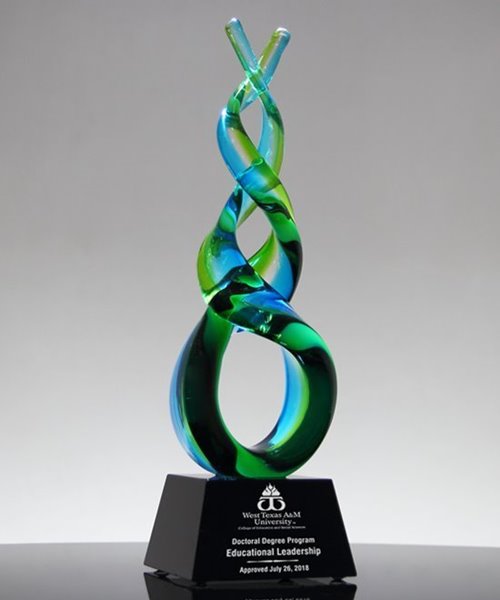 Many of our green crystal awards feature flame shapes that communicate energy, but they also come in a variety of other unique styles that will stand out and make your employees feel appreciated. Like all of our crystal award offerings, we have several high-end designs available.
The three green crystal awards we recommend for employee recognition would be the Green Crystal Monolith Award, the Serenity Helix Art Crystal Award (pictured), and the Laguna Green Flame Award.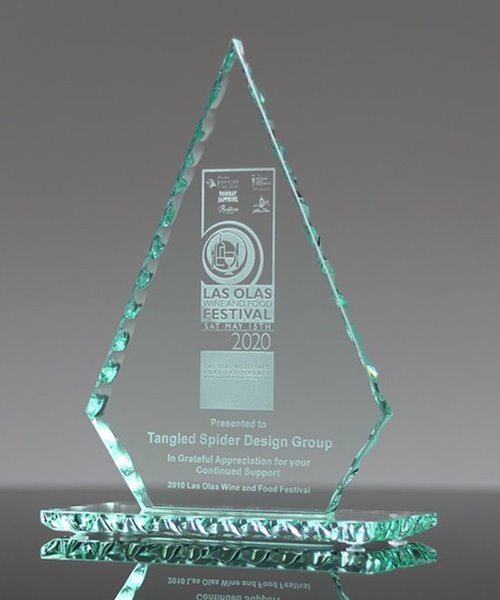 Jade glass awards are some of our most popular bulk-order trophies at EDCO. Jade's abundance makes it an excellent option for large corporations seeking to reward numerous employees for their efforts. We offer jade glass award plaques as well as more exquisite designs that include other shapes, materials, and even clocks!
Some of our most sought-after jade glass awards include the Jade Glass Tower Award, the Jade Glass Circle Award, and our Jade Glass Conquest Award (pictured).
Explore More EDCO Colored Glass Awards
Explore our collection of Colored Crystal Awards to find the perfect trophies for your employee rewards program.
At EDCO, we offer convenient shipping across the entire USA as well as drop-shipping!