For most companies there will come a time when a dedicated employee will decide to retire. Most will never ask for it, but nothing makes a retiree feel more valued than a proper send-off. It may hurt initially to lose such a great worker, but showing respect and appreciation during their transition goes a long way. If you aren't sure about how to properly thank them for all of their hard work, EDCO offers many different trophies, awards, and plaques to help recognize employee dedication.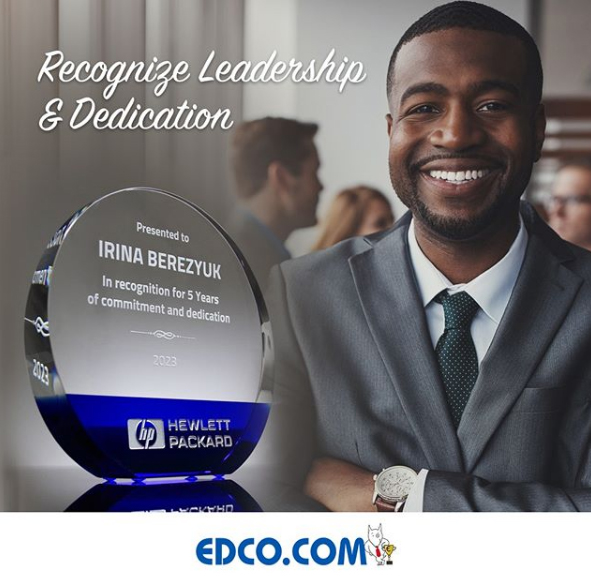 Give them something to remember.

A great way to make a retiree feel important is to give them some sort of physical reminder of your appreciation. A recognition award, trophy or plaque is a great way to show your appreciation. If you feel it is appropriate, you can even add a custom engraving to make it more personal. Include wording that indicates appreciation for the value they brought to the company. When you present the award, take a few quality photos. This can also be gifted later to remember their special moments. You never know what will end up on their mantle.

Find out their numbers.

Most employees that are planning to retire have spent a number of years working for the company. It would be a great idea to find out the exact number of years they've been there (brownie points for knowing their start date). Recount any major milestones they contributed to or achieved on their own. Find out how many new employees they trained, how many sales they made, their production numbers, or that huge merger they were so crucial during. This information could be put on an award or mentioned in a speech to show them they matter.

Consider your company's culture.

When thinking of how to send off a retiree, especially if you are considering a party, think of the culture within your company. A smaller company would probably enjoy a potluck during lunch. A bigger, more corporate company may do a small catered lunch. Maybe a more formal after-hours office event would be better. Would it be more fitting to take a moment from a bigger company event, like a picnic or holiday party, to commemorate them? Think about what would be appropriate within your office without seeming too over the top or like you did not care at all. This is also a great time to be able to present them with their engraved award in front of the whole company.
Showing appreciation for long-time employees is a wonderful practice. Not only does it show that you are a caring employer, but it boosts morale for other workers. It shows the retiring employee and current employees that their company cares for all their hard work.