Importance of Customization
You know the value in giving out employee appreciation awards and having a robust employee recognition program for acknowledging the hard work, dedication, and achievements of your employees, but do you know why customizing the award you give you is so important? Customization is something every company needs to consider when giving out employee recognition awards, and it's important for several reasons.
Employees are more appreciative of custom awards: Think about how you would feel about receiving a trophy not only with your name on it but with a message that resonates with you – maybe a quote you live by or an inside joke you have with a colleague – versus a trophy with just a company logo or generic messaging like "employee of the month" or "thank you for X years of service." You'd appreciate the customized trophy much more than the latter option, right? Well, so will your employees.
Customization makes an award more meaningful: Want to ensure your employee appreciation awards are super meaningful? Get a customized award from EDCO! Presenting an employee with a customized award shows that you've truly put time and effort into recognizing them rather than just quickly finding something online that'll work and checking it off your to-do list. This makes the award all the more meaningful and makes the gesture itself feel much more genuine. When we say that customization gives an award more meaning, we mean this in the literal and figurative sense. Customizing an award with the recipient's name, their title, a short message of appreciation that they can relate to, and your company's logo communicates a lot more than an award without customization, giving it more meaning in the literal sense. It also carries more meaning figuratively because employees will recognize the extra time and effort the company put in to get the award customized.
Customization makes employees feel valued as people: In addition to this, customized awards also help employees feel seen and shows them that the company sees them for who they are and values them as a person in addition to the work they do. You want to feel valued as a person and for the work that you do too, right? In turn, this can make employees more loyal and less likely to seek employment opportunities elsewhere.
You might worry that customizing awards and trophies can get expensive and that, despite the benefits, it wouldn't be cost-effective to do so, but the affordability of customization might surprise you. At EDCO, we offer a variety of cost-effective options in materials like glass, crystal, acrylic, and more, and all come with free engraving! Need high-quality custom awards that fit within your budget? Shop with EDCO, and you can enjoy all the benefits of giving out custom awards without spending a fortune on them.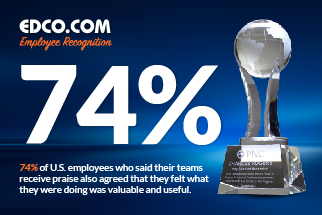 Selecting the right trophy based on an employee's personality
In addition to taking the time to come up with unique messaging to be engraved on the award that resonates with the recipient, you should also take the time to find an award that matches their personality. There's obviously a degree of subjectivity at play here, and you know your employees better than we do, but consider some of our suggestions for inspiration.
Do you have an employee that's always positive and cheerful, no matter the situation? They deserve an award that's just as bright and radiant as they are, like our Synergy Flame Crystal award.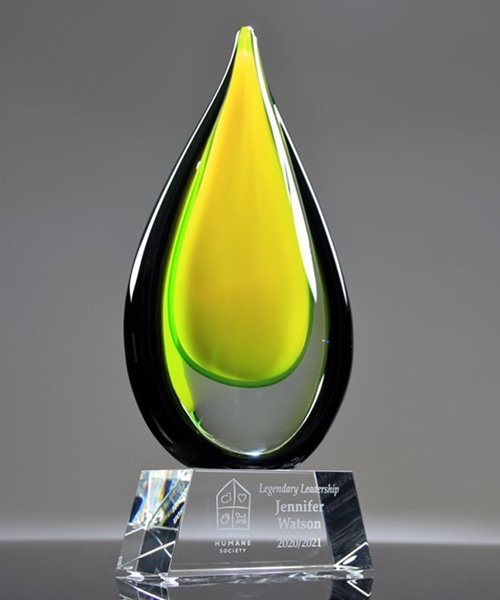 Is one of your recipients an innovator that is always looking for ways your operations can be improved and always generating ideas that make your business better? One of our lightbulb award trophies would be perfect for them!
Do you have an employee with a winning attitude that always takes on challenges head-on? Consider getting them one of our Premium Trophies that reflects the winner that they are.
Is there one person on your staff that is just so passionate about what they do that they inspire everyone else? Award them with an Artful Heart of Life Crystal to represent that passion they have for their work!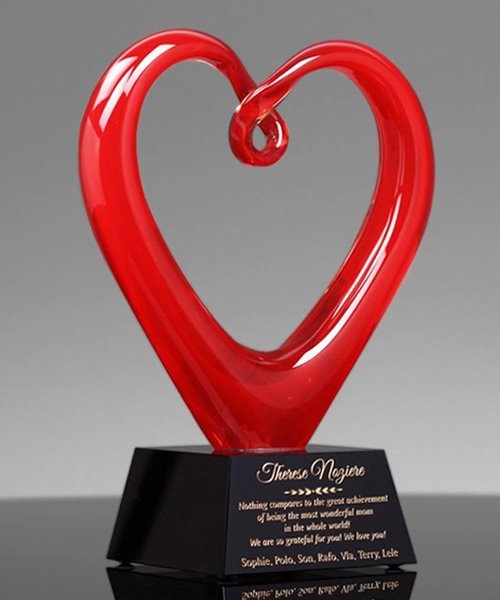 How to write a custom message
Once you have your award that matches the recipient's personality picked out, your next step is to write the custom message that will be engraved. This is arguably the most important part of the award, so you want to ensure it effectively expresses your appreciation in a way that will resonate with the recipient. However, considering there is only so much space available on the award, figuring out the message can be tricky. Additionally, sometimes it can be hard to find the right words. Not everyone is a wordsmith, and there are times when you have writers block and just can't figure out a way to properly convey your feelings into words. Here at EDCO, we're more than just an employee recognition and appreciation award manufacturer – we're experts in all things appreciation and recognition. We've helped a wide variety of clients come up with custom messages to put on awards, trophies, and plaques that make them something their recipients will cherish.
Do you need help writing a custom message for an employee appreciation award? Obviously, you know what would resonate with individual employees better than we would, but check out some of these wording examples from us below if you need a little inspiration.
Message ideas for employee of the month awards

We are consistently blown away by your performance. Thank you for all your great work!
Every company wishes they had an employee like you. We're glad you chose to work for us!
Your hard work inspires us every day! Thank you for all that you do!
Your outstanding performance pushes the company to new heights. We couldn't do it without you!

Message ideas for recognizing the achievement of a specific goal

We noticed that you've been working so hard towards this, and we're so proud of you for achieving it!
We're consistently amazed by your work and the results you produce.
You've been working towards accomplishing this for a long time, and we couldn't be happier for your success!
Thanks to your hard work, we were able to move forward with the mission quicker than anticipated. Thank you!

Message ideas for acknowledging a great attitude in the workplace

Thank you for always making us smile. You boost everyone's spirits when they need it most!
Your attitude has made a tremendous positive impact on our team. Thank you for being you!
Having you and your great attitude with our company truly makes a difference. Thank you for all you do and for being yourself.
Employees like you make our company what it is. We can't thank you enough for being the best version of yourself at work every day.

Message ideas for acknowledging a work anniversary or years of service

It's been a great ride these past X years, and we look forward to what the future holds!
We appreciate your loyalty to us, and we couldn't ask for a better employee. Thank you for X years of service!
Happy workiversary! We're so lucky to have you working for us these past X years. Looking forward to celebrating many more to come!
X years of service – time sure flies! Thank you for everything you've done in that time and your loyalty to our company.

Message ideas for acknowledging unique skills

Thank you for everything you bring to the table. Our company wouldn't be the same without you!
Your unique skills are invaluable to the company! We're glad you're putting them to work for us.

Message ideas for teamwork

Teamwork is what gives our company an edge, and it doesn't get any better than your team!
Our company wouldn't be the same without your team. Thank you for your hard work and dedication!
Your team believes in each other, and we believe in you. Thank you for your team's amazing work!
It's thanks to your team that we're able to enjoy the success we've achieved.
Never doubt the power of a dedicated group of individuals who all believe in and trust each other. Thank you for all the amazing things your team has done!

Message ideas for retirement awards

Thank you for your X years with our company, and enjoy your retirement – you've earned it!
We're sad to see you go but happy that you can now enjoy life to the fullest. Enjoy retirement!
Best wishes and congratulations on your retirement from all of us!
Congratulations on a well-deserved retirement after X years of dedicated service to our company!
In recognition of X years of hard work, dedication, leadership, and loyalty. Thank you for everything you've given the company. Enjoy your retirement!

Message ideas for recognizing leadership

A team is only as good as its leader, and you're a good one!
You set the standard and inspire everyone on your team. Thank you for your amazing leadership!
Your leadership is building our future and helping the company grow. We couldn't be more thankful!
You truly lead by example – thank you for inspiring so many with your hard work and dedication to the company!

Message ideas for employee of the year

In honor of your outstanding performance this year and commitment to success. Thank you for all that you've done!
You made X a great year for the company, and we wouldn't have enjoyed the same success without you!
In recognition of all the excellent work you did this year. Thank you!
X was the best year the company has ever had, and you were a big reason why! We couldn't have done it without you.
Some of our Favorite Customizable Awards
Once you've figured out the right wording for an award, it's time to choose an award shape/type that reflects the idea behind it. At EDCO, we have hundreds of different awards in varying styles, shapes, and materials, so you can find one that matches the messaging. We wanted to highlight a few of our favorites that are very versatile and can work for a wide variety of occasions.
Elemental Pyramid Award: Constructed with a beautifully clear optical crystal, the Elemental Pyramid Award is accented with deep blue crystal risers that separate the pyramid into three parts. This award can be used to recognize employees that exemplify your company's core values, are quickly rising through the ranks of your organization, or has accomplished accomplish certain goals. It also offers a lot of space for custom engraving, and each segmented level can be engraved, making it a great choice for your needs if you have a longer custom message.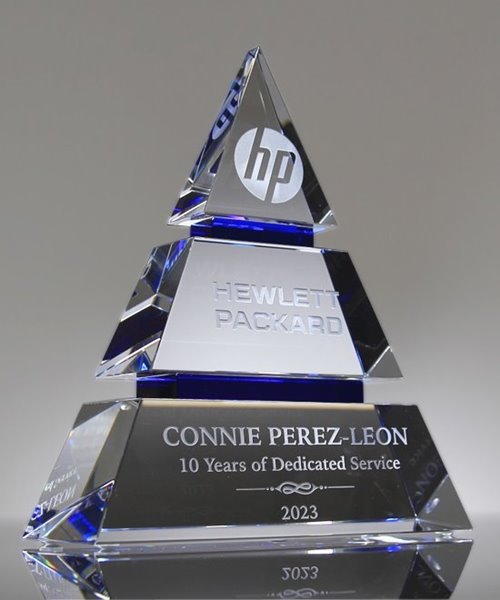 Team Perspective Crystal Award: If you're presenting an award to an entire team or an employee that has shown excellent teamwork skills, you should definitely consider the Team Perspective Crystal Award. The unique design features a team of two constructed from brushed aluminum pushing a circular globe up to the apex of the crystal, symbolizing the teamwork that pushes the company and/or other employees towards success.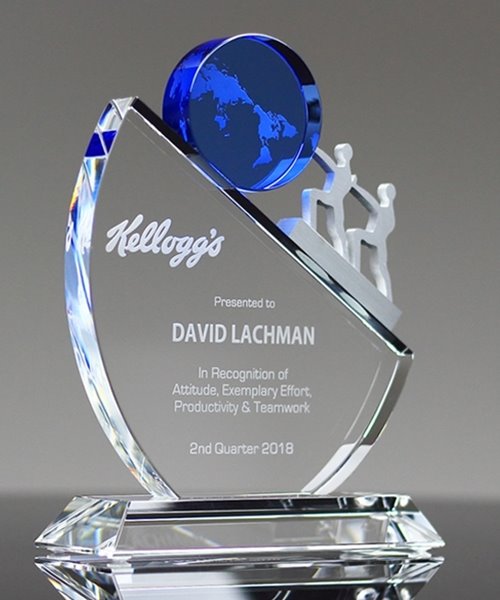 Apex Obelisk Crystal Award: The Apex Obelisk Award is truly a stunning piece, and anyone who receives it will be sure to cherish and appreciate it. The obelisk itself stands at 10 inches tall, and the bevels reflect light beautifully when hit at the right angle. The base the obelisk stands on offers plenty of room for your custom message to be etched. The impeccable design and craftsmanship make this one of our most popular awards and it's perfect for leaders and employees that have risen above their peers with excellent service.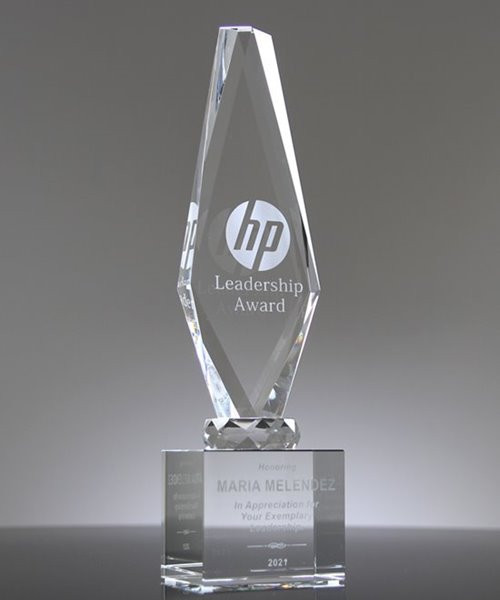 Ambient Gold Acrylic Hexagon Award
Whether it's sales, customer service, or something else, if you want to recognize outstanding performance, the Ambient Gold Acrylic Hexagon Award is an equally outstanding way to do so. The award is mostly clear crystal, but it has a gold accent at the top and bottom that really makes it stand out. Choose from two different sizes, both of which have ample room for engraving.