What are our top eye-catching crystal awards of 2021? Read on to find out and learn why crystal is far superior to glass!
When it comes to employee recognition plaques and trophies, crystal awards are among the most popular and for good reason – they're not just stronger and more transparent than glass but they can be molded into a variety of shapes. While both start out as melted sand before becoming the firm, clear material we're familiar with crystal contains 20-30% more lead and it's this higher concentration of minerals that makes it clearer and far more durable than glass. The density of minerals also means a crystal award will weigh more than glass, making it seem far more significant than a glass award. Both literally and metaphorically, crystal awards will communicate how appreciative you are of your employees' efforts. The larger number of minerals could lead one to believe that crystal awards are less visually appealing and transparent than glass, but this isn't the case. Crystal actually is much glossier and transparent because of these minerals and they give the material qualities than mimic those of a prism, refracting light and transforming it into a wonderful rainbow. There should be no debate – crystal awards are just more sparkly and visually appealing than glass awards.
So crystal awards are clearly the best, but what awards are the best of the best? Here, we'll briefly go over some of our top eye-catching crystal awards of 2021 so if you're thinking of starting an employee recognition program or upgrading an existing one you know which to check out first.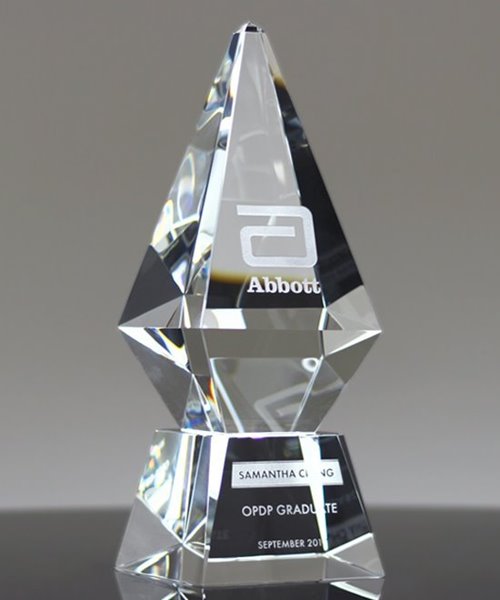 Excellence Award Crystal Obelisk
This stunning excellence award is perfect for honoring the top performers in your company. The refined obelisk design is truly a masterpiece to behold and is constructed all from the highest quality optical crystal we could find. Your company logo, or whatever image you desire, can be deep etched into the award's top imprint location and your custom message can be etched on the bottom. If you're looking for an award with wow factor, this is the one.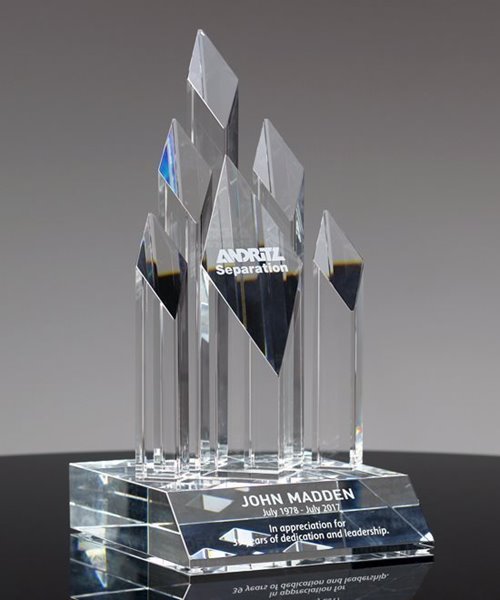 Crafted with a variety of detailed cuts and bevels, this gorgeous award is incredible at refracting light, making it one of the most eye-catching crystal awards we offer. The most forward facing, center diamond can be etched and there is a larger etching spot on the base. In addition to being one of the most stunning awards we offer it's also one of the heaviest at 15 pounds.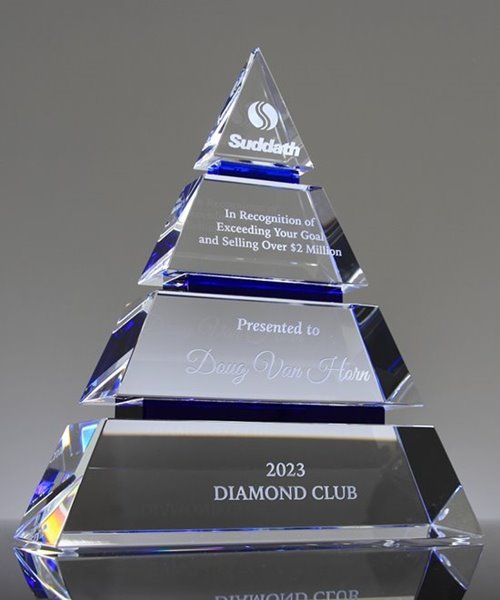 The pyramid shape of this award makes a great for honoring big accomplishments, perfect for the person who has risen to the top. It offers etching areas at all four levels. Standing at 10 inches tall and weighing nearly 11 pounds, it's a sight to behold!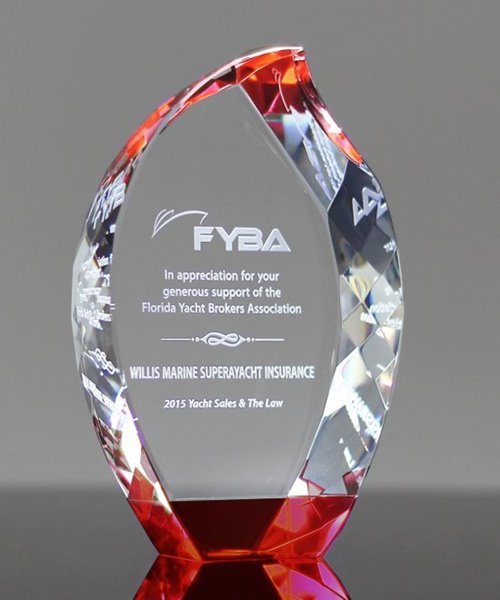 Diamond Edge Flame Red Crystal Award
This award has a deep red crystal base and has been specially crafted to reflect light and carry a red hue all throughout the body. If you're looking for an award with a pop of color that'll stand out from all the other clear crystal awards out there, this is the one for you.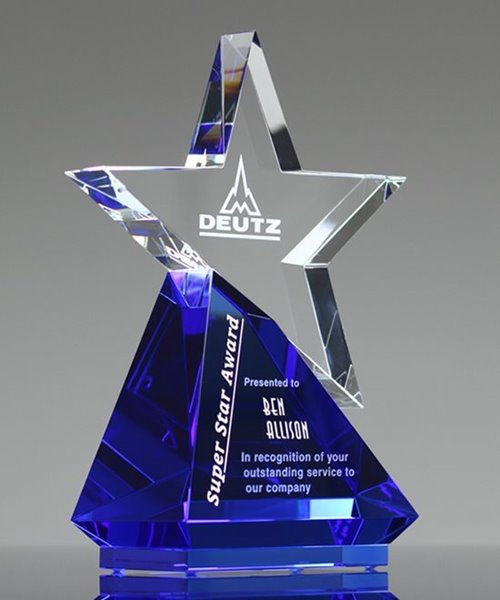 A perfect choice for honoring the shining star, or stars, in your office, this award features a deep blue base and crystal masterfully cut into the shape of a star for a truly one-of-a-kind design. The crystal itself is close to three inches deep in some places and at nine and a half inches tall it'll certainly make an impression.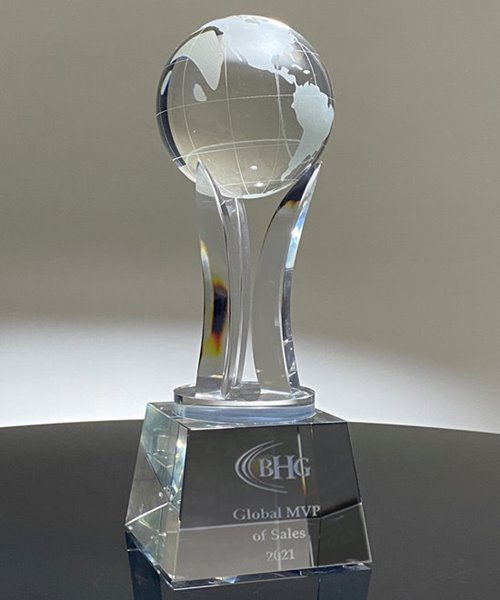 As the name would suggest, this award has a crystal model of the Earth which has been held up by three separate pieces of crystal that stretch upward and curve out. The model of our planet itself is four inches in diameter and includes the tri-pillar design refracts light beautifully.
No matter what award you decide needs to be incorporated into your company's employee recognition program, EDCO will ensure it's a high-quality product that the recipient will love. Shop our selection of high-quality crystal awards and more today!