It's no secret that employees will work harder, be more productive, and be more engaged in company culture when their efforts feel appreciated. People want to know that their work has meaning, and recognition from bosses and fellow co-workers does a lot to instill that sense of meaning in your employees. Many companies rely on their employee recognition programs to acknowledge the hard work their employees do, bestowing awards for leadership, adhering to company values, making the most sales, and more. These awards are appreciated by their recipients and inspire them and others to continue to bring the best version of themselves into the office every day and do great work.
For a company to enjoy all the benefits of employee recognition, these awards have to be significant and meaningful. Simply handing out cheaply made plastic trophies you've ordered in bulk from Amazon won't do, and employees will see right through the gesture. They may even feel insulted and undervalued, causing them to look for employment elsewhere. Getting substantial awards made from a material like crystal, glass, or wood that come with customization options are far and away the best way to show employees you appreciate them in a significant and meaningful way. Customization is especially important.
A customized award also shows that a company not only appreciates the work an employee does but appreciates them as an individual as well. Customized awards come with more meaning, so the recipient will feel more appreciated, and everyone will be more inspired. Here are just a few reasons why customized awards mean more in the corporate workplace:
Customization Gives the Award More Meaning
As previously mentioned, customizing an award gives it more meaning. This is true in both the literal and physical sense. An award engraved with the recipient's name, their title, a short message of appreciation, and featuring the company logo communicates more than an award without customization, literally giving it more meaning. It also carries more meaning because employees will recognize the company took the time to get the award personalized for them and paid a little extra to do so. A great example of this is our employee appreciation crystal blocks award.
Custom Awards Improve Employee Recognition at Work
You know how crucial employee recognition is in the workplace, and it takes different types of it to create a good office culture. There's peer-to-peer recognition which occurs on a daily basis, and then there's company recognition which is the rarer of the two. Giving out a custom award, such as our distinguished service crystal award, certainly qualifies as company recognition and getting custom awards for your top performers only adds to the amount of recognition employees receive.
Custom Awards Increase Loyalty
Employees that feel recognized and appreciated in meaningful ways are less likely to seek employment elsewhere. When you give out customized awards, you're showing your staff that you recognize the value they bring to the business, and it makes them more loyal to your organization. It also shows that you share the same values and vision and want them to be a crucial part of your company for years to come. A great way to accomplish this is to implement custom year of service awards for your employees.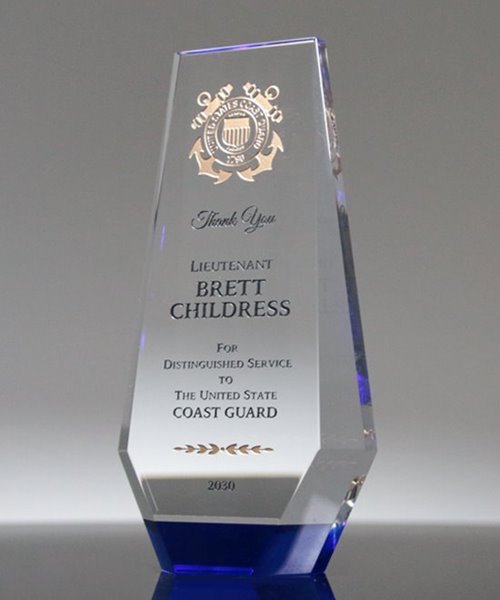 Custom Awards Offer a Shared Experience for Employees
In addition to wanting to feel that the work they do is meaningful, employees want to feel connected to their peers and the company itself. Giving out certain awards to different employees every year creates a shared experience, and the customization still lets each retain a sense of individuality. This will also create a bond between employees who have won the same award, and as the company grows, these groups will grow too. They will also give back to your organization with their industry knowledge, and the awards themselves will become even more prestigious as time goes on.
At EDCO, we recognize the value customized awards have for both employees and organizations, and that's why we have a wide variety of different awards and trophies that can be customized to suit your needs. Work with us on your next corporate award and create something your staff will cherish for years!