Successful business owners or presidents of operations know what their secret to success is, and they'll likely know the importance of building and maintaining an office culture that motivates employees. Motivated employees work more efficiently, produce higher quality work, and improve customer/client satisfaction. Motivated employees are less likely to be absent from work, and keeping employees motivated also helps employers retain talent. The benefits of motivating employees are very apparent, but the best ways to motivate them are far from obvious. While there are a variety of different ways to motivate employees, employee recognition awards are one of the best. So, why is motivating employees with awards important?
Awards Lead to More Productive Employees
Let's start with the obvious – motivating employees with awards is important because they make employees more productive, more engaged, and generally happier. People work harder when they know they're appreciated, and this couldn't be truer for the Millennials and Generation Z workers entering the workforce. These young workers aren't just looking for a fair wage and compensation benefits – they're also looking for meaningful and fulfilling work where they feel like what they do doesn't go unseen. Part of what makes a job meaningful is recognition for a job well done, and companies with robust employee appreciation programs that motivate their staff with awards will be more appealing to these younger generations of workers. As society and culture change, the workplace must as well. Employers that refuse to adapt and don't see the importance of motivating employees with awards will be left behind, if not completely go out of business because they can't find anyone who wants to work for them.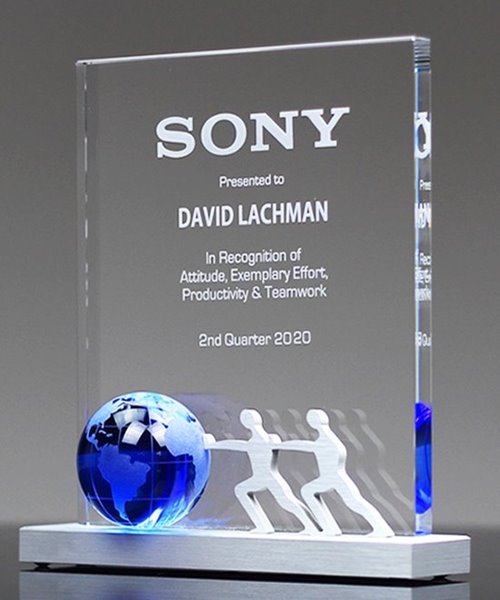 Recognition Is More Effective Than Discipline
Employee awards are also much better motivators than punishment. Employers are better served when focusing their efforts on rewarding employees for good actions rather than reprimanding employees for bad actions or making threats. This is not to say that employers should not take action when an employee steps out of line, fails to meet agreed upon expectations, or does not fulfill their duties, but this punishment should never be used to motivate others. Rather than threaten employees with what can happen to them if they do something wrong in an effort to motivate them, employers should motivate them with awards that show them what can happen when they go above and beyond and produce quality work.
It Pays Off to Award Employees
Motivating employees with awards is also important because it's the most cost-effective way of doing so. Essentially, employee awards are a win-win for the employees and the company. It's been said that actions speak louder than words, and this is especially true in the corporate world. Words of acknowledgment are great, but when these words are accompanied by an action like a bonus or promotion, the message is communicated to a greater degree, and employees truly feel as if their hard work is not just noticed and acknowledged but appreciated. When employees feel this way, they are more motivated, productive, and engaged. The whole company benefits! However, companies only have so many managerial positions that can be filled at a given time and may not have the revenue to give every employee a substantial bonus. This makes employee recognition programs and the awards that most companies include in these programs crucial to maintaining a great office culture where employees are motivated to give their all every day.
It's simple – employee awards are an effective way of showing employees how much their work is appreciated than raises, and they're better at communicating than a simple "thanks for your hard work." Awards make employees more productive, engaged, and happier, and companies that recognize and award their staff for their efforts will be more appealing to younger workers.
Get High Quality Employee Recognition Awards from EDCO
Now that you know all the reasons why motivating employees with awards is important, you can get all the awards you need from EDCO and start enjoying these benefits today! EDCO is a leader in many types of employee recognition awards including employee of the month awards, crystal awards, and more. Contact us now to get started.