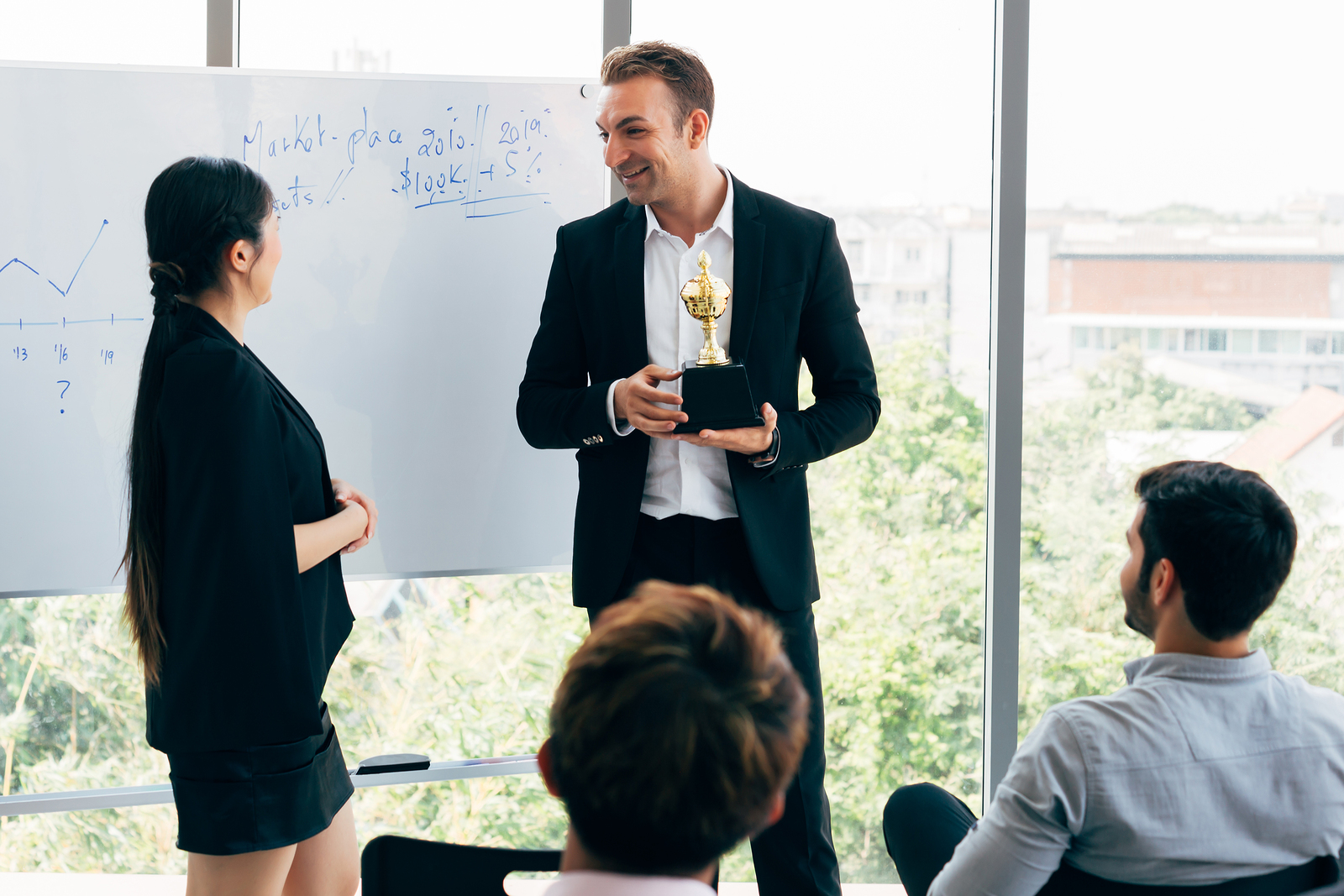 Gift cards and money are great, and employees do appreciate them. But evidence shows that employees don't just want money. They want to feel that their individual contributions to the company are valued. You'll want to recognize employees in a variety of ways, including verbal, written and custom awards.
Don't just hand out recognition awards without having a strategy in place – or without knowing what matters to your employees. To be effective, recognition awards must be more than gifts. They must come from the heart and show that you not only value your employees, but listen to them and understand them. Here's how to get started.
Types of Recognition and Awards
There are many ways to recognize employees. The best employee recognition programs incorporate several types, such as:
If you're thinking about giving this last type of praise, it's especially important to get your recognition awards right. Giving gifts that aren't the right value, don't fit your employee's style or that are unequal can have the opposite effect, lowering morale instead of boosting it.
How to Create Meaningful Recognition Awards
Your employees don't just want on-the-spot verbal recognition – they want to feel valued and appreciated. The way to do that is through meaningful recognition awards, which should be:
Once you have your strategy down, the last step is to pick your awards! Here are a few ideas for memorable custom awards your team will love.
Custom Award Plaques
Award plaques are a classic form of recognition for good reason: they're versatile, quickly customized and easy to transport and display. While they might make you think of traditional styles like wood frames with inlaid engraving, there are actually many different varieties available, and some are ideal for executives and for occasions like promotions.
Plaques are a great choice if you have a lot of custom awards to give out. They typically have more space for you to write your message, so you're able to create a more personalized experience for each recipient, while still getting the cost savings of placing a bulk order. They're cost-effective yet professional and will occupy a place of honor on any office wall.
Fun and Humorous Awards
"Company culture" isn't just a buzzword. It's something that younger employees are increasingly looking at when considering a job – and positive company culture can increase your retention rates and boost morale. Humorous recognition awards encourage laughter and relationship-building in the workplace. Fun awards should still recognize real achievements, like:
Distinctive Recognition Awards
Give a custom award that's personalized to match the recipient's style – and that's premium quality. Your honoree will only receive these singular awards once in a lifetime, making them the most valuable of all.
It takes time and thought to find and design the perfect custom award. But in the end, the effort you put into creating recognition awards that are more than gifts is worth it. Your employees will be thrilled to receive a keepsake that values them as an individual, and you'll get the benefits of a better company culture and increased retention.