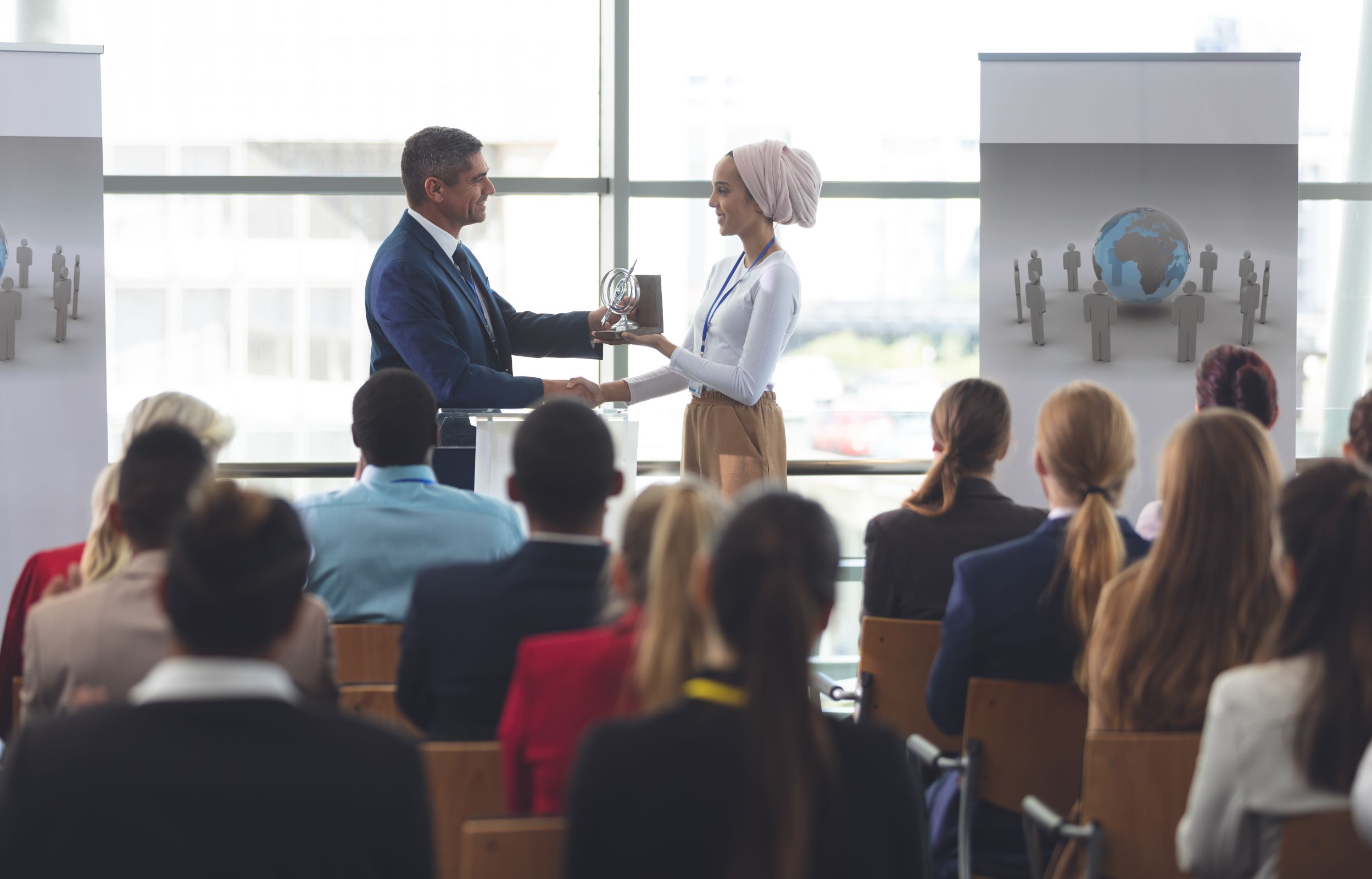 You already know that personalized gifts can make a big impression on your employees – leading to higher productivity, better morale, increased teamwork and all sorts of positive effects on your bottom line. The reason why is simple: Employees want to be appreciated – in one study, recognition easily beat out a 5% salary bonus as employees' preferred benefit.
But many companies still make the mistake of thinking that they need to save trophy engraving for big, once-in-a-lifetime achievements like retirement or promotion to an executive position. The myth that trophy engraving is time-consuming and expensive persists, but the truth is that it's neither. There's also a misunderstanding about quality: Not all custom awards are created equal, and not all trophy engraving is either. At EDCO, we'll help you with every step of the process – but you can still read up on a few need-to-know items below.
Why Trophy Engraving Matters
When you give a custom award, it should show that you know the individual personally. It should also be specific to the employee's specific accomplishment, as well as how that accomplishment benefited the company. This ties it all back to teamwork – humans are social animals, and we want to be part of a team.
But for custom awards to have the most impact, they should also be high-quality. The good news is that trophy engraving can be a simple, quick process, especially if you work with an experienced professional. At EDCO, our normal production time is just 2 to 3 days, and that always includes engraving. Our processes and equipment are state-of-the-art, so you get premium, sharp-looking engraving no matter what type you choose.
Types of Trophy Engraving
If you thought all trophy engraving was the same, think again. The type of engraving you choose will depend on the material your trophy is made from and the look you're going for. At EDCO we offer four methods to personalize custom awards:
Abrasive etching: Also called deep etching, this is the most detailed type of trophy engraving. It's a relatively in-depth process that involves creating a template and using a sandblasting technique to etch the design. This is the type of etching used on our crystal awards and trophies.
Laser: Laser trophy engraving is a quick and easy process, making it a more affordable option. It can only be done on flat surfaces, such as the plates on the bases of trophies.
Full color: This means that the etched letters, logos or designs are filled with color. It's usually necessary in order to see the inscription on metal plates, a common type of trophy engraving. Black, gold and silver are the most common colors, though others are available.
Sublimation: This is a process of imprinting a trophy, rather than engraving it. In sublimation, specialized machinery uses high pressure and heat to transfer letters or images onto the custom award in vivid, long-lasting color. Sublimation printing is often preferred over engraving, as there are endless color options and design possibilities.
Recommended Fonts for Trophy Engraving
You also want to think about your font. For your custom award to have the intended effect, it needs to be readable, but that isn't the only consideration. Different fonts can cause different feelings and make various impressions – you'd never use clownish Comic Sans for a business presentation, would you? Here are a few recommended fonts for trophy engraving:
Times New Roman: This tried-and-true font has been the default in Microsoft Word for years. That's because it's easy to read and its set width (the width of the letters) doesn't take up too much space.
Century Schoolbook: This is a curvier, lighter Times New Roman. It's just as professional, but gives custom awards a fresher look without being too contemporary.
Helvetica Neue: This font is a sans serif, meaning it doesn't have the extra "points" on the ends of the letters. Helvetica also has a thicker set width, and these two things combined give it a very bold, forward look.
Freestyle Script: If a font is a script, that means it has a cursive look. Freestyle Script has an artsy feel to it, with forward-leaning letters that flow together well.
Black Jack: This is a bolder script font with taller letters that look more like handwriting, giving it an informal feel.
Trophy Engraving Ideas
The final step for custom awards is to choose your actual message. Keep in mind that on most trophies, you'll have less space for your inscription than, for example, on a plaque. We'll adjust your font size accordingly, but you'll most likely still need a shorter message. Here are some ideas to give you an idea of typical trophy engraving inscriptions:
(Company Name) Presents
(Employee Name) With
The Sales Shark Award
For Outstanding Sales & Marketing
Award of Excellence
Honoring (Employee Name)
For Exceptional Effort, Drive
and Determination
(Employee Name)
Manager of the Year
(Company Name) Appreciates Your
Excellent Leadership and Loyalty
(Employee Name)
(Company Name) Regional Sales Manager
In Recognition of Your Promotion
and Outstanding Dedication
If you're going to provide custom awards as part of your employee recognition program, it pays to learn about your trophy engraving options. Now you can give personalized, high-quality awards that your employees will be proud to display for years to come.