Do you have an outstanding employee who brings sunshine to your office, spreading joy to anyone they talk to? If you've worked with someone like this, you know that their bright and sunny personality can spread optimism and make the workplaces they reside in a better place for everyone.
Every great employee is worth celebrating, but those with bright and sunny personalities deserve something extra because they make the workplace environment more enjoyable for their co-workers and contribute to that oh-so-important office culture by just being their bright selves. Their cheerful attitudes are contagious, and everyone surrounding them benefits from their presence. Employees with a cheerful demeanor who you can always count on for some optimism and wit in a difficult or stressful situation also tend to be more successful, hardworking, and productive, giving you more reason to celebrate their success with a one-of-a-kind employee recognition award or trophy that radiates that same bright and sunny energy.
Synergy Flame Crystal
The Synergy Flame Crystal is a truly unique piece of art sure to impress those radiant leaders on your team and will stand out amongst the other awards you give out just like its recipient stands out amongst your other employees. The crystal flame itself has been hand blown and sits atop a crystal base that features plenty of room for the recipient's name, your company's name and logo, and a congratulatory message. All etching is free of charge, so get creative with what you'd like to say!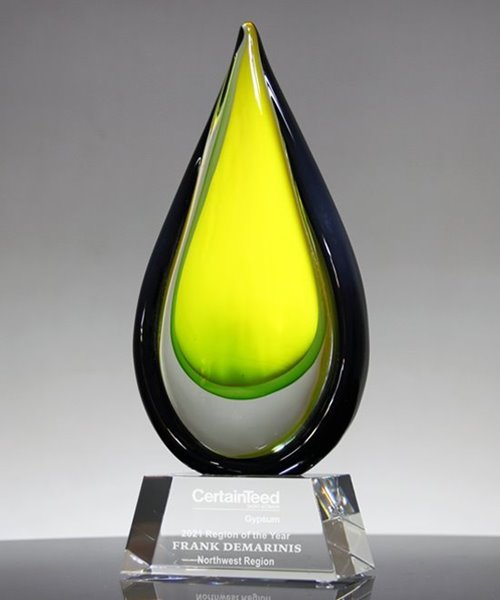 Gold Star Tower Acrylic
The Gold Star Tower Acrylic is perfect for those who shine like a star and rise above and beyond the rest with their positive attitude. The corporate recognition award has an ultra-thick base that gives it a more substantial feeling and makes it carry more weight, both literally and metaphorically. The base itself is made from a reflective gold material that reflects through the crystal tower in different ways depending on what angle you're looking at the award from. The tower offers plenty of room for your company name and logo, the name of the recipient, and any other message you have in mind. Choose from three different heights: six, eight, and 10 inches.
Achievement Flame Crystal Award
The Achievement Flame Crystal Award is a spectacular employee recognition award for those who ignite your team and always provide a light of optimism and levity even in the more stressful or challenging moments. The clear optical crystal changes colors from gold to yellow depending on the way light hits it, making it dazzling to look at from every angle. The clear crystal base features plenty of room for engraving so you can communicate just how much this special employee means to the company.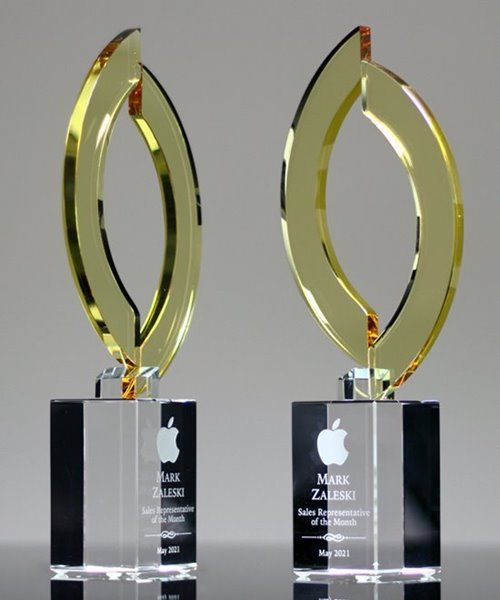 Amber Flame Award
The Amber Flame Award has the most understated look of this bunch, but the clear crystal and golden yellow crystal still achieve a stunning design perfect for celebrating the brightest personalities on your team. The shape of the clear crystal resembles a flame, and the smaller golden yellow portion could be the ember that sparked it, much like the recipient sparks a positive attitude and more enthusiasm in their co-workers. Both clear and yellow crystals sit atop a black base, and both have space for engraving so you can get creative with how you communicate your congratulatory message of appreciation.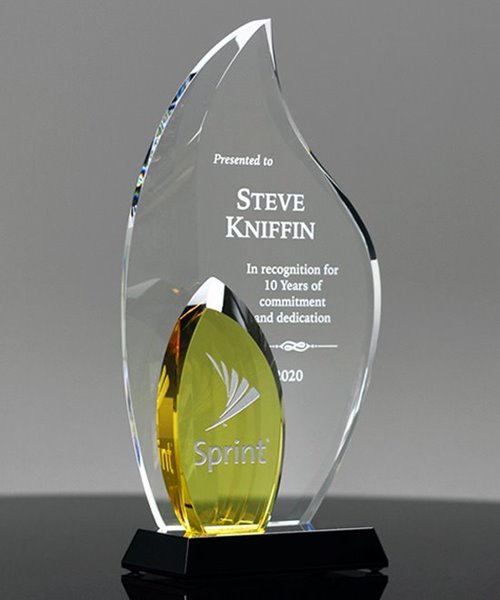 Why Awards are Important
These special employees whose positive attitudes and enthusiasm shine bright in your office are certainly worth recognizing with an award, and you should consider adding something like this to your employee recognition program. These employees are certainly deserving of being awarded for all they do, but that's not the only reason why employee recognition awards are important.
Consider the fact that 82% of employees say that a lack of recognition influences them to consider looking for a job elsewhere. Recognizing and awarding employees is one of the ways a company can reduce turnover and retain top talent. A company should never pass up an opportunity to highlight the achievements of their staff with corporate recognition awards, and regular praise keeps them motivated to hit future milestones and continue their career growth and success.
Awarding employees for their efforts also contributes to a more positive and supportive workplace culture. Every company likes to brag about how great their culture is, but how many live up to their words? Giving awards to deserving employees helps create a culture of recognition where employees feel that the company values them and their contributions, and that's an environment everyone wants to work in. This workplace culture then helps a company attract more talent. This benefit of employee recognition awards is especially important considering millennials place a high value on company culture, and they'll soon be making up most of the workforce.
Highly motivated employees and an improved company culture will, in turn, result in less stress and absenteeism among staff, increased productivity and engagement, and better customer service interactions. As you can see, virtually all aspects of a company can benefit from employee recognition awards.
Get High Quality Employee Recognition Awards from EDCO
Considering all the benefits of awards and what makes employee recognition increasingly important in the workplace, you should reevaluate your existing employee recognition program and consider giving out more awards to your employees. That means you'll need some new awards and trophies, and there's no better place than EDCO to find what you need. We have an unparalleled collection of employee recognition trophies and awards in all different shapes, sizes, colors, materials, and more! We're the nation's leader in supplying recognition, so shop our selection of quality awards today!