Most companies that have a robust employee appreciation program will consistently award their employees with trophies to acknowledge their hard work and when they go above and beyond expectations. These trophies take various forms and are made of various materials. For example, we have crystal, glass, and acrylic award trophies in a wide variety of different shapes with different theming, trophies for leadership, teamwork, sales, achievements, and a host of other trophy for everything in the corporate world worth recognizing and celebrating.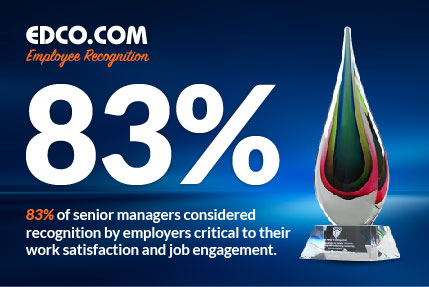 Why Should You Consider Alternative Awards?
Although EDCO has a vast selection of trophy awards, we realize that some companies may want to do something a little different with the employee recognitions awards in their employee appreciation program. Alternative awards are a way to make a new award stand out from all the rest. They are also memorable, eye-catching, and unique. As the country's leader in recognition, we wanted to highlight some of our favorite alternatives to trophies if you're looking for a more unique way to recognize your employees' efforts.
Why Diversify Awards?
There are many things your employees do that deserve recognition and appreciation, so why give out the same kind of awards for each instance? For example, if you want to recognize a salesperson of the year, you'd probably want the recipient to be gifted an award that's different than what the employee of the month gets. And if you want to celebrate an employee's 10th, 15th, or 20th year with the company, you likely want to give them a different award than the salesperson of the year. Different achievements like these carry different weight and mean different things to your company, and you can probably think of a variety of other accomplishments that vary in importance. Giving different awards out for different achievements makes each more meaningful and shows employees that you're truly paying attention to their efforts. These gestures will show employees that you care about them, their efforts, and their interests.
Check out some of our favorite alternative awards below!
Award Plaques
The most noticeable difference between award plaques and trophies is how they're displayed. Trophies don't take up any wall space and because they can be easily picked up, moved around, and passed between employees. Plaques are mainly hung on the wall but can also be displayed on a desk if there is a stand. That's a level of versatility that trophies don't offer. Awarding employees with a plaque gives them more options, and they can display it as they see fit. Plaques also give employers options with their employee recognition program as well. Most employers have an employee of the month award, and plaques give them the option to have one that gets passed between employees every month, a new one awarded to the winner every month, or one hung up in a communal space with nameplates being added to it every month.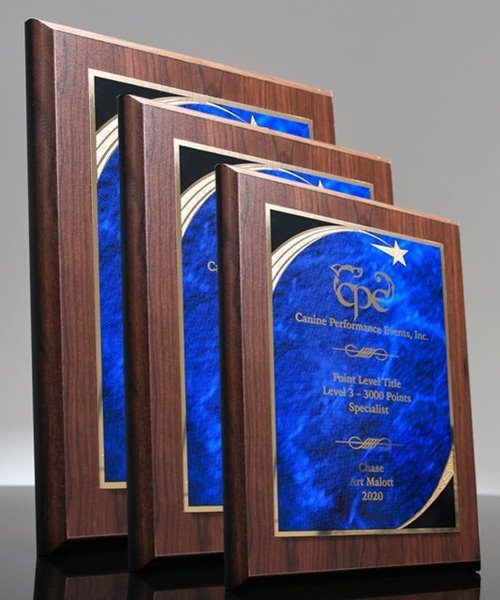 Branded Products
The world of branded products is even more diverse than the world of employee recognition trophies. There's apparel, bags and totes, drinkware, and so much more! If you can think of something, there's likely a way to put your company logo and a custom message on it. The possibilities are nearly endless, meaning you can always find a product that the recipient will appreciate, including:
Apparel
Bags
Totes
Drinkware
Executive Gift Box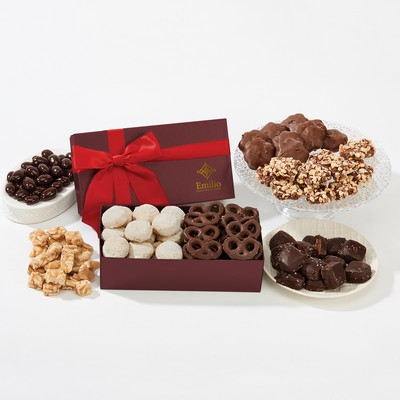 Computer Accessories
Pens
Stress Balls
Duffle Bag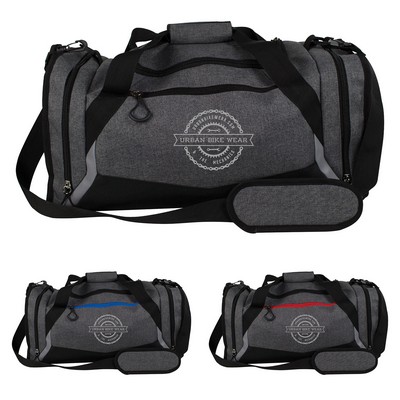 Desk Items
Caps & Hats
Calendars
Custom Engraved Clocks
Custom engraved clock awards offer unique functionality that trophy awards don't. While employee recognition award trophies are typically only something your employees would only display at work on their desks, they'll likely want to display these engraved clocks in their homes. This can make the gesture feel more genuine and personal. Custom engraved clocks are especially great for the awards that celebrate retirement or years of service, as they reflect the time an employee spent with the company. Although there are some restrictions with the designs that can be created since a functional clock must be incorporated, you may be surprised to see the variety of designs that can be created when you take a look at our selection.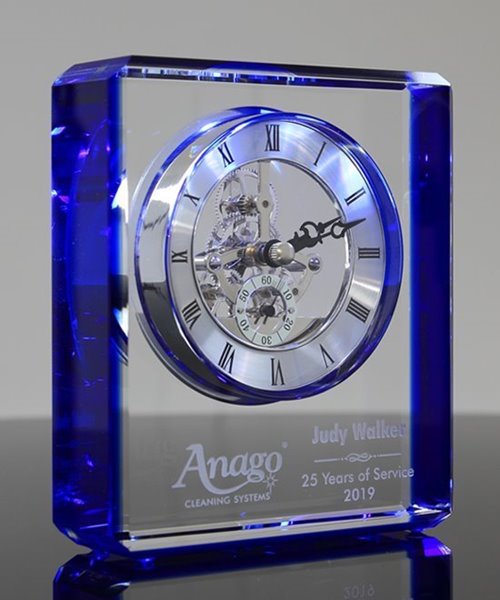 Banners
Edco has been printing vinyl banners for many years using Roland and HP brand printers.  Our awards customers find that frequently a banner is a great addition to their award ceremony and our commercial, church, school and club customers find these vinyl banners to be a great way to advertise.  Vinyl banners typically come with brass grommets and rope.  Edco makes vinyl banners any size you need them.  Vinyl banners are a very effective way to promote.
In addition to vinyl banners the printing equipment prints many types of interior and exterior signs, paper posters, paper posters mounted on foam board and even canvas. Some poster wording ideas are listed below.
Employee of the Month
Most Likely to Find the Efficient Path
Brightens the Room
Most Likely to Greet You With a Smile 
Vases
A vase would be a great award for someone who always has flowers at their desk or someone who enjoys interior design and can use a vase for something unique for decoration.
Vases serve a functional purpose. A vase can store more than flowers, they can also hold utensils, pens, potpourri, candles, herbs, and more. They are also something an employee can display and use for years to come. When you give an employee a vase, you give them an award that is both decorative and practical and looks great either way.
Prestige Crystal Vase: This award features a modern design with two cobalt swirls on either side. The curvaceous shape gives the vase a unique shape, and at 10 inches tall, it's large enough to fit a wide variety of different items. The size also means there's ample etching space so you can easily fit your company logo, the recipient's name, and a message thanking them for their efforts.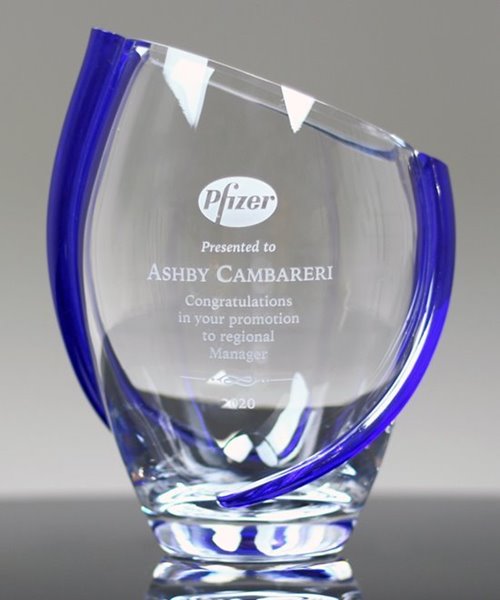 Majestic Crystal Vase: This vase is just that – majestic. This beauty has been hand cut from 24% lead crystal and comes in two sizes – 10 inches or 12. Regardless of the size, this vase will beautifully reflect light and give the recipient a reminder of your appreciation every time they see the gorgeous rainbows it creates when the light hits it just right.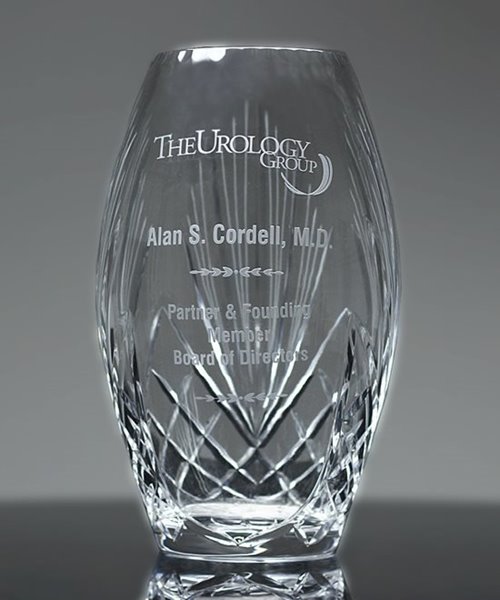 Chameleon Art Glass Trophy Vase: This gorgeous vase sits atop a black crystal base, making it the closest to a trophy of all the vases. The base features plenty of room for your company logo, the recipient's name, and whatever special message you'd like etched, but the real star of the show is the art glass vase itself. It features an intricately unique design with a mixture of different colors and patterns throughout, and the blowing process means no two are identical.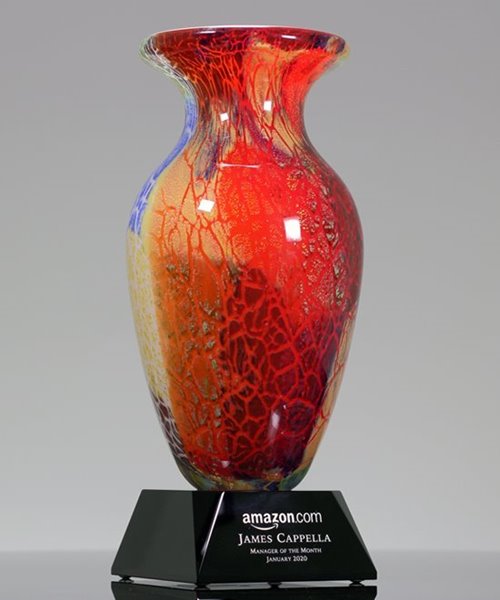 Fascination Art Glass Trophy: This award is aptly named because the recipient will be fascinated with the unique patterns created by the colors in the glass. As a result of the glass blowing process, no two are the same! The beautiful mosaic on the Poseidon Bowl is the star of the show, and it sits atop a black crystal vase where your company logo, the recipient's name, and your message will be etched.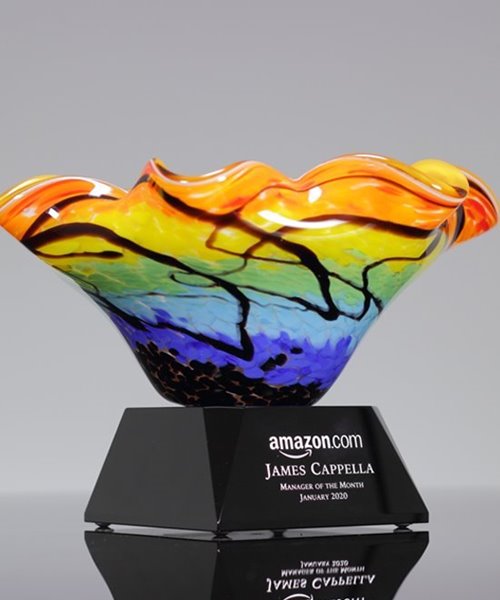 Decanter Sets
Need something different than your traditional trophy this year? Decanter sets are a great way to reward your top employee's dedication and hard work. Decanters provide an aesthetically pleasing look and look great upon bar carts, bookshelves, and more. Some even argue that taste is enhanced when whiskey is stored in a decanter, and this device is sure to provide a sophisticated feel to your next office happy hour.
Cut Crystal Decanter: This award is perfect for celebrating your team's next special victory. This award is hand cut from flawless crystal, providing a complex starburst reflection when light shines upon it. The etched pattern allows for easy handling and increased durability. This award can be customized with company logos, along with a short message to help show your appreciation. Next time you need an award for your whiskey connoisseur, this gift is the perfect option.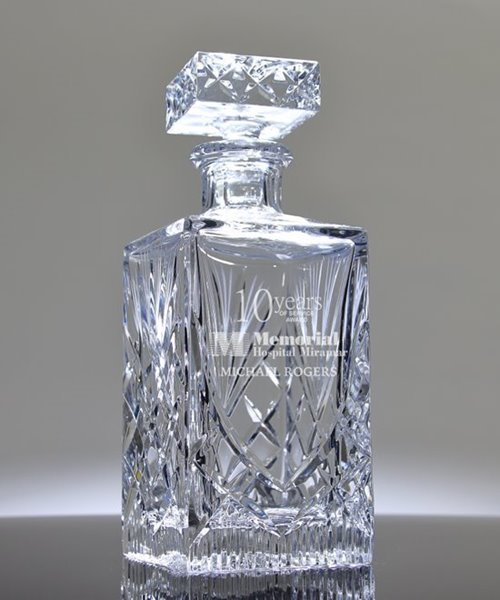 Cut Crystal Rock Glasses: If you are in need of a rock glass to compliment your top performers, this gift the perfect option. These glasses are sure to complement any bar set and can be customized with company logos and more. These glasses are hand cut from pure crystal and are elegantly designed so your team will want to show off at every opportunity. These are sold individually as well as in sets of 6. For an award that will be used regularly and cherished for years to come, consider the Cut Crystal Rocks Glasses.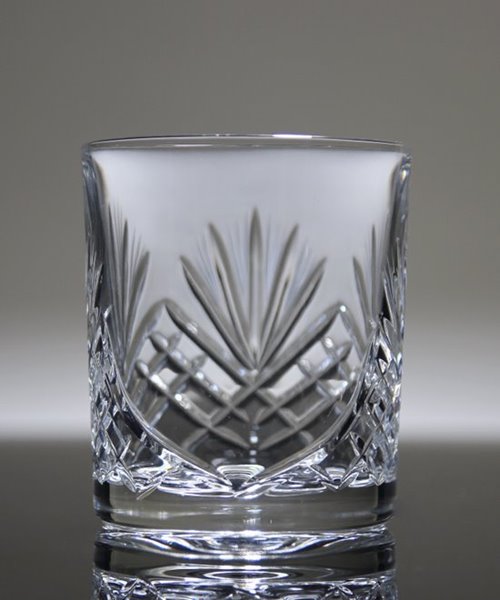 Royal Cut Crystal Decanter Set with Rocks Glasses: This is a spectacular award for celebrating achievement. This amazing set is hand crafted from pure crystal and gives an elegant feel to any room or office. This award can be customized with your company logo on everything from the decanter itself to the glassware. This set is durable and will compliment any desk or bar it sits upon. Next time you need to give a celebratory award, the Royal Cut Crystal Decanter Set with Rocks Glasses is sure to impress.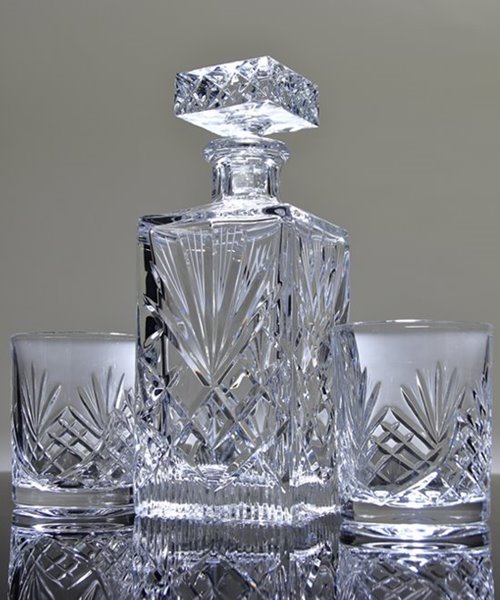 Where You Order Custom Awards?
When you need vases or any other kinds of awards to upgrade your employee recognition program, there's nowhere better to get them than the nation's leading supplier of recognition – EDCO. Shop our vast selection today! No matter what corporate award you are looking for this year, EDCO is your #1 destination. We have everything you need to show your team the appreciation they deserve. Shop our wide selection of awards & trophies today!