Years of service employee recognition awards are an amazing way to spotlight your loyal staff. They help celebrate tenure and show off your team's dedication. These corporate awards are great tools for showing your team what a star employee looks like, and this award should recognize the reasons that have allowed this employee to stay this long. You can tell your team about some of the greatest achievements, work relationships, and shared successes the employee has made over the years. After all, an employee who stays with you for ten years deserves the recognition.
Looking for the perfect award to celebrate your employee's tenure? Keep reading to find our 4 favorite corporate awards for an employee's 10-year work anniversary.
Service Anniversary Diamond Tower Award
The Service Anniversary Diamond Tower Award is a stunning award to show your dedicated staff your appreciation. This classic design delivers a powerful message that will resonate across your team and inspire those who see it displayed. Constructed from pure optical crystal, this beautiful award provides meaningful recognition to your team player. This design is deep etched, and paint filled in gold or silver with your own unique message. This is an award your team member will cherish for years to come.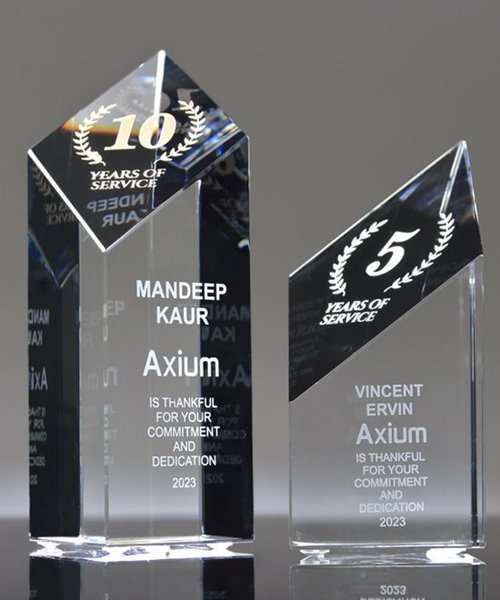 Service 10 Year Award
The Service 10 Year Award is the perfect corporate award for celebrating loyalty. This award features a chrome achiever statue hoisting a 10 above its head, signifying 10 years of dedicated service. This design sits atop a customizable crystal base where you can add company logos, messages of appreciation, and more. Your team will apricate this thoughtful award that shows your gratitude for their commitment to the company's success.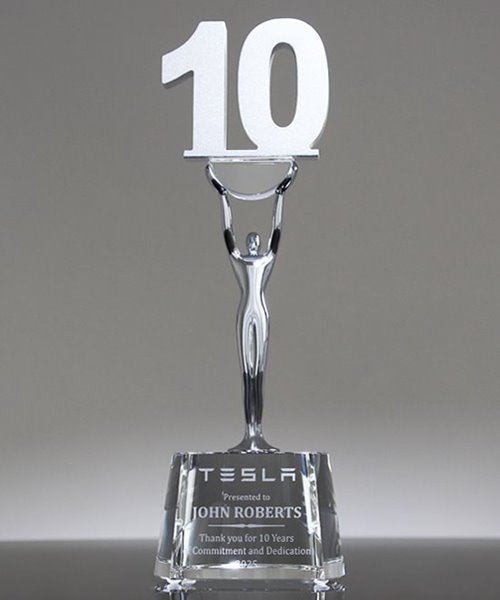 Crystal 10 Years of Service Award
The Crystal 10 Years of Service Award is a one-of-a-kind award perfect for celebrating your diligent, hard-working team member's long career. Featuring a crystal number 10, this award is perfect for celebrating 10 years of service in style. It is elevated on top of a deeply beveled base that can be customized with your company logo and congratulatory message. If you are looking for an award that delivers a wow factor, this one is for you.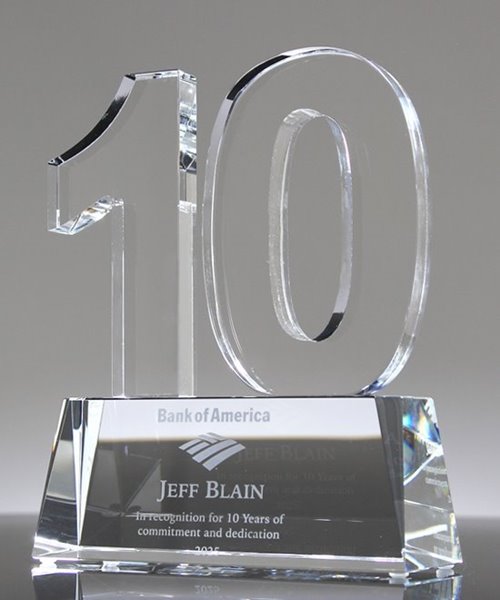 Continental World Globe Award Plaque
The Continental World Globe Award Plaque is perfect for recognizing important milestones like 10 years of service. This plaque has a remarkable art metal backing and features an eye-catching floating crystal plaque along with a beautiful blue crystal globe. Your custom message and company logo can be added to the floating crystal plaque and will be deep etched with your choice of black or gold paint. This award is perfect for recognizing those who have invested their time and effort over the years.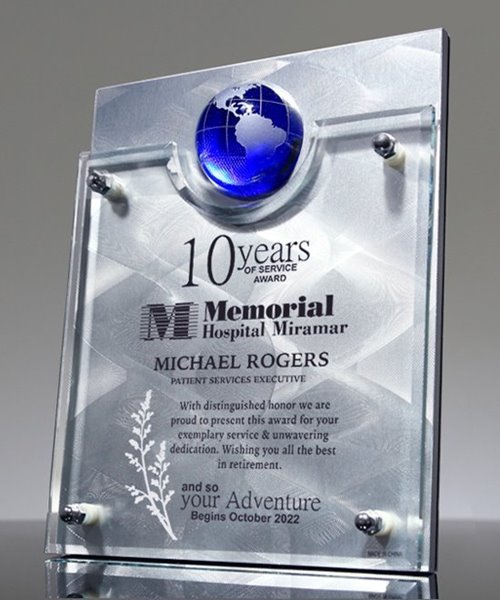 EDCO is your #1 destination for Years of Service Awards. Our high-quality awards are perfect for showing your dedicated team the appreciation they deserve. We have over 50 years of experience, and we are the nation's leading supplier of recognition. Congratulate and inspire your staff with an award from EDCO today!