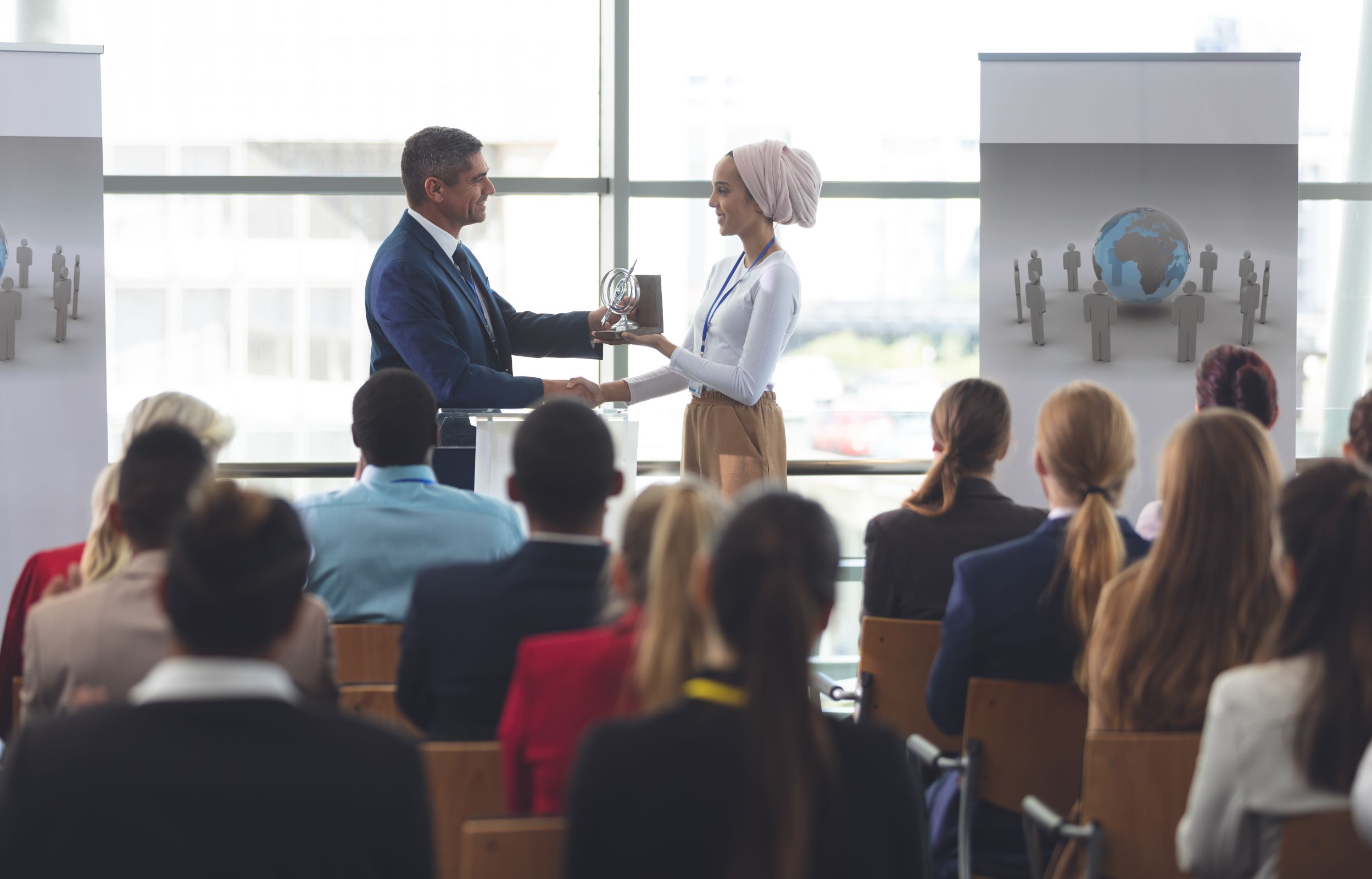 Edco Inscription Guide Overview:
Many companies and organizations still make the mistake of thinking that they need to save trophy engraving for big, once-in-a-lifetime achievements like retirement or promotion to an executive position. The myth that trophy engraving is time-consuming and expensive persists, but the truth is that it's neither.
There's also a misunderstanding about quality: Not all custom awards are created equal, and not all trophy engraving is either.
At EDCO, we'll help you with every step of the process – but you can still read up on a few need-to-know items below.
Award Inscription Guide
In this guide, we'll explain the many types of materials and processes that are available to create the perfect award, provide numerous examples of truly outstanding inscriptions, a reference section to help you find "those perfect words" and also section filled with popular illustrations to use in the development of your unequaled awards.
One of the first decisions to be made will be the type of award desired. This involves not only the shape, size and medium, but also the type of etching. We have a variety of catalogs and a complete showroom filled with samples.
Decisions and Considerations When Designing Your Award Plaque
What is the Meaning Behind Your Award?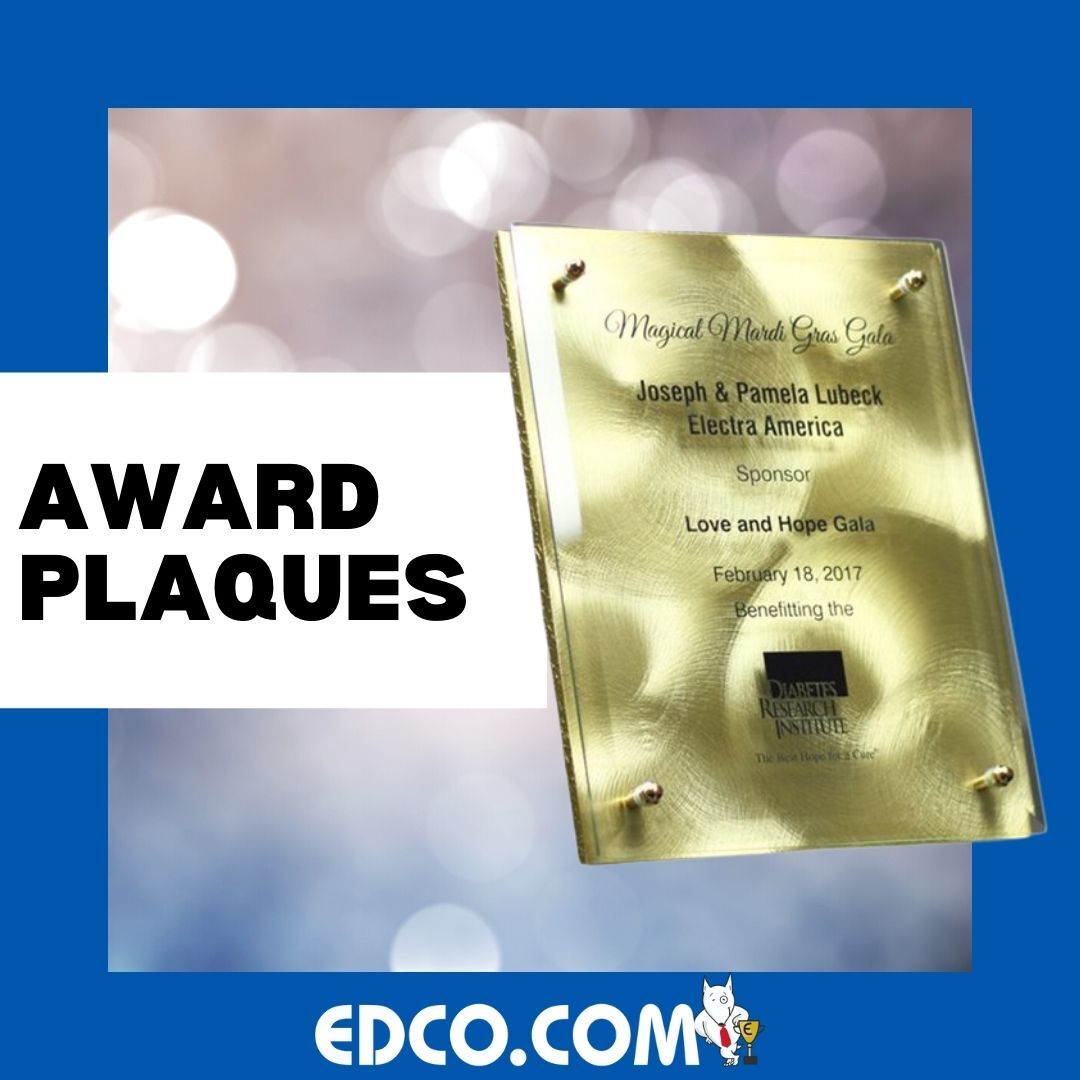 When you give a custom award, it should show that you know the individual personally. It should also be specific to the employee's specific accomplishment, as well as how that accomplishment benefited the company. This ties it all back to teamwork – humans are social animals, and we want to be part of a team.
Color of the engraving or imprinting a plate - Generally you will want to use metal that will provide good contrast to the lettering. Our most popular color combination is black imprinting on a gold plate. Other considerations on plate color involve the utilization of company school, club or team colors.
Color of the rim (or border) plate that surrounds the engraving plate - In most cases you will want to choose a color for the rim (or border) plate that surrounds the engraving plate. A plaque for a school or club whose colors are red and blue might consist of red engraving plate, blue border plate and silver engraving.
Lettering color - The lettering itself can be silver, gold or black - or take advantage of our FULL COLOR PROCESS for a stunningly dramatic presentation.
Lettering font - See recommended fonts below
Be sure to consult our professional sales staff for further details and recommendations, custom-designed for YOU.
Types of Engraving
If you thought all trophy engraving was the same, think again. The type of engraving you choose will depend on the material your trophy is made from and the look you're going for. At EDCO we offer four methods to personalize custom awards:
Abrasive etching: Also called deep etching, this is the most detailed type of trophy engraving. It's a relatively in-depth process that involves creating a template and using a sandblasting technique to etch the design. This is the type of etching used on our crystal awards and trophies.
Laser engraving: Laser trophy engraving is a quick and easy process, making it a more affordable option. It can only be done on flat surfaces, such as the plates on the bases of trophies.
UV Printing: UV Printing is a process using quick drying inks that are then exposed to ultraviolet (UV) light curing technology, which gives images and text a sharper detail. 
Full color: This means that the etched letters, logos or designs are filled with color. It's usually necessary in order to see the inscription on metal plates, a common type of trophy engraving. Black, gold and silver are the most common colors, though others are available.
Sublimation: This is a process of imprinting a trophy, rather than engraving it. In sublimation, specialized machinery uses high pressure and heat to transfer letters or images onto the custom award in vivid, long-lasting color. Sublimation printing is often preferred over engraving, as there are endless color options and design possibilities
Sandblasting: This process involves finely engraving text, logos, and graphics onto crystal, glass, acrylic, and metal.
Recommended Fonts for Trophy Engraving
You also want to think about your font. For your custom award to have the intended effect, it needs to be readable, but that isn't the only consideration. Different fonts can cause different feelings and make various impressions – you'd never use Comic Sans for a business presentation, would you? Here are the three font types and a few recommended fonts for trophy engraving:
Font Types -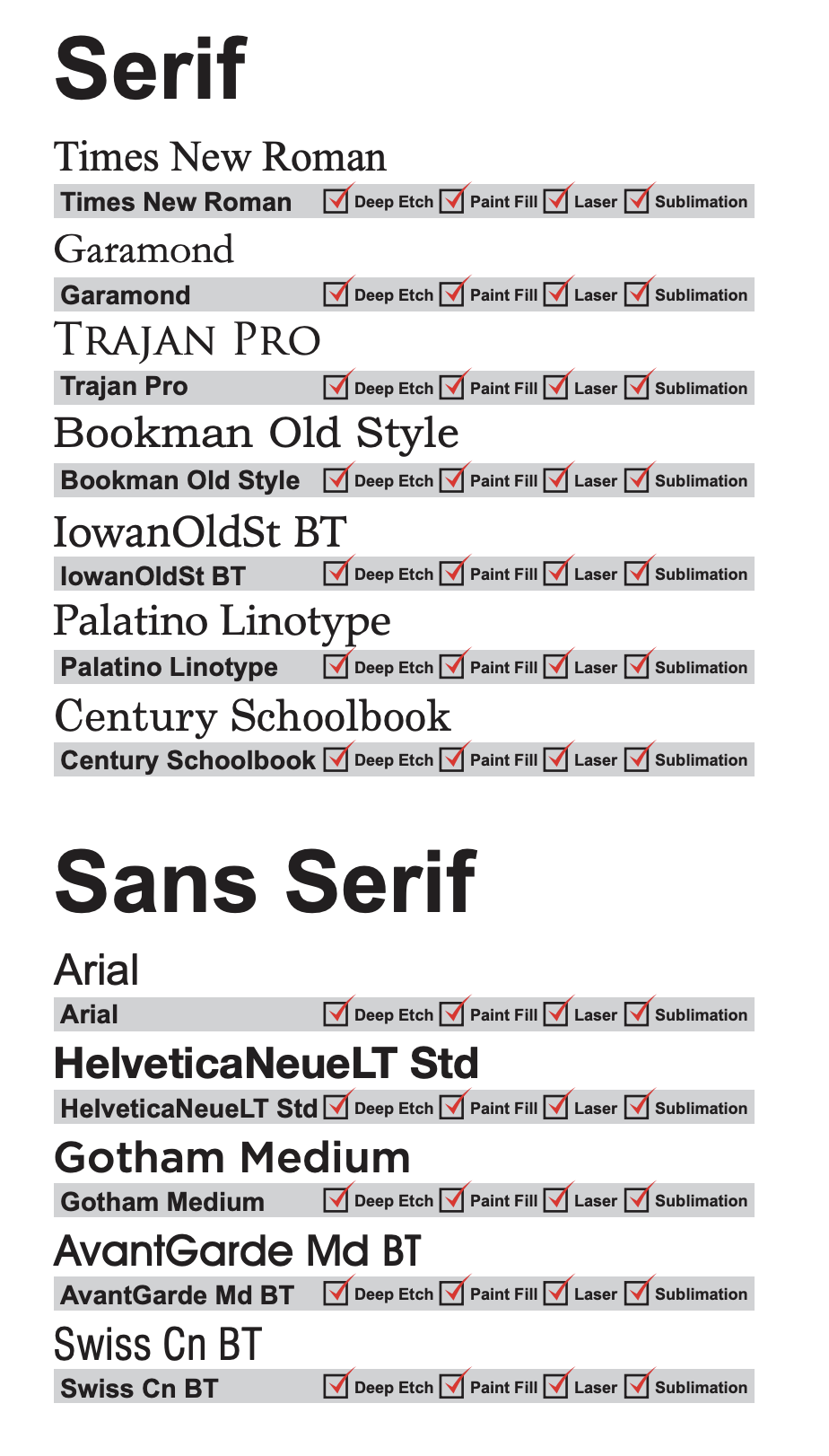 Serif -  Serif fonts have little decorative tails/flourishes at the ends of some of the strokes that make up a letter or symbol. Their extra tails and styling tend to be give off a more formal, commemorative tone. The most popular serif font is Times New Roman.
Sans Serif - Unlike serif fonts, sans serif fonts do not have the decorative tails at the ends of the letters. The are generally more modern/casual/informal than serif fonts. The most popular sans serif font is Arial.
Script - Script font typefaces resemble more of a "handwritten" style with calligraphic lettering. Script can either be formal and seem quite elegant or there are more casual/informal script types that have more of a playful handwriting appearance.
Font Recommendations - 
Times New Roman: This tried-and-true font has been the default in Microsoft Word for years. That's because it's easy to read and its set width (the width of the letters) doesn't take up too much space.
Century Schoolbook: This is a curvier, lighter Times New Roman. It's just as professional, but gives custom awards a fresher look without being too contemporary.
Helvetica Neue: This font is a sans serif, meaning it doesn't have the extra "points" on the ends of the letters. Helvetica also has a thicker set width, and these two things combined give it a very bold, forward look.
Freestyle Script: If a font is a script, that means it has a cursive look. Freestyle Script has an artsy feel to it, with forward-leaning letters that flow together well.
Black Jack: This is a bolder script font with taller letters that look more like handwriting, giving it an informal feel.
To get a better idea of which font is best for your occasion, check out our Recommended Fonts Guide with examples and variations of each type of sans serif font.
Engraving Plate Color Combinations Listed in Order of Their Popularity
| | | |
| --- | --- | --- |
| Plate | Rim | Lettering |
| Gold | Black | Black |
| Blue | Gold | Gold |
| Black | Gold | Gold |
| Blue | Silver | Silver |
| Red | Gold | Gold |
| Red | Silver | Silver |
| Green | Gold | Gold |
Other colors are available, including as mentioned above, FULL COLOR on white (preferred, for truest color), gold or silver, with any color rim to match or contrast your imprint.
When deciding on overall plaque size keep in mind that we can fit almost any amount of engraving on any size plaque. We proportion each line of engraving to fit the desired award appropriately
Pro-Tip to Remember:
Small engraving area + lots of engraving = smaller letter size.
Large engraving area + not much engraving = larger letter size.
We feel that the actual engraving typestyle choice is best left up to our experienced art, typesetting and engraving departments, However, if you require specific type styles or sizes we can most likely accommodate your request. We have well over 3000 different engraving type faces available and can match any size you choose.
But for custom awards to have the most impact, they should also be high-quality. The good news is that trophy engraving can be a simple, quick process, especially if you work with an experienced professional. At EDCO, our normal production time is just 2 to 3 days, and that always includes engraving. Our processes and equipment are state-of-the-art, so you get premium, sharp-looking engraving no matter what type you choose.
GENERAL AWARD INSCRIPTION INFORMATION
IMAGE AREAS & LAYOUT
Because of the many unique awards we offer, all of the image areas and overall sizes listed in the catalog are approximate. Our art department will arrange your artwork and copy to fit the design and shape of each individual award and provide a quality presentation.
PRODUCTION TIME
Normal production time for most items is 5 working days. Large orders or custom designed pieces can take longer and will be quoted prior to the beginning of production. Advising us in advance of your planned presentation date is highly recommended. We will schedule production to allow ample shipping time for you to receive your awards a few days prior to that date. However, delays in artwork approval or shortened production time could result in the need for priority shipping and/or expedited production service.
RUSH ORDERS
Rush orders are our specialty. We understand that sometimes the need for an award comes up unexpectedly. When that occurs, we are ready, willing and able to help you meet your deadline. In order to maintain our commitment to helping YOU look good, we offer one and two day service on most of our products.
PAPER PROOFS
A paper proof will be provided for all crystal, glass, acrylic and marble awards. When multiple items of the same kind are sold, a general layout proof will be provided first. Once the general layout is approved, we will provide art proofs for all individual awards to ensure spelling accuracy.
We do not generally supply art proofs for plaques, trophy plates, or name badges.
CUSTOM DESIGN SERVICES
When you're looking for a special award or sign that's unique to your organization, you can turn to us with confidence.
Unlike many smaller awards companies, we can design and fabricate totally custom awards, paperweights and signs. From concept to creation, our experienced staff can guide you every step along the way. Using a wide array of media such as acrylic, plastic, vinyl and cultured stone we can design your award and advise you in selection of the proper medium to best showcase your new creation. Our NEW state of the art CNC router and high power lasers enable us to develop unique designs specifically tailored to your needs. Ask one of our sales associates how we can help create the perfect award, paperweight, or sign for your next presentation.
We also maintain a complete art department as one of the most important parts of our customer service. Using our creative resources, we can design and execute an award that will be unique to your organization. Our art department can also recreate logos and special art to be used in any of the processes offered by our factory for awards, promotional products, banners, signs and name badges.
COMPLETION NOTICE
When production on your order is completed we will fax and e-mail a completion notice. Please help us to keep in contact with you by providing us with current contact information.
SHIPPING
We understand how valuable your time is, that's why we have developed a full service shipping & receiving department. Instead of driving across town to pick up, or deliver an award, have your award arrive at its destination for a nominal fee. We also offer complete fulfillment services, ask one of our sales associates for more details.
Guidelines for Supplying Computer Generated Artwork
IMPORTANT INFORMATION
When providing digital art these Guidelines MUST be followed in order to proceed: Hard copy of the artwork is desired. This will enable us to be sure your file has opened correctly. If the art provided is to be used for engraving or glass etching, it must be Black and White Line Art. No grayscale or halftones are acceptable for those processes. If your art is to be imprinted in color on a name badge or promotional product, we must either have a hard copy printout showing us the colors that we are trying to match, or the pms numbers of each color.
All digital artwork submitted MUST meet our artwork requirements shown below or your order may be delayed and additional artwork charges may be incurred. Art charges are $50.00 per hour. We also have the capability to recreate your art specifically for the type of product you are purchasing. Production time for recreating art is typically 24-72hrs depending on the complexity. Most logos can be recreated within 24hrs for between $25 - $75.
Please contact your salesperson to be sure your art will work.
PLATFORM - We are a PC based company. All Macintosh files must be provided in a PC compatible version.
RESOLUTION - Most of our processes require a minimum of 300 dpi resolution. Graphics designed for use on the Internet are not acceptable. Art used for printing banners and posters should be submitted in the highest possible resolution. Formats we prefer are: .eps .ai .cdr .psd
HARD COPY - It is reccomended that you provide a hard copy of the artwork and any special instructions with any digital file submitted.
QUALITY - Simply because the art file is in a digital format we can accept that does not mean it will be clean and useable. Faxed, scanned or art which has been reproduced numerous times will not improve and will not look its best without additional clean up efforts. We reserve the right to refuse any artwork that will not meet our standards of product quality when reproduced with our equipment and processes.
BLACK & WHITE LINE ART - This is our most preferred type of art for laser engraving, sand etching & screen printing.
Black and white line art contains black and white lines only. No shades of gray or halftones can be used when this art format is requested. Black & white line art is required for engraving glass, crystal, acrylic, marble, wood, plastic and aluminum. This type of art is also required for vinyl letters and most signage.
BLACK & WHITE HALFTONE ART - This art will contain shades of gray or halftones. Some of our processes will NOT reproduce this type of artwork without additional refinement.
COLOR ART - A composite proof and separated color plates are also beneficial. Please send the latest version of disk art and label each color by the exact Pantone number wanted. If your art is not separated when submitted, additional charges may be incurred.
EMAIL - Naming protocol is important. Please do not name your artwork "logo". Instead please name the file using an easily identified label such as "festival logo". You may send your artwork to [email protected]
Programs
CorelDraw - Windows - .cdr - version 12.0 or lower; convert text to curves
Adobe Illustrator - Windows - .ai or .eps files - Save Graphics as Adobe Illus. 10.0 or lower and convert text to outline
Photoshop - Windows - .psd - version 7 or lower; maintain separate layers
File Types
.jpg - only if in high resolution of at least 300 dpi at 200% desired size
.tif - only if in high resolution of at least 300 dpi at 200% desired size
.bmp - only if in high resolution of at least 300 dpi at 200% desired size
Unacceptable Formats
We are unable to achieve satisfactory results when graphics are submitted in the following formats:
Word - .doc format; Excel - .xls format;
Web graphics - .gif or .jpg - Graphics designed for use on the World Wide Web are not acceptable because of the low resolution typically used.
Fonts
Convert all text to outlines or curves. Please be aware that once this is done the text in your artwork can no longer be edited. If editing is required you must include the Font (TrueType only) on the disk.
Colors
When assigning a color to art or text, please use a Pantone color. This will work for process or spot colors.
Accepted File Storage Media
PC formatted 3.5" diskettes
PC formatted Iomega ZIP drives, 100 Mb or 250 Mb PC formatted CD ROM
Award Inscription Thesaurus
The below Inscription Thesaurus section provides synonyms of many commonly used words on award plaques. Use this section to assist you in creating the perfect inscription for your awards.
ability - talent, intellect, aptitude, propensity, inclination
accomplishment - fulfillment, completion, achievement, realization, attainment, triumph, success, consummation
appreciation - thankfulness, gratefulness, obliged, indebted, gratitude, regard, esteem, respect
assistance - support, aid, help, to serve, collaborating with, contribution
assistant - aide, helper, acolyte, friend, associate, colleague, second in command, patron, backer, partner, co-worker, ally
award - citation, accolade, trophy, title, testimonial, commendation, tribute
beautiful - lovely, attractive, comely, pretty, elegant, superb, grand, handsome, radiant, ravishing, gorgeous
beloved - loved, adored, worshiped, cherished, dear, favorite, precious, treasured, darling, endeared, valued
best - finest, highest, first, premium, crowning, incomparable, greatest, top-notch, unequaled, choice
carefully - conscientiously, exactly, rigidly, precisely, fastidiously,
ceremony - function, commemoration, memorial, rite, ritual, pageant, observance certify - guarantee, attest, confirmed, endorse, assure
commend - accredit, laud, acclaim, endorse, recommend, approve, acclaim
continued - sustained, perseverance, perpetual, sanctioning, enduring, on-going, unrelenting, extended
contribution - endowment, commitments, donation, sharing, supplying, present, bestowal, charity
cooperation - collaboration, participation, alliance, assistance, team-work, concurrence
dedication - devotion, efforts, untiring efforts, commitment
dependable - trustworthy, mainstay, anchor, confidant, patron, reliable, faithful, loyal, unfailing, true
determination - resolution, certainty, persistence, conviction, steadfastness, perseverance, intransigence
develop - extend, expand, advance, promote, build, enrich, cultivate
diligent - zealous, energetic, vigorous, undeviating, assiduous, unremitting, intense, industrious, persistent
distinguished - illustrious, venerable, renowned, honored, celebrated, esteemed remarkable, outstanding, great, extraordinary
education - edification, enrichment, teaching, teaching, instruction, enlightenment, tutelage, knowledge
effort - endeavor, labor, work, undertaking, venture, task, commitment, exertion emphasize - underline, dramatize, pronounce, accentuate, underscore, punctuate
enduring - lasting, permanent, surviving, continual, unchanging, uninterrupted, tenacious, perennial, tolerating
establish - institute, found, formulate, construct, organize, inaugurate, start
excellent - magnificent, supreme, peerless, foremost, exemplary, desirable, paramount, superior, superlative, exceptional, tremendous, wonderful
friendship - association, brotherhood, companionship, confidant
give - grant, bestow, confer, impart, present, award, convey, contribute to guidance - direction, leadership, supervision, management, oversight, suggestion happy - joyous, merry, convivial, congenial, mirthful, charmed, spirited
instill - infuse, impress, inspire
involvement - link, connection, participation, affiliation, commitment
judgement - knowledge, discrimination, understanding, perception, acuetness, keenness, intuition
kindness - good intentions, consideration, helpfulness, indulgence, courtesy, thoughtfulness, altruism, graciousness
leadership - administration, authority, foresight, command, supremacy
noble - honorable, heroic, brilliant, excellent, princley, magnanimous, courtly dignified, splendid, exalted, distinguished
outstanding - notable, distinguished, highly regarded, impressive, worthy, considerable, enthusiastic
patience - forbearance, fortitude, composure, endurance praise - applaud, cheer, acclaim, endorse, eulogize, admire
presented - awarded, bestowed, conferred, given, endowed, delivered profit - benefit, thrive, prosper, gain
promote - advance, forward, encourage, expand, nourish, improve, bolster recognition - in acknowledgment of, remembrance, commendation
respect - esteem, honor, regard, admiration
retirement - withdrawal, resignation, departure, leaving, giving up work service - assistance, cooperation, performance of duty, help, servitude sincerely - truthfully, honestly, earnestly, genuinely, profoundly
special - exceptional, distinctive, unusual, unique, exclusive, extraordinary
support - upkeep, responsibility for, provide, promote, sustain, further, maintain, patronize, subsidize
thanks - appreciation, gratefulness, acknowledgment, gratitude tireless - never-ending, unwearied, unflagging, unending uncommon - unusual, different, unique, rare, exotic, unparalleled
universal - entire, prevalent, extensive, comprehensive, limitless, unrestricted
unselfish - sacrifice, kind, liberal, charitable, altruistic, magnanimous, generous benevolent, self-denying, self-sacrificing
valor - bravery, courage, gallantry, heroism
valuable - worth, merit, superior, excellent, priceless, meritorious
very - extremely, exceedingly, greatly, surprisingly, notably, considerably, conspicuously, remarkably, intensely
virtue - ethic, goodness, uprightness, honor, righteousness
warm - earnest, gracious, cordial, affectionate, enthusiastic, responsive
Award Plaque Popular Illustrations