Recognizing your team's achievements throughout the year is important to maintaining a productive, engaging, and competitive work environment.  A good employee recognition program helps create a workspace that your employees look forward to coming into day after day and year after year. Employee recognition awards can increase employee productivity, engagement, and satisfaction, boost morale, improve customer service, and decrease employee turnover.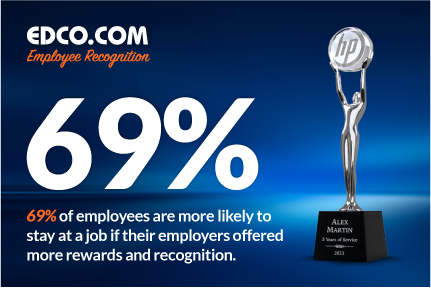 Why are Employee Recognition Awards Important?
Employers are always on the lookout for top talent, and once you gain a valuable team member, it's important to do everything in your power to keep them happy.  When employees feel valued, they're more engaged, motivated, and are more likely to go the extra mile for their team. Positive affirmation through an employee recognition award is a great way to accomplish this and will make your team members feel valued for the hard work they do every day.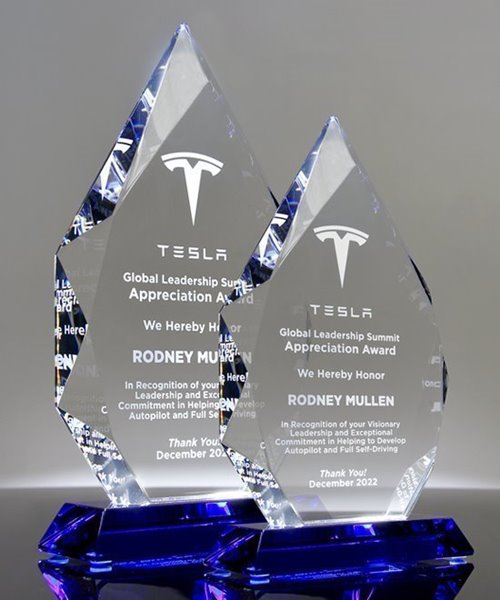 10 Creative Ways to Recognize Employeess
It's no secret that employee recognition is the best way to develop and retain a talented workforce. When your employees feel appreciated, it makes them feel good about themselves, and in return, they are motivated to continue working hard every day. Positive reinforcement sets an example for every employee in your organization, showing everyone the kind of hard work the company values.
If you need a few ideas for recognizing your top employees, check out our creative recognition ideas below.
Team Lunch: Providing lunch for your team's top performers is a great way to reward hard work. It is important to get your employee's input on what they want to ensure the reward is truly something they will enjoy. Rewarding your top performers or best teams is a great way to bring your office, strengthen interpersonal relationships, and show appreciation.
Company Merch: Who doesn't like a free shirt or stickers! Offering your employees company themed merchandise is a great way to encourage hard work. Make sure the merchandise you give away is high quality so your employees can wear it for years to come. Adding your logo is a great way to get your name out there, and it gives your employees a chance to show their love for where they work.
VIP Parking: Providing one of the best spots to your employees of the month or top salesman is a great way to show appreciation. No one likes a long walk to and from their car after a long day of work, and providing the best parking spot is something every employee will appreciate. This is an easy way to show your employees you care, and your appreciation is felt every day they show up to the office.
Time Off: Rewarding your employees with time off is a great way to give them a chance to recharge and come back ready to keep up the good work. Offering an extra day of leave for exceeding goals is a great way to promote hard work and a day off provides the most value to the average employee. It's a great way to let your employees rest, and the best part is they get to spend it in whatever way suits them best.
Charitable Donation: Offering a donation made in your top employee's name to a charity of their choosing accomplishes more than recognition. Not only are you recognizing their efforts in a way that's meaningful to them, but you're giving back to the community and putting your money where your mouth is when it comes to employee recognition.
Offer Fitness Opportunities: Providing your top employees, a membership to their favorite gym or studio is a great way to encourage performance and promote healthy lifestyles. Letting your employees choose their favorite gym or class is a great way to give them access to a new hobby or support an activity they already love. Make sure you are flexible with this reward to ensure the reward fits your employee's schedule and lifestyle!
Let Your Top Employees Choose the Next Team Event: Letting your best employees choose the next team building event is a great way to get everyone involved. It lets your best employees choose their favorite activities and promotes hard work from everyone else. By allowing everyone else to participate, your top performers will receive recognition through the whole team.
Traveling Trophy: A traveling trophy is a great way to create competition and reward your team. This is a great way to show off outstanding performance and reinforce the behaviors you want! Choosing a trophy that stands out is important for these. You want this recognition to stand out, and your employees will see this award every day it is displayed on a desk.
Wall of Fame: A wall of fame is a great way to show off your employees today and for years to come. This reward is a great way to show the legacies of your best employees, and those who work the hardest are likely to show up multiple times throughout their career. This is best done by placing a customized plaque on a wall and should stand out to all employees inspiring and motivating all that pass by.
Combine Rewards: Combining your recognition awards is a great way to reward your team. We recommend offering a physical reward along with some kind of event. This way they have the recognition of a reward that stays with them along with the enjoyment of an experience.
What are the best types of employee recognition awards?
As any good boss should know, having a good employee recognition program that includes employee recognition awards can make all the difference when it comes to workplace culture, employee morale, productivity, and more. Employee appreciation awards will not only help pave the way for a more supportive workplace culture, but they'll make everyone much more driven to go the extra mile and be more productive while at work. The importance of a good employee recognition program is made clear by the fact that organizations with more sophisticated employee recognition programs are 12x more likely to have strong business outcomes. So, you know why employee recognition awards are important, but what kinds of awards should you get? Check out our 5 most popular employee recognition awards below.
Employee of the Month: Unsurprisingly, one of our most popular awards is an employee of the month award. Many companies already have one of these in place, and for good reason – it recognizes those who went above and beyond, outperforming their peers during a given month and that's always something a company will want to celebrate. The employee of the month award offers every employee a chance to shine for their hard work and it being up for grabs on a consistent basis makes each month a friendly competition. We offer a wide variety of employee of the month awards from perpetual glass and plagues to trophies and more so businesses can find one that's perfect for them.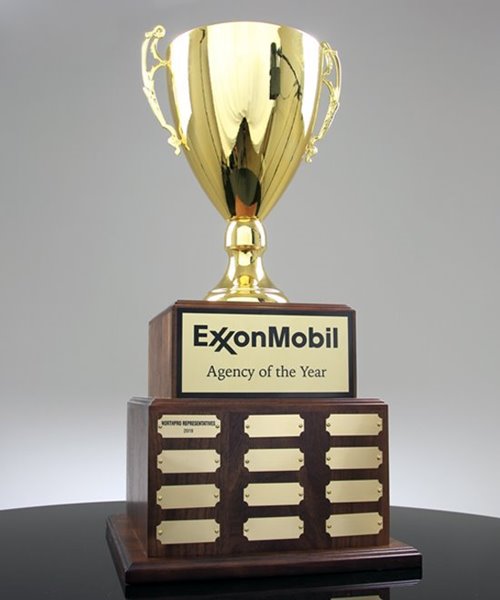 Best Customer Service: Providing excellent customer service is huge for every company, and bestowing an award for great customer service will give every employee incentive to give customers the best experience possible. Those who can handle any customer no matter how demanding, abrasive, or unruly they are, are invaluable to a business, so bestowing an award like this for those who can stay clam under pressure, diffusing complicated situations and smoothing tensions just makes sense. It's a win-win: employees get the recognition they deserve and companies know their representatives will want to provide excellent customer service.
Best Team Player: This award is for the employee who displays extraordinary integrity and generosity towards their team members. Maybe they're the gel that holds a team together, maybe they're taking on a big workload, maybe while one of their peers is on vacation, maybe they always make themselves available to cover shifts when need be. Regardless, the company appreciates their efforts. Teamwork is crucial for a business's success – no one can do it all alone! – and this award shows employees that effective collaboration and helping others is not just highly valued but appreciated as well. Additionally, it can encourage others in the company to follow suit, strengthening teamwork within the organization.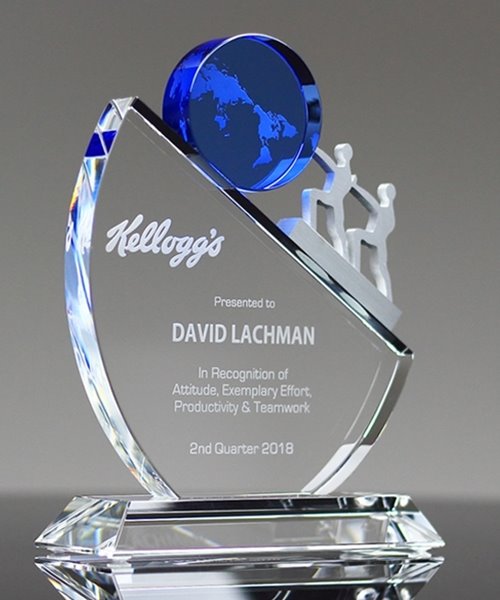 Dedication Award: Those who are dedicated to the success of the company deserve to be recognized for their commitment.  It's rare to find someone who is both loyal and hardworking, hence why it's so important to let them know their dedication is both recognized and appreciated. A dedication award can celebrate those who've been with the company for a long time and show other employees how much the company values loyalty, thus potentially reducing turnover.
Top Performer: Every company has certain metrics they'd like to see their employees hit, and while sales certainly comes to mind an award for top performer can be given out to any department. An award like this will really help increase productivity, as employee will compete against one another to see who can make the most sales, turn in the most quality repots, write the most quality content, et cetera.
The Best Employee Awards for the End of the Year
At the end of the year, you have the opportunity to make a lasting impression on your employees and enter into the next year with a renewed sense of energy and passion that'll help you accomplish all your goals. While you should hype up your team for all that they'll achieve next year, you should also reflect on the great things they did this year, and there's no better way to celebrate another year of great work than by recognizing those responsible!
Employee of the Year: Most companies will give out an employee of the month award, so it only makes sense to name an employee of the year. Not only will this communicate your appreciation, but it'll provide an incentive for your employees to be productive and engaged all year long. Think about including some other prize – maybe a gift card, gift basket, or PTO – to go along with this award.
Team of the Year: Just like the employee of the year award, this award will show a team how much you value their work, and it will provide an incentive to all the teams in your company to put in great work day after day. While the ultimate decision is up to you, we recommend giving it to the team that overcame the most difficulties, took on a lot of big projects, or went above and beyond all expectations and were super productive. In addition to the award, think about including a team dinner or some other reward with it.
Innovator of the Year: Every year, you probably have a number of employees who think up creative solutions to the problems your company faces, or totally reinvents the wheel and finds an easier alternative to a process you've had in place for years. By honoring the year's best innovator in your company, you'll be showing other employees how much you value their ability to think outside the box.
Blunder of the Year: It's important to be able to laugh at yourself, and we all make mistakes from time to time. You can't expect your employees to be perfect all year long – nobody is – so why not find the humor in a situation and ask employees to nominate some of their biggest "oopsies" of the year. In addition to the award, you can use it as a teaching moment and recognize that your staff learned from their mistake.
Don't let the end of the year creep up on you – get the employee appreciation trophies you need today from EDCO!
3 Unique Employee Recognition Awards
Allegory World Globe Crystal Award: a stunning award meant for your greatest achievers. This award is a work of art that will encompass the greatness shown by your top employees. This unique design is made with a mix of clear, black, and blue optic crystal. Sitting atop your customizable black base is a chrome figure holding a blue globe above its head. This award is perfect for those who uphold your companies values and promote excellence daily. Your company logo can be deep etched into the award's base along with a custom message to make this award mean that much more to the recipient. If you are looking for a unique award with a wow factor, this one is for you.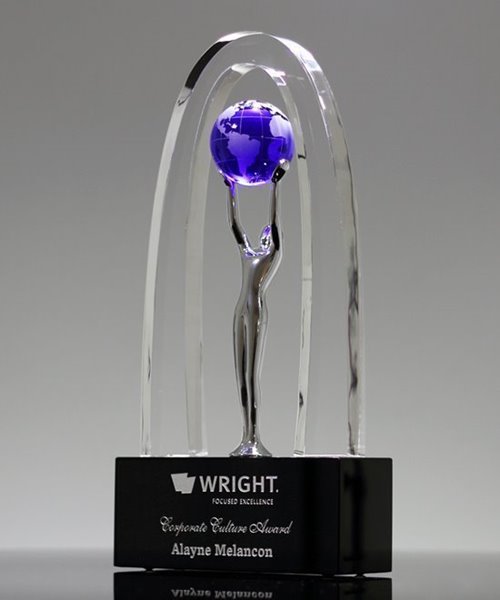 Expression Art Glass Award: a one-of-a-kind piece of art that your team will be proud to display. This piece is beautifully crafted with a vibrant array of colors catching the eye of those who pass by. This stunning award sits atop a clear base that can be customized with your company logo and a personalized message. If you are looking for an achievement award as spirited as your team, this one is for you.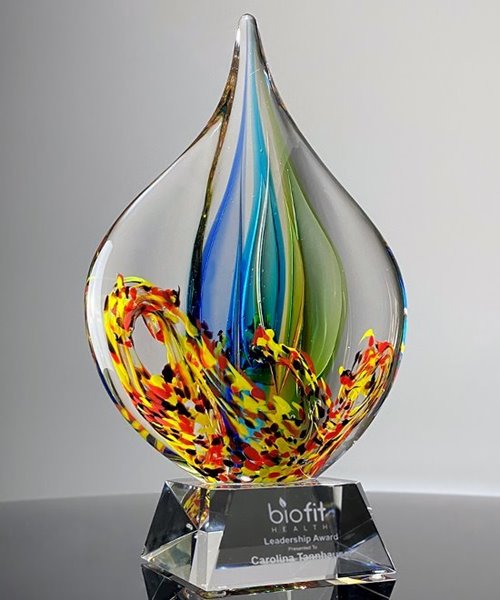 Established Excellence Award: a noteworthy award made for those who show continued excellence month after month and year after year. This award is composed of Starfire Crystal and boasts two prominent aluminum pillars. This traditional design will showcase your team's hard work and is perfect for recognizing achievement. Sitting between this award's pillars and roof is a customizable crystal plaque perfect for engraving your company logo, message, and recipient's name. If you are looking for an employee recognition trophy for the hard workers who are consistent pillars to upholding your organization's success, this one is for you.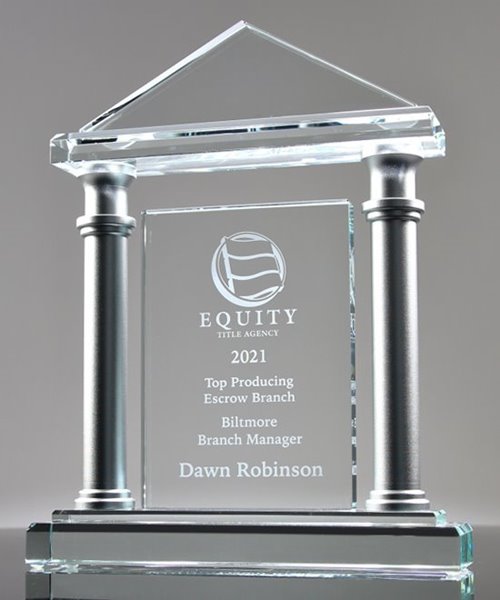 Order Custom Employee Appreciation Awards
Employee appreciation programs are essential for success. They help build trust, boost productivity, decrease turnover, and increase your team's happiness!  At EDCO, we are the leaders in recognition and have an extensive collection of employees recognition awards that are perfect for showing your appreciation. Shop our selection of corporate achievement awards today!