Kentucky Derby Trophy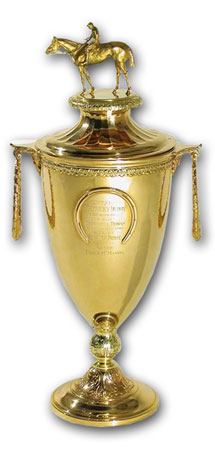 The Kentucky Derby is more than just a horse race, it is the most well-known contest in the international horse racing circuit. The owner of the winning thoroughbred is presented with the Kentucky Derby Trophy, a cup spun from 14-karat gold!
The Derby is held annually in Churchill Downs in Louisville, Kentucky on the first Saturday in May. The Kentucky Derby is also known as "The Run for the Roses," but everyone knows what the Jockeys really want to be holding at the end of that race.
The Derby Trophy, as it is known today, was born in 1924 as a result of a design contest held on the Derby's 50th anniversary held by Churchill Downs' president. The winning draft was submitted by George Louis Graff and soon after the trophy was produced by Lemon & Son where is still produced to this day. Not a lot has changed since the first cup was made. It is still produced using the same method and the same dies created in 1924.
The trophy's main frame is a cup 8" in diameter with a lid, both made of 14-karat gold. Sitting on top of the lid is a gold horse and jockey figure crafted and hand finished from 18-karat gold. The overall height of the Derby Trophy is 17" without the jade base and it weighs about 3.5 pounds.
The fabrication process starts with a sheet of gold strapped to a lathe to create the most difficult part, the cup. Using an old technique called spinning, the creator is able to achieve a highly polished look second to none. Casting the cup would be much easier and save a lot of time, but the finish would not be the same. During the spinning process the gold is shaped using a variety of cones and bowls. This is an extremely sensitive operation where if the speed and feel of the machine isn't tuned correctly or if the temperature isn't right, the gold could crack and break. This has actually happened only once, in 1987 the cup cracked during the spinning process forcing the manufacturing process to be started over from scratch.
With an estimated 1000 man hours that goes into the production process, the Kentucky Derby Trophy is truly a labor of love. When the trophy is finally completed and ready for the winner's name to be inscribed, 40% of the original gold is lost to the various carvings and fillings. The approximate worth of the trophy is $70,000.00 and it is presented to the owner of the winning horse. The jockey and trainer receive replicas that are about half the size, produced from sterling silver and worth approximately $5,000.00 each.
Aside from the shiny gold trophy and all the glory of red roses raining down from the stands, the winning team receives a purse worth $1.5M. Not too shabby for a 2 minute race!