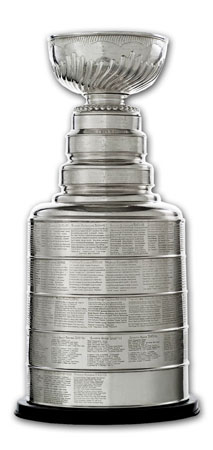 The Stanley Cup is awarded each year to the playoff champion of the National Hockey League, or the NHL and it is also the oldest trophy competed for by professional athletes in North America. It is the shining beacon, or the holy grail of ice hockey!
The Stanley Cup is almost completely composed of sterling silver and it is the only trophy in professional sports where the name of every member of every winning team is engraved onto the trophy. Because of this reason there have been many alterations done to this trophy since its beginning in 1892. It actually started as a silver bowl which currently sits atop of today's Stanley Cup. In its infancy rings and bands were added to the bottom of the trophy to make room for engraving. The trophy grew until it finally reached 35" in height and 34 pounds in weight when bands started being retired. Now retired bands along with the original Stanley Cup bowl are displayed in Lord Stanley's Vault in the Esso Hall of Fame.
Lord Stanley or Sir Frederick Arthur Stanley donated the original cup to the league in 1892. He purchased it for 10 Guineas around $50.00 at that time to be presented to "the championship hockey club of the Dominion of Canada." The first team to ever win the Stanley Cup was the Montreal Amateur Athletic Association in 1893. The NHL took possession of the cup in 1910 and it has been associated with hockey greatness ever since.
Even though Canadian teams hold the record for the amount of Stanley Cup wins since its onset, no Canadian team has won the Stanley Cup since 1993! Throughout history the Montreal Canadians won the cup 23 times, the Toronto Maple Leafs 13 times, where as the Boston Bruins, arguably the league's greatest franchise, have only won the cup 6 times.
One of the greatest traditions in sports begins each summer in May upon the presentation of the Stanley Cup. Each of the organization's players and staff members have the pleasure of enjoying the trophy for 24 hours. Because of this, the cup has traveled the world including visits in Japan, Russia, Switzerland as well as igloos in Canada's Nunavut territory.
As time goes on the glory and the legend of the Stanley Cup continues to live on in the minds, hearts and dreams of players and fans alike.