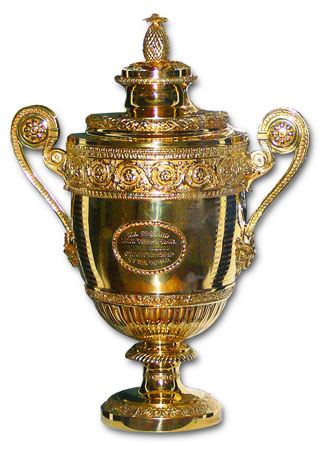 The Wimbledon Championship Trophy is presented annually to the gentlemen's singles tennis champion at the All England Club in Wimbledon, London. The Championships at Wimbledon are one of four Grand Slam tennis tournaments, or Majors played every year. It began in 1877 and is now the oldest standing and most admired professional tennis contest in the world.
Beginning in late June, the tournament is played out over two weeks on grass courts and in true British tradition of inequality for the genders the Gentlemen win a cup while the Ladies win a dish, properly referred to as the "Venus Rosewater Dish".
The cup is a silver gilt cup with a lid and a pineapple on topper. The cup bears the inscription "The All England Lawn Tennis Club Single Handed Champion of the World." The actual cup measures 18.5" inches tall and has a diameter of 7.5". The Cup has a classical style with two traditional handles with detailed engraving and a raised foot. The lid is formed with a pineapple top and a head covered with a winged helmet beneath each handle. There are also two decorative borders with floral art hand engraved and oval styled moldings on the bowl of the Cup and on the handles.
Prize money was first introduced to the tournament in 1968, the first year that professional athletes were allowed to compete in the Championships. Before this Wimbledon was actually a tournament designed for amateur tennis players only! In 2012 an estimated $24M will be awarded as prize money to all the winners at the tournament.
Some of the neat traditions of this tournament include the eating of strawberries and cream by the spectators, a strict dress code and good behavior while the match commences. The tournament is also known for the absence of sponsor advertising around the courts maintaining a very clean and pure format.