Corporate gifts are a thoughtful way to say your company has noticed an employee's hard work and wants to say thank you for the dedication. A personalized gesture, like a custom engraved corporate award from EDCO, helps promote happiness, fulfillment, and loyalty among employees.
Following the receipt of custom corporate awards, don't be surprised to see your employees working even harder than they were before. When employees are singled out and specially recognized in this way for what they bring to the company, you can bet they will continue to be top-notch employees. Sometimes tangible recognition means more than a paycheck ever could.
Offer your employees gifts that are custom printed. Awards like these can include the individual's name along with their achievement engraved beside your company's logo. Anything from simple engraved plaques to obelisk structures in the form of crystal awards are great ways to show employee achievement. Companies also have been known to host entire dinners where these awards are presented to the employees.
However, how you choose to present corporate gifts to employees most likely doesn't matter. In this instance, it's more the gesture and what that means. When you single out each employee to present the custom engraved award, you're also giving her, or him, a moment of glory to bask in.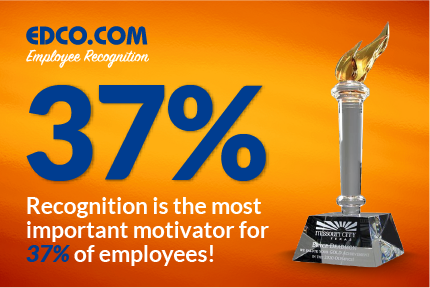 Corporate Award Buying Tips
EDCO Awards & Specialties has prepared a list of 7 tips to help any business develop a successful corporate recognition awards program. Order awards online after checking out these helpful tips for custom corporate award selection:
Look for quality: Above all, it's important to consider the quality of the product. Pricing will give you a good idea when comparing employee awards vendors. A $35 corporate award, while perfectly suitable in a lot of situations, will not be of the same quality as an award that costs $135.
Buy like you're shopping for a diamond: Clarity, color, finish, and weight all have meaning when shopping for quality corporate awards. The difference between a glass award and crystal award is the clarity of the material. Glass awards will typically fall into a lower price range as a result. The weight of the award is important as well. You want a good quality glass or crystal, one-half to three-quarters inch thick, so it'll have good weight.
Go for the sizzle: You can buy a nice crystal award that is very traditional, but don't do that till you've checked out the newer selections that combine colors and materials. We have several new optic crystal awards that combine optical glass, crystal, black glass, or colored glass. EDCO's line of Contemporary Crystal Awards features several new styles that offer traditional glass designs with vibrant colors including blue and red.
Appreciate custom engraved awards: The impact of a nice award can fall flat if it's not engraved in a way most suitable for the material. Many local trophy shops will laser engrave crystal, which is inferior to the more state-of-the-art sandblasting process. Sand engraving or carving uses aluminum oxide as the blasting medium, which is a very fine material that does a very good job on detailed artwork and which delivers a precise, deep etch. Laser engraving doesn't cut deep, so it doesn't look as crisp and can really compromise the intricate details of a company logo. Depending on the material, color, and design, EDCO uses one of five different engraving methods: sand carving, laser etching, UV printing, sublimation or deep edge and color fill.
Ask for help: Work with a trophy or awards vendor whose customer service department has in-depth knowledge of its product line. Time is of the essence. Most companies will order their awards 3-5 days before they need them and some request a 24-hour turnaround. As a result, you want to ensure that the staff member you are talking to understands how much time each step takes, what's involved in the art design process, and how those affect the timing schedule.
Buy from a manufacturer: Most local trophy shops lack expertise in corporate awards. Working directly with a manufacturer, like EDCO of Fort Lauderdale, enables companies to ensure they are receiving the highest quality product possible for their budget in a timely manner. Understanding time constraints, it's important to work with a leading awards vendor that has the product in-stock, offers quick service and turnaround, and can individually work with the customer on art design. 
Talk to a person:  The Internet has made it easy for businesses to purchase most of their office and production supplies without ever having to talk to another person.  But, when it comes to your corporate awards program, the outcome is too important to rely on a faceless and cheap Internet site. Economy sites don't offer the quality craftsmanship, custom corporate award selection, or customer service of a traditional manufacturer like EDCO. Our team can do a lot more for our clients to make their corporate awards programs very meaningful. Because we stock all our items and do our art design and engraving in-house, we can create custom pieces for our clients and meet short turnaround times and tight budget constraints.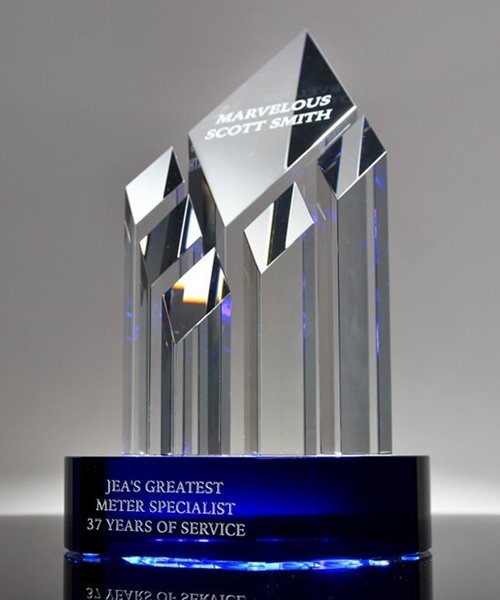 Corporate Awards and Employee Retention
A good employee recognition program with corporate awards has always been an important part of maintaining a successful business, but even more so considering today's job turnover rate. Since 2010 the turnover rate has increased by a staggering 88% every year, and this is even though the number of people in the US workforce gets higher every year. On average, employees only stay with a company for a little over four years – managers about six and a half years – and this lack of talent retention has proven to be costly. By 2030, current data estimates predict that the US will lose $430 billion annually because of employee turnover rates. Granted, that loss is split up between hundreds of thousands of companies, but it's still a staggering amount. Finding ways to retain talent should be a top priority for your company, assuming it wasn't already.
Custom Corporate Award Quote Ideas and Inspiration
So, how do you go about ensuring talent stays with your company? The saying goes "actions speak louder than words." So, rather than just telling your employees how much you value their efforts, show them with a custom engraved award! Thought should put into the kind of awards you give out and what they say. Perhaps you want a company motto, a personalized thank you message, or maybe a quote.
Quotes are a popular choice for customizing a corporate award. Here are five powerful quotes to consider adding to corporate awards for valuable employees:
"Leaders are made, they are not born. They are made by hard effort, which is the price which all of us must pay to achieve any goal that is worthwhile." - Vince Lombardi
Longtime Green Bay Packers head coach Vince Lombardi's team won five NFL Championships in seven years and won the NFL's first two Super Bowls in the 1966 and 1967 seasons, so it's safe to say he knows a thing or two about leadership. This Lombardi quote is perfect for a leadership award that recognizes the great managers, supervisors, and those who set a great example for others in your company!
"We are what we repeatedly do. Excellence then, is not an act, but a habit." – Aristotle
While the ancient Greek philosopher Aristotle lived well before today's corporate world, his words are still applicable and still ring true today. This quote is perfect for achievement awards that honor those who always go above and beyond and turn in excellent work day after day, week after week, month after month, and year after year.
"To win in the marketplace you must first win in the workplace." – Doug Conant, Fmr. President and CEO of the Campbell Soup Company
Conant's quote underscores the importance of positive work environments and office culture, both of which should be considered "winning in the workplace." Thus, it's a great fit for awards given to those who make the biggest contributions to office culture by making work a fun and exciting place to be.
"The only way to do great work is to love what you do." – Steve Jobs
Steve Jobs delivered this timeless bit of wisdom in his 2005 Stanford commencement speech, and it's a great quote to put on a retirement award to honor someone who was loyal to your company for some time and clearly loved what they did.
"Management is doing things right, leadership is doing the right things." – Peter Drucker, Management Consultant and Author
Like the Lombardi quote, Drucker's quote about leadership is a perfect fit on a leadership award that acknowledges those who lead by example and are always doing right by your clients, customers, and employees.
Crystal Corporate Award Examples
EDCO has the best selection of unique crystal awards on the market. Our high-quality crystal awards are made with pure K9 optical crystal. Our unique designs capture light to create colorful prisms offering a stunning presentation. No other medium captures light and color quite like crystal, and it is sure to highlight your top employee's excellence for years to come. Our unique and custom corporate awards are crafted by our artisans, who have over 50 years of experience creating beautiful pieces to help our customers celebrate excellence. If you are ready to create a memorable recognition experience, check out some of our finest unique awards below.
The Majestic Eagle Crystal Award is a one-of-a-kind trophy that will become a centerpiece wherever it is displayed. Like the majestic bird itself, this trophy captures feelings of courage, strength, and freedom. This award is perfect for those on your team who exhibit these traits. The Majestic Eagle award is crafted with stunning crystal that will offer an impressive presentation when light shines upon it. This award sits atop a black crystal base where your recipient's name, company logo, and personalized message can be added. Show your appreciation for those who soar above and beyond with the Majestic Eagle Crystal Award today.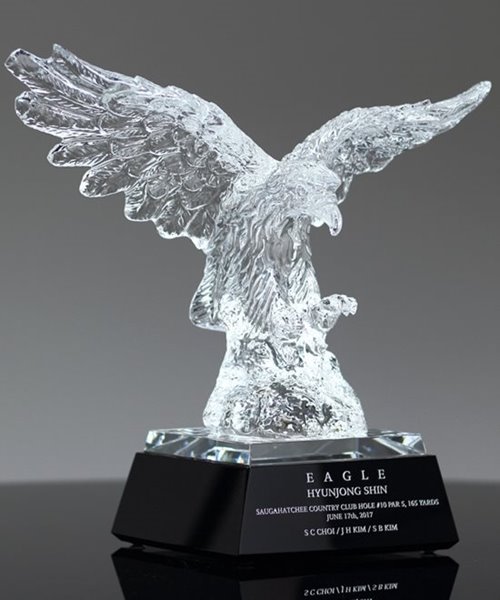 The Crystal Torch Trophy is a stunning award that features a triple-flame design resting atop a clear crystal torch. This design is crafted with our stunning amber crystal in the flame and an impressive clear optic crystal for the torch handle allowing for a beautiful presentation. This timeless design was crafted to embody the spirit of the Olympic Torch and is perfect for awarding your team's best employees. At the base of this unique award, there is room for your company logo, recipient name, and a short message to show your appreciation. Use this award for the leaders who guide your team to victory.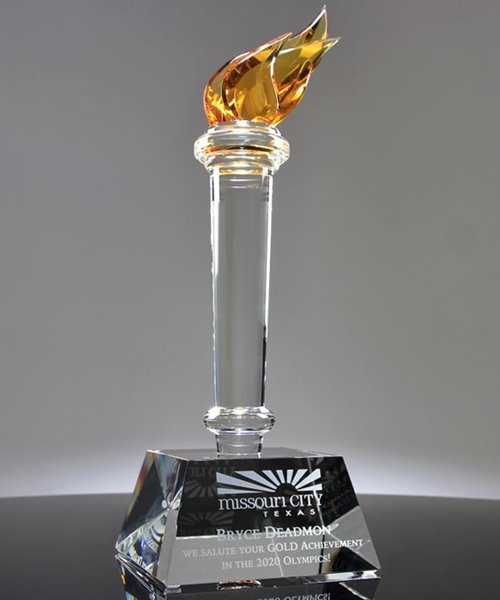 The Vulko Flame Art Crystal is a phenomenal piece of art that will celebrate your team's achievement. This extraordinary award is constructed from glazed crystal and sits atop a jet-black crystal base. This base can be crafted with your company logo, recipient name, and customized message. The flame on this award will change color from deep purple in natural light to attractive blue in fluorescent office lighting, allowing for excellent presentation in any setting. This handblown design is sure to provide a wow factor to your next awards ceremony. This award is perfect for those who strive for excellence every day.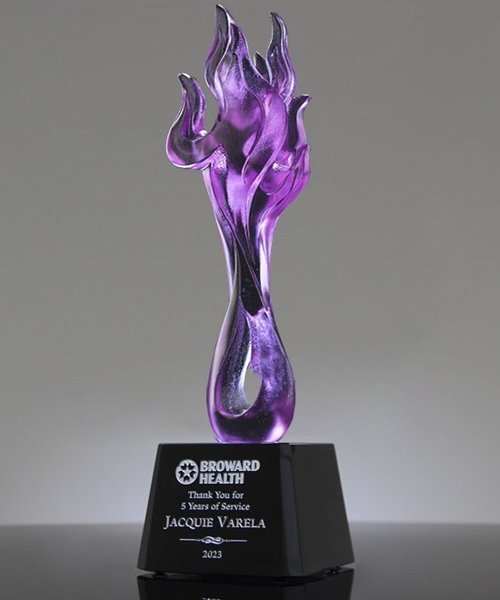 The Achievement Ovation Art Glass Award is a unique design that can be given to those who are paramount to the company's success. This award features a hand-blown sculpture mixed with deep blue hues sitting atop an optic crystal base. This base offers ample room for your company logo, recipient name, and offers room for a short message, all etched deep into the base. Next time you need a unique award for an impressive victory, this award is for you.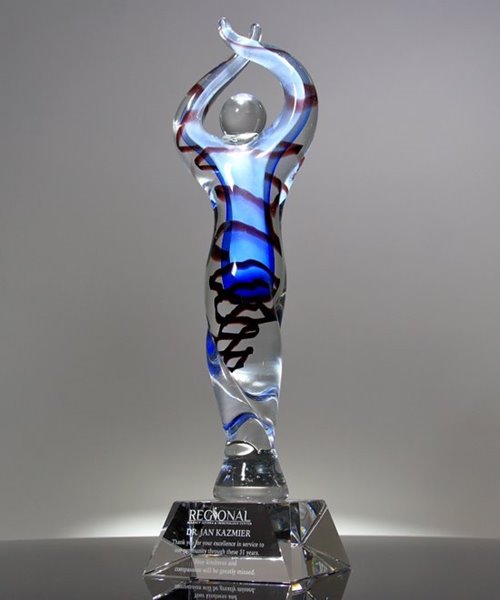 Custom Engraved Corporate Awards – Order Awards Online
EDCO America's leader in recognition and is your home for unique awards. Our high-quality crystal corporate awards will show your employees how much you appreciate them every day. Shop our selection today and order awards online at EDCO to get what you need to build a great office environment and keep talent with your company.
For help with your corporate award program, call 800-377-8646.