It's no secret that employees will work harder, be more productive, and be more engaged in company culture when their efforts feel appreciated. People want to know that their work has meaning, and recognition from bosses and fellow co-workers does a lot to instill that sense of meaning in your employees. Many companies rely on their employee recognition programs to acknowledge the hard work their employees do, bestowing awards for leadership, adhering to company values, making the most sales, and more. These awards are appreciated by their recipients and inspire them and others to continue to bring the best version of themselves into the office every day and do great work.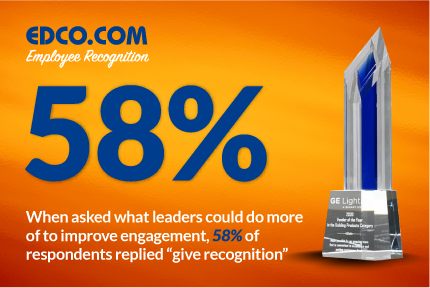 Personalized employee appreciation gifts should also come from managers or supervisors. Nearly 53% of employees want to receive more recognition from their manager or supervisor – much more than the 41% who want more recognition from coworkers. Correspondingly, the same study found that manager and supervisor recognition was the most meaningful to employees when it did occur. 
For a company to enjoy all the benefits of employee recognition, these awards must be significant, meaningful, and thoughtful. Simply handing out cheaply made plastic trophies you've ordered in bulk from Amazon won't do, and employees will see right through the gesture. They may even feel insulted and undervalued, causing them to look for employment elsewhere. Getting substantial awards made from a material like crystal, glass, or wood that come with customization options are far and away the best way to show employees you appreciate them in a significant and meaningful way. Customization is especially important. 
Why Customization is Important
A custom engraved award also shows that a company not only appreciates the work an employee does but appreciates them as an individual as well. Customized awards come with more meaning, so the recipient will feel more appreciated, and everyone will be more inspired. Here are just a few reasons why customized awards mean more in the corporate workplace : 
Customization Gives the Award More Meaning
As previously mentioned, customizing an award gives it more meaning. This is true in both the literal and physical sense. An award engraved with the recipient's name, their title, a short message of appreciation, and featuring the company logo communicates more than an award without customization, literally giving it more meaning. It also carries more meaning because employees will recognize the company took the time to get the award personalized for them and paid a little extra to do so. A great example of this is our employee appreciation crystal blocks award.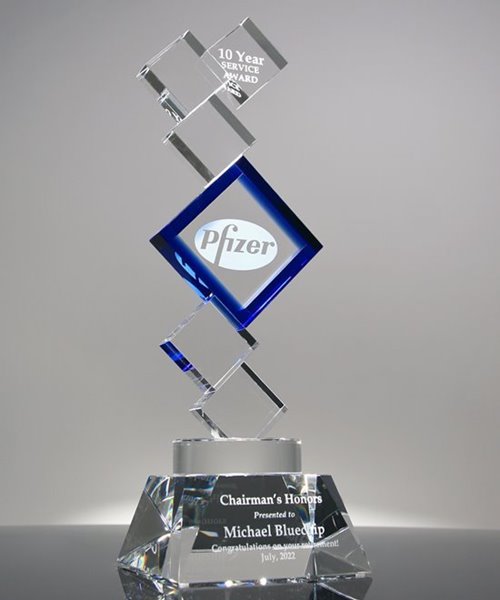 Custom Awards Improve Employee Recognition at Work
You know how crucial employee recognition is in the workplace, and it takes different types of it to create a good office culture. There's peer-to-peer recognition which occurs on a daily basis, and then there's company recognition which is the rarer of the two. Giving out a custom award, such as our distinguished service crystal award, certainly qualifies as company recognition and getting custom awards for your top performers only adds to the amount of recognition employees receive.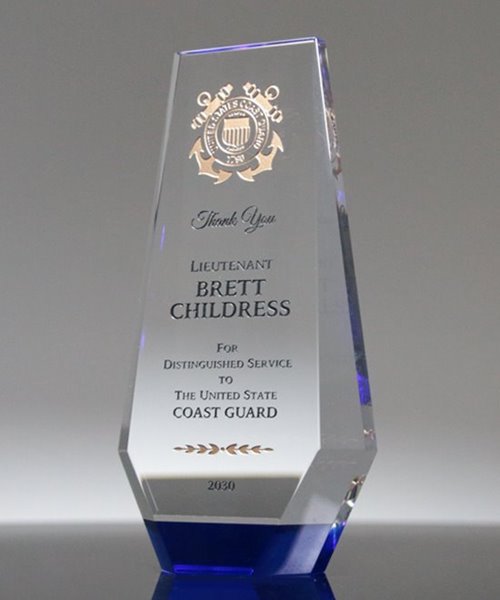 Custom Awards Increase Loyalty
Employees that feel recognized and appreciated in meaningful ways are less likely to seek employment elsewhere. When you give out customized awards, you're showing your staff that you recognize the value they bring to the business, and it makes them more loyal to your organization. It also shows that you share the same values and vision and want them to be a crucial part of your company for years to come. A great way to accomplish this is to implement custom year of service awards for your employees.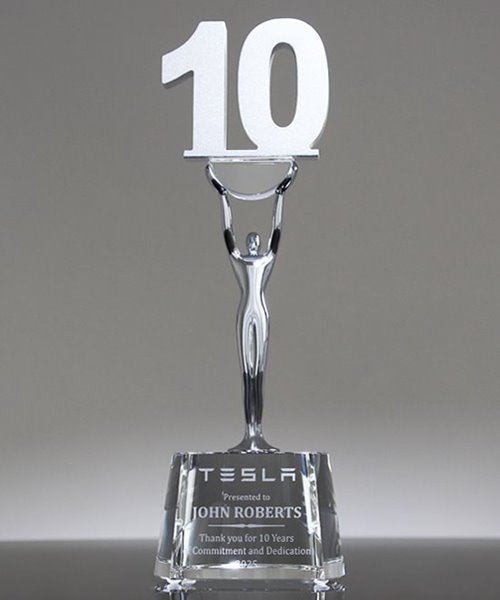 Custom Awards Offer a Shared Experience for Employees
In addition to wanting to feel that the work they do is meaningful, employees want to feel connected to their peers and the company itself. Giving out certain awards to different employees every year creates a shared experience, and the customization still lets each retain a sense of individuality. This will also create a bond between employees who have won the same award, and as the company grows, these groups will grow too. They will also give back to your organization with their industry knowledge, and the awards themselves will become even more prestigious as time goes on. 
Personalized gifts for employees that combine three factors – knowledge of the individual, a detailed description of the accomplishment and recognition of the benefit to the whole company – are the most thoughtful, and therefore the most effective, type of employee award. 
Knowledge of the Individual
Truly personalized employee appreciation gifts show that you know your employee as an individual. This means two things: First, that you're familiar with his or her likes and dislikes on a personal level. Do you know what books, movies or TV shows the people on your team like? Do you know their hobbies and pastimes? Getting to know your employees on this level makes recognition much more meaningful. Second, you should know how they like to receive recognition. To find this out, just ask! Maybe they prefer private recognition over public or would rather have peer recognition than have the CEO make an announcement. 
Detailed Description of the Accomplishment
Personalized gifts for employees provide the best morale boost when they are specific to the individual's accomplishment – so don't just write their name and call it a day. Make sure the particular achievement is inscribed, whether that means a list of traits like "For Outstanding Attitude and Positivity," or a specific title, like "Sales Person of the Year" for a top sales shark.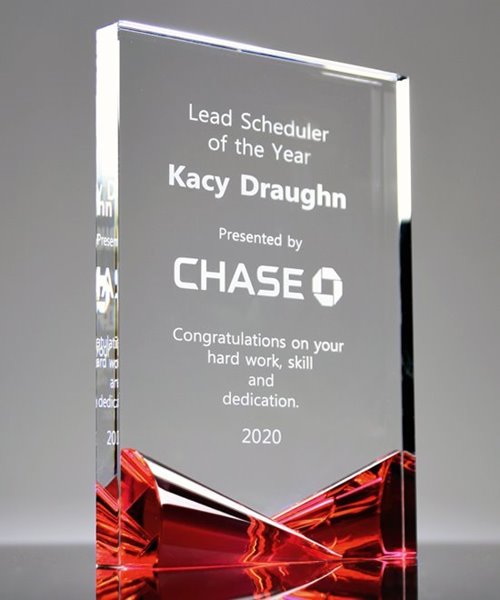 Recognizing the Benefit to the Company
You should also be specific about how this employee helped the company: growing sales, improving company culture, initiating teamwork, finding new efficiencies and so on. This doesn't necessarily need to be inscribed on your personalized employee gift, but make sure that you add it verbally when you present it. Recognizing the benefit to the company shows exactly why the employee is valued, making the gift even more special. 
You already know that personalized gifts can make a big impression on your employees – leading to higher productivity, better morale, increased teamwork and all sorts of positive effects on your bottom line. The reason why is simple: Employees want to be appreciated – in one study, recognition easily beat out a 5% salary bonus as employees' preferred benefit. 
Keep High Quality
When you give a custom award, it should show that you know the individual personally. It should also be specific to the employee's specific accomplishment, as well as how that accomplishment benefited the company. This ties it all back to teamwork – humans are social animals, and we want to be part of a team. For custom awards to have the most impact, they should be high-quality. The good news is that trophy engraving can be a simple, quick process, especially if you work with an experienced professional. At EDCO, our normal production time is just 2 to 3 days, and that always includes engraving. Our processes and equipment are state-of-the-art, so you get premium, sharp-looking engraving no matter what type you choose. 
Types of Trophy Engraving
If you thought all trophy engraving was the same, think again. The type of engraving you choose will depend on the material your trophy is made from and the look you're going for. At EDCO we offer four methods to personalize custom awards: 
Abrasive etching: Also called deep etching, this is the most detailed type of trophy engraving. It's a relatively in-depth process that involves creating a template and using a sandblasting technique to etch the design. This is the type of etching used on our crystal awards and trophies. 
Laser: Laser trophy engraving is a quick and easy process, making it a more affordable option. It can only be done on flat surfaces, such as the plates on the bases of trophies. 
Full color: This means that the etched letters, logos or designs are filled with color. It's usually necessary in order to see the inscription on metal plates, a common type of trophy engraving. Black, gold and silver are the most common colors, though others are available. 
Sublimation: This is a process of imprinting a trophy, rather than engraving it. In sublimation, specialized machinery uses high pressure and heat to transfer letters or images onto the custom award in vivid, long-lasting color. Sublimation printing is often preferred over engraving, as there are endless color options and design possibilities. 
Recommended Fonts for Trophy Engraving
You also want to think about your font. For your custom award to have the intended effect, it needs to be readable, but that isn't the only consideration. Different fonts can cause different feelings and make various impressions – you'd never use clownish Comic Sans for a business presentation, would you? Here are a few recommended fonts for trophy engraving: 
Times New Roman: This tried-and-true font has been the default in Microsoft Word for years. That's because it's easy to read and its set width (the width of the letters) doesn't take up too much space. 
Century Schoolbook: This is a curvier, lighter Times New Roman. It's just as professional, but gives custom awards a fresher look without being too contemporary. 
Helvetica Neue: This font is a sans serif, meaning it doesn't have the extra "points" on the ends of the letters. Helvetica also has a thicker set width, and these two things combined give it a very bold, forward look. 
Freestyle Script: If a font is a script, that means it has a cursive look. Freestyle Script has an artsy feel to it, with forward-leaning letters that flow together well. 
Black Jack: This is a bolder script font with taller letters that look more like handwriting, giving it an informal feel. 
The final step for custom awards is to choose your actual message. Keep in mind that on most trophies, you'll have less space for your inscription than, for example, on a plaque. We'll adjust your font size accordingly, but you'll most likely still need a shorter message. Here are some ideas to give you an idea of typical trophy engraving inscriptions: 
For Outstanding Sales & Marketing 
For Exceptional Effort, Drive 
(Company Name) Appreciates Your 
Excellent Leadership and Loyalty 
(Company Name) Regional Sales Manager 
In Recognition of Your Promotion 
The Best Personalized Gifts for Employees
Logo T-shirts, coffee mugs and lapel pins are just fine as branded company items that you give out to clients and to employees as small tokens of appreciation. But these personalized employee appreciation gifts bring recognition to another level: 
Trophies can be personalized in several ways: you can choose a shape or design that the individual will love, and also add an inscription to make the award even more meaningful. There is a trophy that fits every personality and occasion, from soaring eagles to sparkling crystal to humorous trophies. 
The main benefit of plaque awards is that they offer more room for a thoughtful inscription. You can write more than a name and an achievement on many plaques. There's room for several lines, so you can get very specific about the accomplishment and how it benefited the company. 
Have a creative person on your team? Artwork is the perfect personalized gift for employees on your design or advertising team – or anyone who is innovative and imaginative. With hand-blown art glass awards, you're giving the gift of artwork and a meaningful inscription, checking all the boxes for thoughtful employee awards. 
Barware definitely gets the first requirement right: knowledge of the individual. If your employee likes a fine glass of scotch or a good red wine from time to time, use that knowledge to show them that you really listen to them. Scotch decanter sets, wine glasses, wine decanters and beer mugs will remind your employees how valued they are every time they use them. 
This is another personalized employee appreciation gift that shows you really know someone. Engraved vases, bowls and trophy cups make an ideal keepsake for an employee that appreciates elegance and craftsmanship. 
Clock awards are the perfect gift for a top executive or a retirement celebration. They're distinguished and classic, showing your employees that you respect and value them. They come in many designs, from sleek glass to handsome hardwoods, and you can inscribe your personalized message. 
While personalized gifts for employees should be thoughtful and specific, they don't have to be expensive or involve a lot of effort. We're here to help you find the award that fits your budget and communicates your message perfectly – so that you can gain all the benefits of motivated, productive employees.At EDCO, we recognize the value customized awards have for both employees and organizations, and that's why we have a wide variety of different awards and trophies that can be customized to suit your needs. Work with us on your next corporate award and create something your staff will cherish for years!