What are 3 beautiful crystal awards for corporate leaders that excel in your office? Read on and we'll give you our picks for the most stunning crystal awards for corporate leaders.
You should always put thought and effort into picking the right kind of employee recognition trophies, especially for those that will be awarded to corporate leaders. This includes people in executive positions like chief executive officer, chief operating officer, chief information officer, chief marketing officer, chief financial officer, and vice president.
Your organization may have slightly different names for these positions, or might have the same person fulfilling multiple of these roles. Regardless, it's crucial to extend the breadth of your employee recognition programs to the people in these important positions because they do so much for your company.
Why Corporate Leaders Love Crystal Awards
Because your corporate leaders do so much important work, you need to give them a special kind of award that truly symbolizes how appreciative you are. A simple plaque or plastic trophy won't do. No, your corporate leaders should get the best kind of employee recognition trophies available – crystal awards.
Some may argue that glass is the superior material, but when you compare the two, it's clearly crystal. What makes crystal awards so great? Compared to glass, crystal awards are more transparent and far stronger. This is because crystal contains as much as 30% more minerals like lead which makes it more durable and able to reflect light beautifully. This also means crystal is denser, and because the molecules are packed together more tightly, the material is heavier than glass. This will give the award more weight, both literally and metaphorically.
The higher concentration of minerals also allows for more creativity in the shaping of awards because crystal is a lot more malleable than glass. Lastly, crystal also has better reflecting properties and is more transparent than glass.
High-Quality Crystal Leadership Awards
Crystal awards are more majestic and opulent than glass, can be created in a variety of different shapes, and don't come with the same high risk of breaking if dropped. This makes them the best way to express gratitude and recognize top performance among your corporate leaders. Now, let's discuss the 3 most beautiful crystal awards we have to offer!
Leadership Eagle Award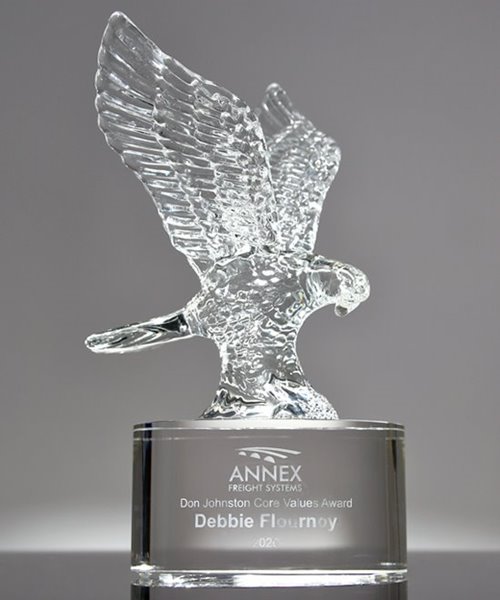 In our culture, eagles are synonymous with many of the things you'd look for in a corporate leader like respect, honesty, truth, integrity, victory, and resilience. Eagles are also known to symbolize determination and represent the drive within us to push further and reach higher. Therefore, they make perfect sense, and this crystal leadership eagle award brings the bird of prey to life with wings outstretched, ready to take flight, in stunning crystal. The award can symbolize how the recipient soars above and beyond expectations.
Empire Crystal Globe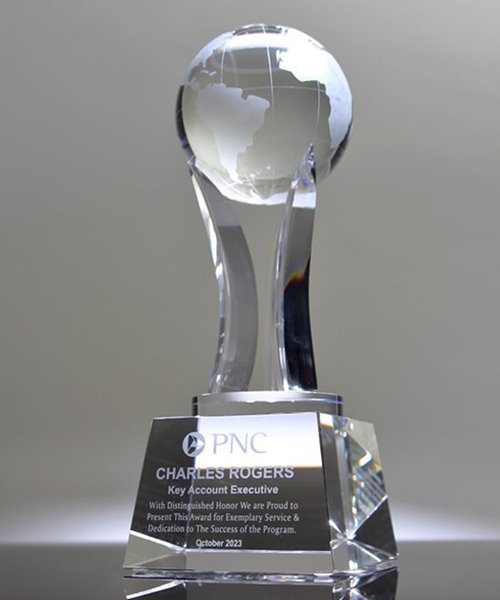 This award features a dynamic design with a crystal globe award model of the Earth propped up by three curved pillars, all of which reflect light beautifully. The globe is 4 inches in diameter, and the award itself is 12 inches tall, large enough to stand out but not too big that it's distracting. The globe design makes this award perfect for your corporate leaders that manage international branches of your business or make global sales.
Apex Obelisk Crystal Award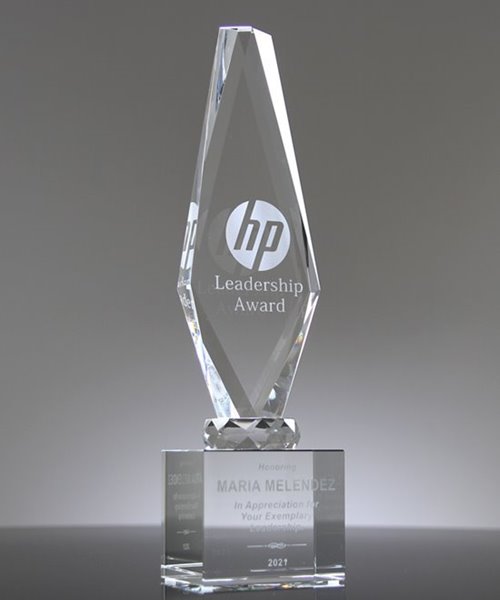 The Apex Obelisk crystal award isn't just one of our best-selling crystal awards; it's one of our best-selling corporate awards – period. Its popularity is likely due to the impeccable design and craftsmanship on the obelisk that stands at 10 inches tall with bevels that reflect light beautifully. The towering nature of the obelisk can represent how the award's recipient has risen above their peers.
EDCO is your one-stop-shop for every employee recognition you need to build a successful employee recognition program, and with the end of the year rapidly approaching, it's time to start thinking about end of the year awards. Learn more about how to wrap up your year with employee recognition right here, and then browse our incredible selection of crystal awards, achievement awards, leadership trophies, and more!