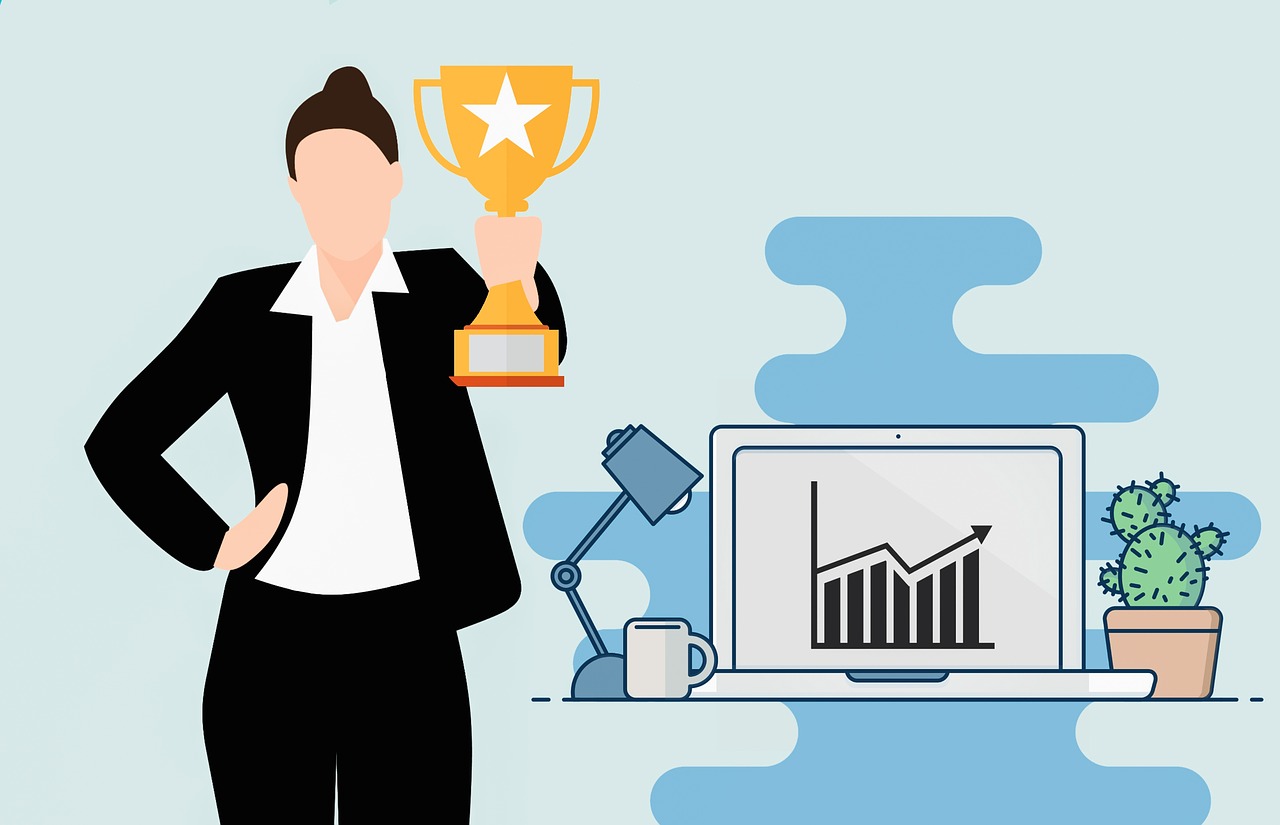 Table of Contents
What Are Employee of the Month Awards?
Employee of the Month Awards are awards that you present to your employees once a month.The purpose of the Employee of the Month Awards program is to demonstrate your appreciation for your employee, encourage certain behaviors, motivate them and continue to push the organization forward.
With employee recognition, workers recognize each other and make the workplace feel more inclusive, human, and employees feel an improved sense of value and appreciation. Employee recognition is one of the most important factors in driving workplace engagement, productivity, loyalty, and employee retention.
How Do You Choose Employee Of The Month?
This depends on your organization and the industry. Do you have a competitive sales team? Then consider sales awards for your top performers. Do you have several teams working on major projects? Consider awarding someone who takes initiative with a leadership trophy.
Once you establish your criteria such as:
Is an employee a team player?
Have they been consistent?
Do they offer and accept feedback?
Do they share their ideas?
Do they uplift others?
Are they enthusiastic?
There are a variety of different skills, achievements and attributes that can be noticed and awarded. Consider your budget, the skills you'd like to award and the culture you'd like to cultivate.
EDCO offers thousands of different employee awards for every budget including exclusive custom awards.
Employee Of The Month Mistakes To Avoid
Creating an employee recognition awards program is a great way to make your employees feel values, seen and recognized by upper management and their peers. Not every recognition program is created the same and there are certain mistakes you should avoid to maintain an effective employee recognition program:
Awarding the Same Person

Not Defining Recognition Rubric or Criteria

Using a "One Size Fits All" strategy
20 Employee of the Month Ideas Your Team Can Use Today
Employee plaque
Employee of the month trophy
Employee of the month parking space
Gift Cards
Day Off
Wellness day voucher
Catered lunch
Coffee
Points for perk redemption
Company swag
Happy hour
Team activity
Game day
Gift box
Certificate
Website feature
Social media recognition
Monetary rewards
Club membership
Equipment upgrades
Unique Employee of the Month Ideas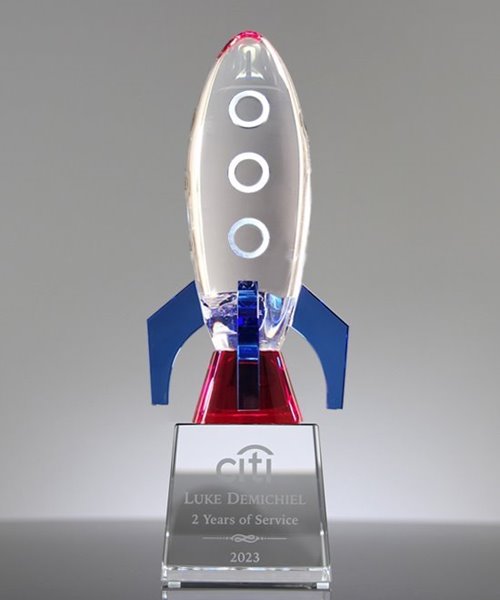 Crystal Employee of the Month Awards
The Key Ingredients for Recognizing Employees with Monthly Awards
There are many kinds of employee recognition, from on-the-spot verbal praise to employee of the month programs. But employee recognition awards for your top performers are a special category. These awards are typically presented quarterly or bi-annually to recognize employees who have set a new  bar for achievement in any number of employee recognition award categories. They're often awarded at an event or ceremony and are on the premium side because they recognize such important achievements.
There are three ingredients to creating the perfect recognition program for your top performers:
The categories
The employee recognition awards themselves
The event
We'll go over them here so you can get started honoring your best employees.
1. Employee Recognition Award Categories
Don't think of employee recognition awards as being for salespeople only. You can – and should – reward top-performing employees in every department. Just make sure you're following a system of measurement so that your employees know what to work toward. Here are some popular ideas by department:
Sales: Most sales made
Customer service: Most customer complaints resolved
Engineering: Most bugs fixed
Product: Fastest product turnaround
Human resources: Most recruits
You can also create employee recognition award categories that are chosen from the entire company for accomplishments like:
Attendance: Fewest sick days taken
Personal development: Most goals achieved
Promotions: Largest promotion given
2. Premium Employee Recognition Awards
The final ingredient for incredible employee recognition awards is a high-quality, premium trophy or plaque. You want to send the message that only the best awards will do for your best employees. Here are our top premium options:
When it's time to recognize your top performers, it's all about creating a distinctive atmosphere that makes them feel special. Ready to choose your employee recognition award categories and get started? We'll see you at the ceremony!
3. Employee Recognition Events
How to plan an employee recognition event? So you're ready to hand out employee recognition awards – make a big deal about it! These awards are for the best of the best, and the ceremony should reflect that. For larger companies and international companies, an annual convention or conference is an ideal time to give out these awards. But even smaller companies can create a yearly event that will excite employees and give them something to look forward to – and you don't need a huge budget to make it fun. Just follow these steps:
Choose your theme: A theme makes everything more fun, including employee recognition awards ceremonies. "Shooting for the Stars" and other space themes are popular; you can also have a Hollywood theme and honor your own "star actors." International companies can choose a global theme, highlighting all the different countries they operate in. Other popular themes include luaus, casino nights, winter wonderlands and the roaring '20s.
Pick your venue: Try to rent an indoor venue to avoid any weather problems, and make sure there's plenty of seating. Choose a location that's close to your office to accommodate different commute times and to avoid seeming biased. If you're really on a tight budget, you can have the party at your office. Planning a virtual event? Check out our Guide to Virtual Employee Awards.
Get food and drinks: Top-notch award ceremonies will provide dinner and drinks, but it doesn't have to be fancy. Whether you go for food trucks, hors d'oeuvres or a full sit-down dinner, the important thing is to give your employees a chance to socialize over food and drinks.
Choose your employee recognition award categories and winners: Check out our list above to get started, then get creative. Winners can be chosen by vote or by committee, depending on the setup of your recognition program.
Prepare your speeches: Have the CEO and members of upper management give speeches throughout the evening. For larger companies, this is often the only time employees get to interact with these senior positions. When handing out awards, give a short speech about the employee, the accomplishment and how it helped the company.
Have fun! Make sure you give yourself plenty of time to plan and organize. You'll be less stressed and have more fun when the day arrives.
About the Company - Why Order Employee Awards from EDCO?
Here is why you should order with EDCO Awards & Specialties:
Responsive in-house team
Been in business for over 45 years
Guaranteed on-time delivery
Highest quality products
Lowest Price Promise
Free engraving & shipping
Employee Recognition FAQs
What is Employee Recognition?

Employee recognition is the act of publicly acknowledging your staff members for who they are and what they do. It is positive feedback of an employee's strengths and an expression of gratitude and appreciation. 

Essentially, the goal of employee recognition in the workplace is to reinforce particular behaviors, practices, or activities that result in better performance and positive business results. Employee appreciation also helps foster a meaningful relationship between staff members and loyalty to their organization. 

With employee recognition, workers recognize each other and make the workplace feel more inclusive, human, and employees feel an improved sense of value and appreciation. Employee recognition is one of the most important factors in driving workplace engagement, productivity, loyalty, and employee retention.

How Important Is Employee Recognition? And Why?

Employee recognition isn't just a nice way to treat your staff; it's also an extremely effective communication tool that can help you to get the best out of your business. Whatever method of recognition you decide to go for, your actions will reinforce good behavior within your team and staff and will communicate to them what sorts of actions and behaviors you want to see from them. If you own a business and want to keep your staff motivated and bringing in money for you then a simple employee recognition system can produce immediate, positive results.

Businesses and companies too often forget about the importance of employee recognition and the effects it can have on employees and job performance. Many businesses think they're saving time and money by skipping out on employee recognition programs, but in the long run, they're actually losing out on time, money, work quality, and employee retention. It's important to take the time to appreciate an employee's hard work in order to better improve the company and business as a whole. 

What are the Benefits of Employee Recognition & Appreciation?

Employee Awards & Recognition make a difference on the bottom line. 

How? 

It's simple, by rewarding your team for good performance, you are reinforcing productive behavior.  Award and Recognition Programs build employee loyalty while helping to achieve goals more efficiently. They also create a competitive environment with a positive spin.  People are just more likely to repeat the behaviors being rewarded.  As Florida's largest manufacturer of Corporate Awards we hear our customers say time and time again how impactful their awards presentations are on staff members.  Awards people receive become cherished heirlooms and have a lasting effect.  This leads to satisfied employees which leads to satisfied customers and ultimately better financial performance for the company.

 Additional Resources for Employee Recognition and Appreciation -