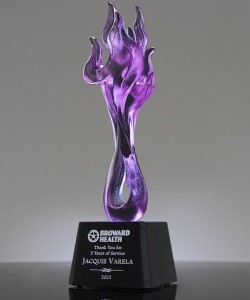 EDCO is the premier supplier of Colored Crystal Awards in the USA.
We take pride in creating memorable, personalized awards for employers to give recognition to their valued workers. Colored crystal awards are the perfect solution for those looking for a way to motivate and encourage their employees to continue their stellar performance!
Our colored crystal awards are artistic recognition trophies made of crystal and accented with marble, stainless metals, and ebony wood. Our unique collection includes fascinating crystal designs with dramatic streams of color.
Our awards are truly custom, and no two awards are exactly alike.
Each of our colored crystal awards also includes custom engravings and inscriptions, custom wording, and the option to drop-ship awards directly to individual employees.
Our colored crystal awards selection includes: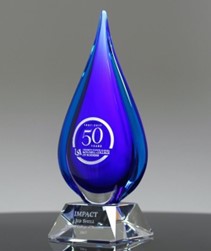 We offer a suite of over 170 blue crystal awards and trophies in a variety of hues and shapes. With dozens of premium artisanal designs, you are sure to find a blue crystal award perfect for your employee recognition program. 
Among our most popular blue crystal awards are the Luminous Blue Crystal Award, the Euphoria Crystal Award (pictured), and the Azure Fontana Vase.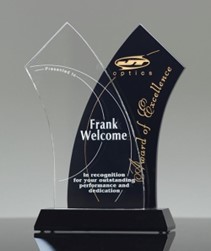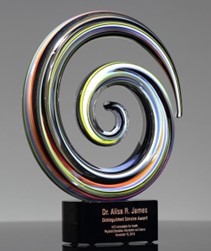 Multicolor crystal awards are great when the time comes for employee appreciation. The use of multiple colors, figures, and shapes make these particular crystal awards stand out like no others. We offer a range of premier options for any business seeking to recognize employees with something special. 
Some of our favorite multicolor crystal awards we offer include the Opulent Whirl Crystal Award (pictured), the Forever Art Glass Award, and the Spectra Art Glass Trophy Vase.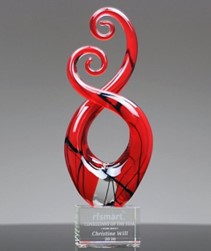 Red crystal awards feature many designs that revolve around flames and hearts, which make them an excellent choice for appreciating passionate employees. We also offer red crystal trophies in many different geometric shapes, plus even a Red Apple Award for teachers!
Three of our ideal choices for red crystal awards would include the Red Gem Diamond Award, the Harmonia Art Glass Award (pictured), and the Heart of Life Crystal Award.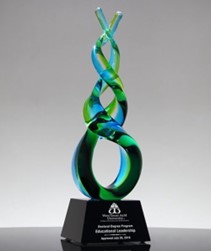 Many of our green crystal awards feature flame shapes that communicate energy, but they also come in a variety of other unique styles that will stand out and make your employees feel appreciated. Like all of our crystal award offerings, we have several high-end designs available.
The three green crystal awards we recommend for employee recognition would be the Green Crystal Monolith Award, the Serenity Helix Art Crystal Award (pictured), and the Laguna Green Flame Award.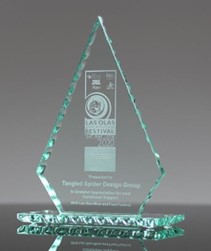 Jade glass awards are some of our most popular bulk-order trophies at EDCO. Jade's abundance makes it an excellent option for large corporations seeking to reward numerous employees for their efforts. We offer jade glass award plaques as well as more exquisite designs that include other shapes, materials, and even clocks!
Some of our most sought-after jade glass awards include the Jade Glass Tower Award, the Jade Glass Circle Award, and our Jade Glass Conquest Award (pictured).
Explore More EDCO Colored Crystal Awards
Explore our collection of Colored Crystal Awards to find the perfect trophies for your employee rewards program.
At EDCO, we offer convenient shipping across the entire USA as well as drop-shipping!
EDCO crystal awards are unrivaled in both style and quality. Our mesmerizing custom trophies and awards are made from the clearest optical crystal, jade crystal, and premium glass.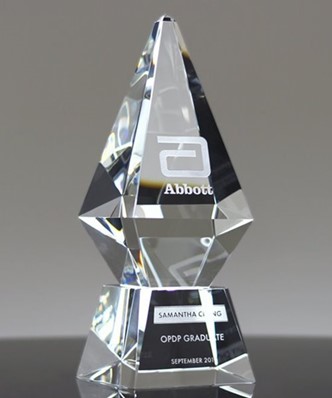 We manufacture and customize awards in bulk, offer wholesale pricing direct to consumers, and guarantee timely delivery to locations across the United State. Each of our crystal awards comes with a lifetime guarantee, free engraving, rush service, and free shipping!
Here is everything you need to know about planning your perfect Crystal Award:
Making a Crystal Trophy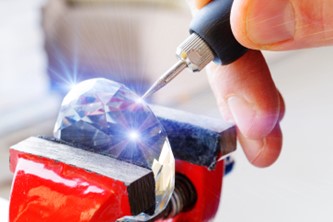 Optical crystal is made through a process that involves subjecting sheets of molten material to high pressure to remove air bubbles. This ensures that the crystal is completely flawless once the material hardens. It is then polished, cut, and beveled to create the final design. This process requires hard work and dedication to master, resulting in a beautiful and artistic trophy that the award recipient is sure to appreciate.
When cut and polished in a precise manner, crystal awards go a step beyond glass, creating rainbow prisms when placed under a light. To make high-quality trophies that stand the test of time, we use K9 optical crystals that make our trophies hard and durable. This hardness allows us to create incredibly smooth awards that can be cut and beveled with perfect edges.
The Engraving Process
          Engraving is a crucial step in the trophy-making process. Engravings allow buyers to customize awards so that they are more meaningful and personal for the recipient. To engrave a trophy, craftsmen typically use a rotating copper wheel or a diamond to cut into a glass award surface.
          At EDCO, we also use deep etching to embed custom logos and text into crystal awards with impressive precision and accuracy. This process involves attaching a stencil to a crystal trophy and blasting abrasive sand over the stencil to etch the design onto the award.
          Our extensive experience in creating eye-catching crystal trophies allows us to use both engraving and deep etching to create personalized awards that meet our customers' specific needs and specifications.
Personalized Crystal Trophies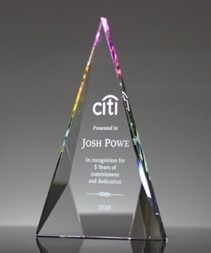 Our experienced artisans have decades of experience creating unique works of art with incredible details and designs. Our awards combine various colors ranging from cobalt blue to jade, red, purple, black, and several others.
We also offer a wide collection of Art Glass Awards that are mouth-blown to ensure each piece is unique in size, shape, and color. Each of our awards include custom engravings and etchings to ensure you can personalize your award to meet your needs.
Customized Crystal Awards
Our design workshop also offers Custom Crystal Awards that will take your idea from concept and design to reality, we also offer pre-manufactured awards we can customize to your specifications.
We can custom etch, apply logos, and include special artwork on our glass and crystal trophies to ensure that your award meets your custom specifications:
          Utilizing custom colors
          Typesetting
          Special styling-queues
Your customized crystal awards will deliver on build quality, craftsmanship, and appearance. Our team will work closely with you to create meaningful employee awards that your team will value for years to come.
Our top eye-catching crystal awards
What are our top eye-catching crystal awards? Read on to find out and learn why crystal is far superior to glass!
When it comes to employee recognition plaques and trophies, crystal awards are among the most popular and for good reason – they're not just stronger and more transparent than glass but they can be molded into a variety of shapes. While both start out as melted sand before becoming the firm, clear material we're familiar with crystal contains 20-30% more lead and it's this higher concentration of minerals that makes it clearer and far more durable than glass. The density of minerals also means a crystal award will weigh more than glass, making it seem far more significant than a glass award. Both literally and metaphorically, crystal awards will communicate how appreciative you are of your employees' efforts. The larger number of minerals could lead one to believe that crystal awards are less visually appealing and transparent than glass, but this isn't the case. Crystal actually is much glossier and transparent because of these minerals and they give the material qualities than mimic those of a prism, refracting light and transforming it into a wonderful rainbow. There should be no debate – crystal awards are just more sparkly and visually appealing than glass awards.
So, crystal awards are clearly the best, but what awards are the best of the best? Here, we'll briefly go over some of our top eye-catching crystal awards so if you're thinking of starting an employee recognition program or upgrading an existing one you know which to check out first.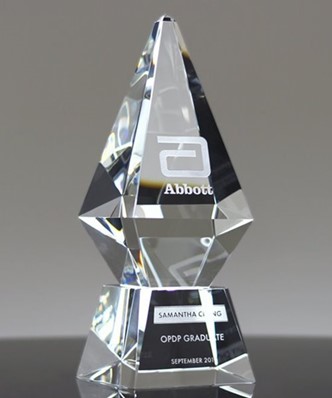 Excellence Award Crystal Obelisk
This stunning excellence award is perfect for honoring the top performers in your company. The refined obelisk design is truly a masterpiece to behold and is constructed all from the highest quality optical crystal we could find. Your company logo, or whatever image you desire, can be deep etched into the award's top imprint location and your custom message can be etched on the bottom. If you're looking for an award with wow factor, this is the one.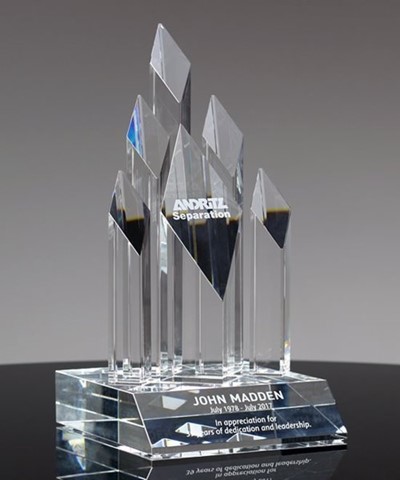 Crafted with a variety of detailed cuts and bevels, this gorgeous award is incredible at refracting light, making it one of the most eye-catching crystal awards we offer. The most forward facing, center diamond can be etched and there is a larger etching spot on the base. In addition to being one of the most stunning awards we offer it's also one of the heaviest at 15 pounds.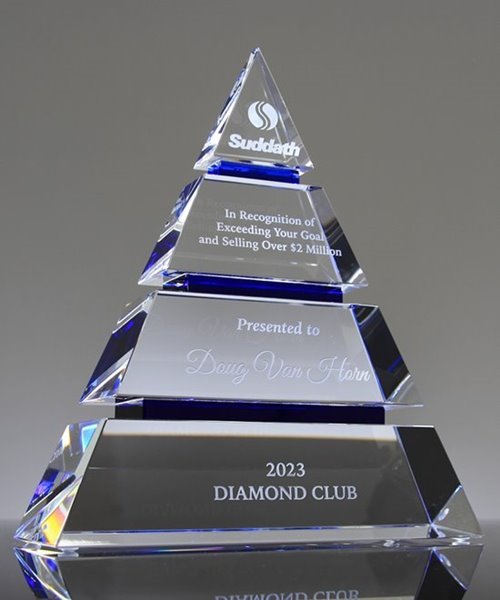 The pyramid shape of this award makes a great for honoring big accomplishments, perfect for the person who has risen to the top. It offers etching areas at all four levels. Standing at 10 inches tall and weighing nearly 11 pounds, it's a sight to behold!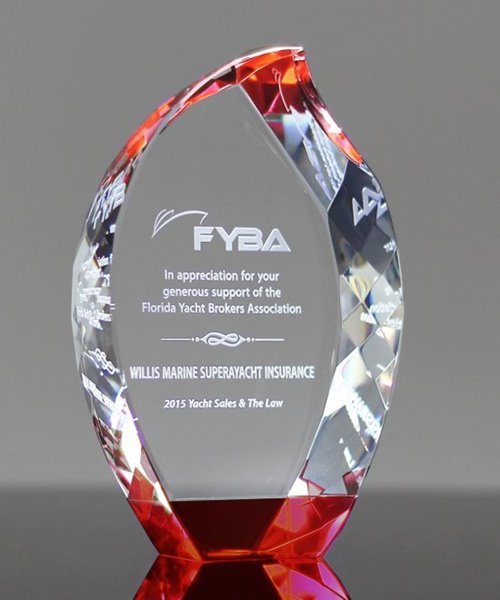 Diamond Edge Flame Red Crystal Award
This award has a deep red crystal base and has been specially crafted to reflect light and carry a red hue all throughout the body. If you're looking for an award with a pop of color that'll stand out from all the other clear crystal awards out there, this is the one for you.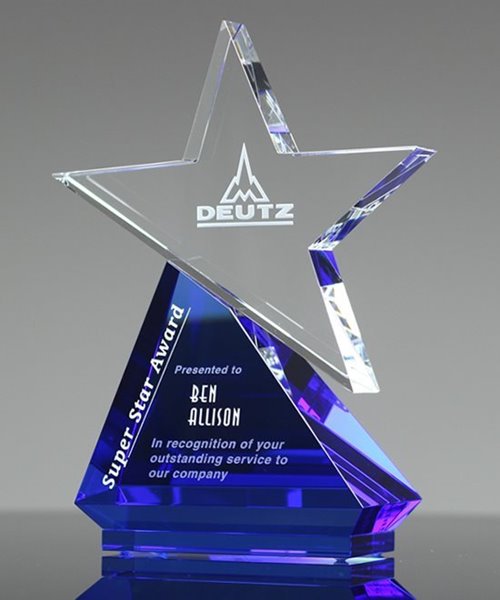 A perfect choice for honoring the shining star, or stars, in your office, this award features a deep blue base and crystal masterfully cut into the shape of a star for a truly one-of-a-kind design. The crystal itself is close to three inches deep in some places and at nine and a half inches tall it'll certainly make an impression.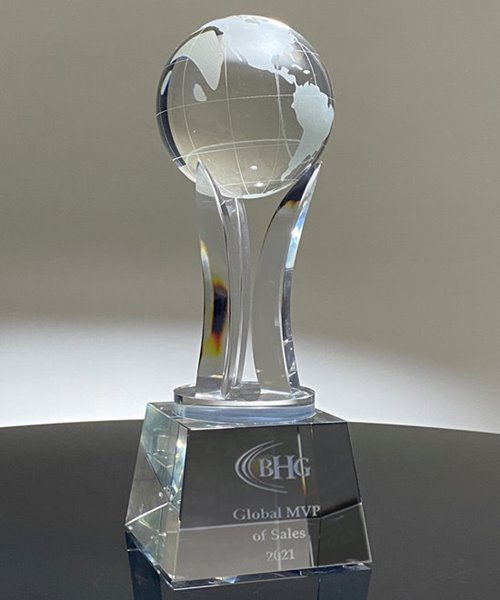 As the name would suggest, this award has a crystal model of the Earth which has been held up by three separate pieces of crystal that stretch upward and curve out. The model of our planet itself is four inches in diameter and includes the tri-pillar design refracts light beautifully.
No matter what award you decide needs to be incorporated into your company's employee recognition program, EDCO will ensure it's a high-quality product that the recipient will love. Shop our selection of high-quality crystal awards and more today!
Crystal trophy buying guide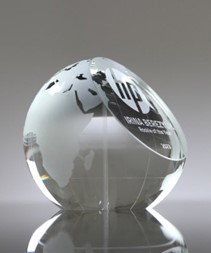 If you are looking for a striking way to honor the achievements and efforts of employees, look no further than the crystal trophies EDCO offers as employee appreciation awards.
Our crystal trophies offer a unique and personal way to express gratitude and recognize your best-performing employees. Our employee awards are available in various shapes and styles that are best suited for different events and purposes. This includes trophies designed specifically for accolades and milestones such as sales achievements, years of service, employee appreciation, leadership, and retirement.
Our crystal appreciation awards are budget-friendly while giving employers and managers the ability to show appreciation for their highest performers. These awards help incentivize team members to improve their productivity and remain motivated. Our collection includes numerous colorful options that feature K9 optical crystal and a premium build quality.
Explore Our Crystal Awards
No matter what your needs or artistic tastes are, you will be able to find an award that suits your needs in our vast collection of crystal trophies. 
Our collection includes different combinations of designs and materials, including:
Got an award in mind? Contact EDCO today for help with placing your order!