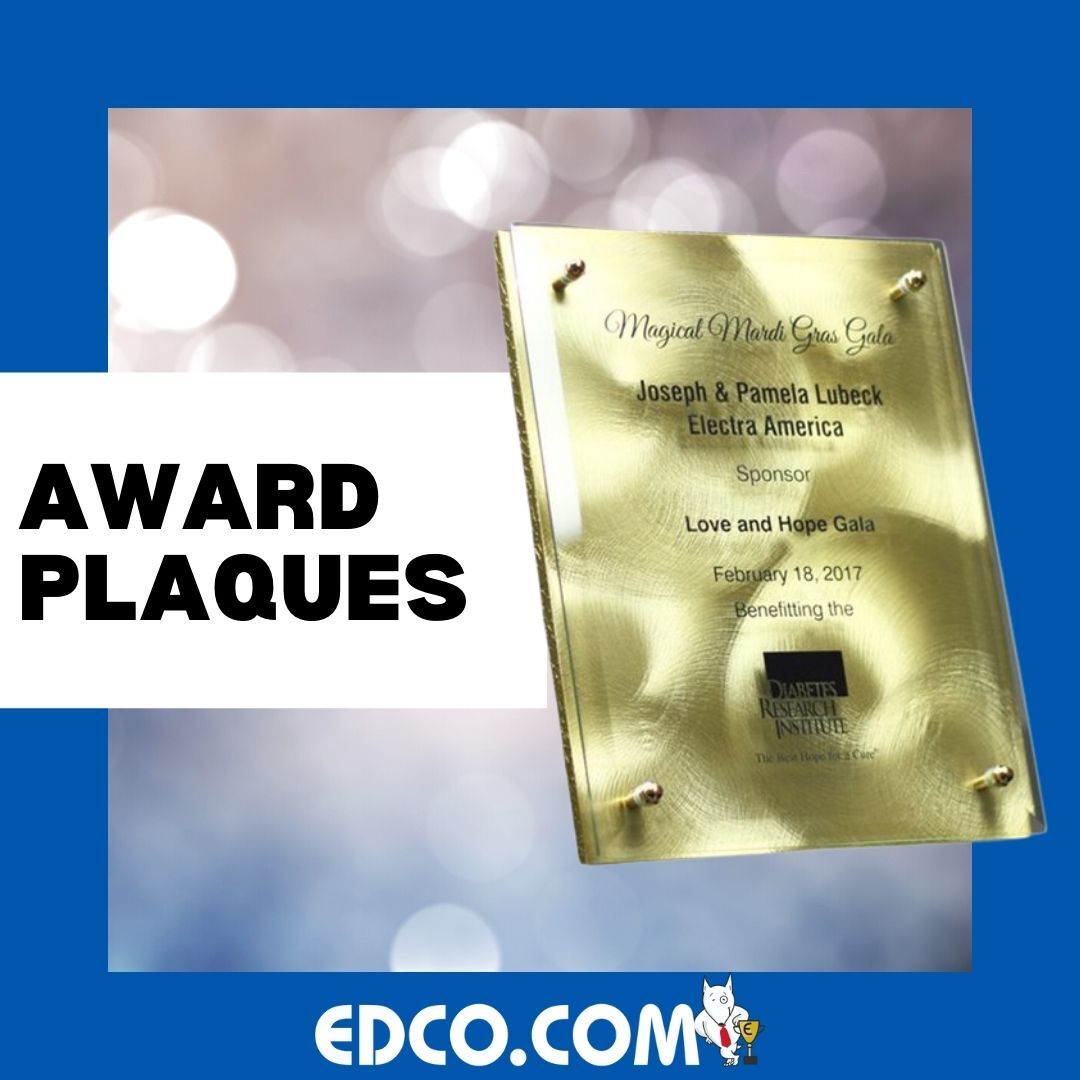 Overview of EDCO Awards Plaques Collection:
Award Plaque Examples
Award plaques are the perfect way to say thank you or to recognize outstanding achievements. They are easy to display, and can be artfully arranged to show off multiple accomplishments or create a wall of high achievers that will inspire and motivate others. Your team will be excited to receive a high-quality custom plaque made by EDCO. We use only the best materials and create products with unrivaled skill and attention to detail.
Below, we detail and feature some of our favorite plaques for employee recognition at the highest levels of your organization, or for your best performers anywhere in your company. You will find a variety of styles of plaques to choose from, and our range of selection guarantees you will find a plaque that fits your corporate culture perfectly. Whether sleek and results-drive or creative and bold, EDCO has all the designs you need for an employee recognition plaque that will fill your staff with pride!
Executive Plaques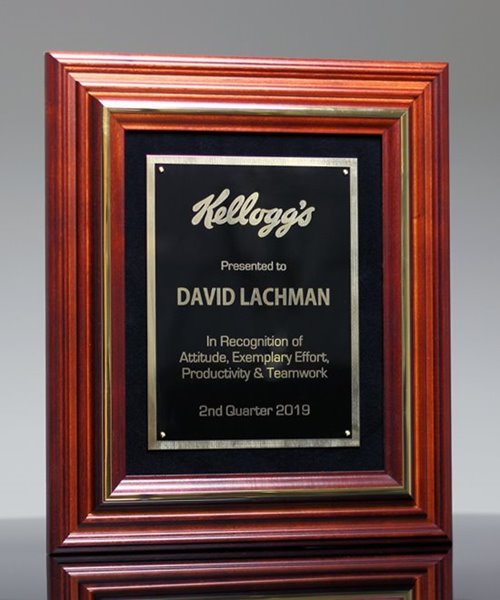 Traditional plaque designs with handsome American hardwoods and inlaid black matting are refined and timeless. The confident Executive Cherry Frame demands respect and is perfect for a retiring top executive or a traditionalist on your team.
Looking for something a little flashier for a star in your organization? The Cerulean Crystal Star Plaque serves as a bright and brillant way to recognize your exec-level employees for years of excellent service or any grand achievement.
Modern Plaques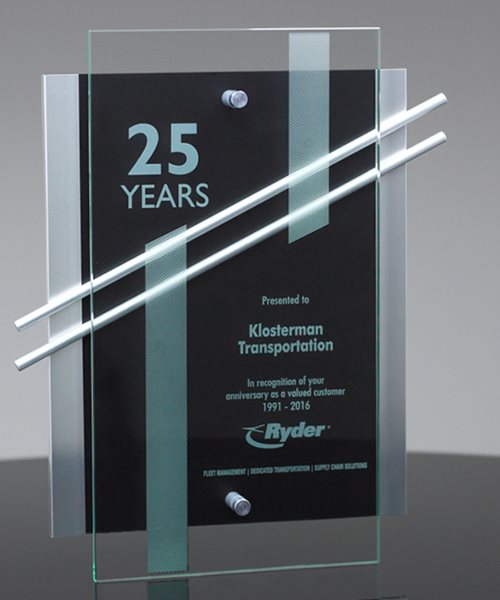 Is your company forward-thinking? Is your retiree known for innovation and imagination? Capture that spirit with sleek, contemporary plaques and awards. Glass plaques with accents of lacquered wood and brushed aluminum are just what you're looking for. The Nova Plaque has an Art Deco style that's at once modern and elegant.
Another great option for a sleek, modern-looking plaque would be the Tuxedo Glass Plaque. This plaque is constructed from beveled glass and laser etched sub-surface, which makes your message and company logo appear to float beneath the surface in bright silver. The unique border and metallic finish of the sub-surface text look truly stunning. This plaque is frequently used to honor years of service, retirement, as well as many other accomplishments.
Sophisticated Plaques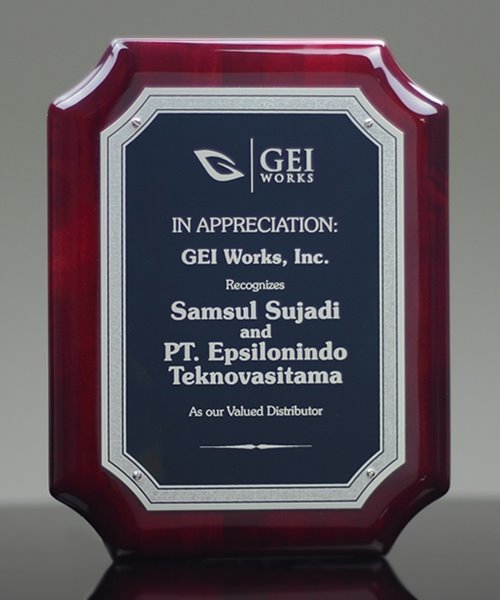 Need something in between "traditional" and "modern"? Go for a plaque that has a traditional style with modern accents. The Conquest Award Plaque has a base of warm American rosewood, but its sleek, curving lines give it an up-to-date look.
Perhaps you want your plaque to reflect the broad scope of your business? Reward your traveling employees with the Continental World Globe Award Plaque. This plaque features our stunning art-metal backing combined with a floating crystal plaque and blue crystal world globe. Your congratulatory message will be deep etched and filled with black paint & gold paint.
Artistic Plaques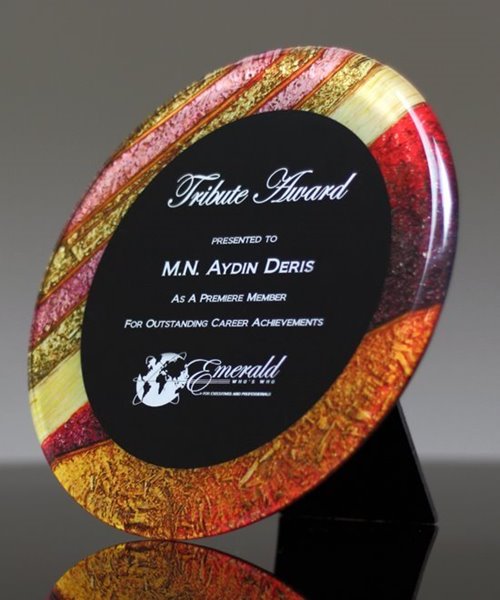 Use your imagination with vibrant, colorful retirement plaques and awards that are perfect for your company's artistic and creative roles – or just energetic personalities! Acrylic plaques can be created in a variety of patterns and colors to communicate your message. The Genesis Day Round standing plaque has a sparkling, high-definition border with a laser-etched message.
Looking for an award plaque, or a work of art? We think you'll agree that our Premiera Plaque is a little bit of both. This contemporary designer plaque maintains warmth through the use of cherry stained wood and black leather that is contrasted by the use of chrome plated rods.  The jade glass is suspended to add dimension, while its textured patterns add a unique design element that sets off your message.  Comes ready to hang or will stand alone using its acrylic stand.
Various Types of Plaque Awards for Employee Recognition

• Certificate Holders comes out as the most basic type of award-giving plates. Certificate holders are dominantly given in any award-giving body, particularly seminars and community-based events. Some certificate holders are specially covered with a stylish holder to emphasize its esteemed appearance.
• Glass Awards Plaques come in various shapes, sizes and styles depending on quality and distinctiveness.  A glass award plaque is produced by series of engraving and sandblasting methods. The glass award plates are usually placed under a small-sized granite or glass base to ensure rigidity when it's being stand on a surface or shelf. However, the glass awards can be used as viable alternative for wood frame stands.
• The Executive Award Plaque is made from vibrant combinations of wood, glass and granite materials. What makes the executive plaque different from the aforementioned award-giving plates is that it's overall styling and finishes is more lavish. The executive awards are usually given during corporate events to recognize the employee's genuine contribution in the industry's success.
• The Framed Award Plaque may have an overstated styling and appearance. However, the plaque is considered as one of the most identifiable award-giving plates today for its prestige. The framed award plaque is given on special occasions wherein an employee is recognized for his 10 – 20 years of service in the company. The plaque is also given during exceptional corporate recognitions such as "tribute" ceremonies.
• The Wood Laminated Plaque are said to be manufactured using the same method as that of the colored laminated ones. The only difference is that the wood laminates are made from 100% quality wood and its styling and finishes is less elegant and minimal. The wood laminated plaque is typically handed during private occasions.
• The Perpetual Award Plaque is commonly seen in monthly and annual award-giving bodies conducted by company staff. The largest perpetual plaque has few distinct subdivisions in which the names of the previous recipients are situated.
Ideas for Engraved Award Plaques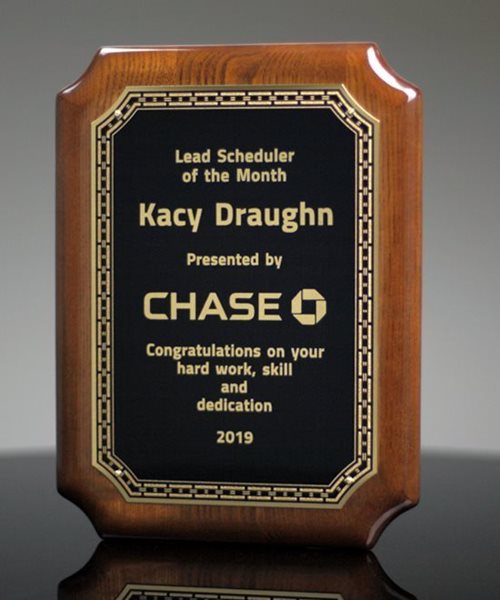 You've chosen your design, but what will you write on it? The inscription on your plaque is just as important to show your recipient how much you care, and to thank them for years of service. Here are a few ideas for memorable engraved award plaques:
Leadership and Achievement
High achievers and top leaders will appreciate plaques and awards that thank them for all their contributions:
Endlessly Inspiring, Tirelessly Leading
World's Best Boss
For a Very Special Leader
Looking Back on Your Many Contributions
Integrity, Tenacity, Dependability (or any combination of your retiree's outstanding traits)
Loyalty and Dedication
If your recipient has been a loyal worker with many years of service, recognize their dedication with one of these inscriptions:
In Recognition of Outstanding Loyalty
For 25 Years of Dedication and Service
25 Years of Making a Difference
With Our Greatest Appreciation
Honoring the Countless Lives You've Touched
Future-Looking
Life isn't over at retirement – the Golden Years are just beginning. Why not have some fun with your engraved award plaque?
The Best Is Yet to Come
Starting a New Chapter
For a Long and Happy Retirement
You've Earned It!
Young at Heart
Combine a thoughtful and heartfelt inscription with your favorite styles of plaques and awards and you've got the perfect retirement gift. Need help? EDCO will make sure every detail of this special award is flawless.
About the Company - Why Order Employee Awards from EDCO?
Here is why you should order with EDCO Awards & Specialties:
Responsive in-house team
Been in business for over 45 years
Guaranteed on-time delivery
Highest quality products
Lowest Price Promise
Free engraving & shipping
Need help? EDCO will make sure every detail of your special award is flawless. Get in touch with us today!