Awards and trophies are among the best ways to celebrate your medical staff any time of year. When medical professionals feel valued and recognized for their achievements, everyone benefits. Awards also show patients the high value your institution places on success, quality care, and professional growth.
It can be confusing to come up with the best medical awards and trophy ideas at first, but EDCO Awards is here to help. Having been in the business of employee recognition for over 50 years, we know what it takes to make professionals feel valued and celebrated.
Follow this guide to learn about new ideas for medical awards, trophies, and staff recognition for your institution.
Why Give Out Medical & Healthcare Awards?
The importance of recognizing medical and healthcare professionals for their selfless contributions cannot be overstated. Medical staff work around the clock to take care of other people. It's time for them to celebrate their hard work and personal sacrifices.
There are many advantages to giving out medical awards and trophies. Both your employees and your institution as a whole can benefit in the following ways:
Inspire a Strong Work Ethic: Celebrating achievements with healthcare awards motivates medical professionals, reinforcing the value of their hard work and dedication.
Acknowledge Stressful Working Conditions: Medical awards recognize the challenging nature of medical work, boosting morale and showing appreciation for staff dedication.
Give Specific Praise and Feedback: Custom medical awards highlight specific accomplishments, offering more personalized recognition than generic awards.
Boost Morale and Promote Positivity in the Workplace: Regular, personalized awards demonstrate an institution's commitment to positivity, enhancing workplace morale.
Inspire a Sense of Community and Cooperation: Awards foster a sense of community, encouraging staff collaboration for better patient care.
Build Trust With Patients and Business Partners: Displaying personalized awards builds trust with patients and partners, enhancing the institution's reputation.
Increase Your Applicant Pool and Professional Connections: Showcasing awards attracts potential employees and partners, highlighting a culture of recognition and positivity.
Top Healthcare Award Names and Their Significance
Distinguished Service in Healthcare Award:
Significance: Celebrates individuals who have made a lasting impact in the healthcare sector through their dedication and service.
Engraving Suggestion: "For years of distinguished service, shaping the future of healthcare with your unwavering commitment."
Rising Star in Medicine:
Significance: Recognizes emerging professionals in the medical field who have shown exceptional promise and potential.
Engraving Suggestion: "For the bright star illuminating the path of medical excellence. Your future is radiant."
Allied Health Professional Excellence Award:
Significance: Honors allied health professionals who play a crucial role in patient care and have demonstrated outstanding expertise.
Engraving Suggestion: "In recognition of your invaluable contributions to healthcare. Your excellence sets the benchmark."
Pharmacy Practice Leader Award:
Significance: Celebrates pharmacists who have showcased leadership and have significantly improved pharmacy practices.
Engraving Suggestion: "For leading with integrity and elevating pharmacy practice to new heights."
Patient Safety Advocate Award:
Significance: Awarded to those who prioritize patient safety, implementing measures to prevent medical errors and ensure optimal care.
Engraving Suggestion: "For your relentless pursuit of patient safety. Your advocacy makes a world of difference."
Outstanding Therapist Recognition:
Significance: Recognizes therapists who have made significant contributions to their field and have consistently provided exceptional care.
Engraving Suggestion: "For your therapeutic touch that heals and comforts. Your dedication is unparalleled."
Community Health Champion:
Significance: Honors individuals or organizations that have made impactful contributions to community health and wellness.
Engraving Suggestion: "For championing the health of our community. Your efforts create a ripple of wellness."
Pediatric Care Excellence Award:
Significance: Celebrates healthcare professionals who provide exceptional care to children, ensuring their well-being and healthy development.
Engraving Suggestion: "For your tender care and dedication to the health of our youngest patients."
Geriatric Medicine Leadership Award:
Significance: Recognizes those who excel in the care of older adults, addressing their unique health needs with compassion and expertise.
Engraving Suggestion: "For leading the way in geriatric care. Your compassion and expertise light the path."
Lifetime Achievement in Medicine Award:
Significance: Honors individuals who have dedicated their lives to the medical profession, making lasting contributions over the years.
Engraving Suggestion: "For a lifetime of dedication and contributions to medicine. Your legacy is profound."
Outstanding Medical Researcher Award:
Significance: Celebrates researchers who have made groundbreaking discoveries, advancing medical science and patient care.
Engraving Suggestion: "For your pioneering research that shapes the future of medicine. Your discoveries light the way."
Healthcare Educator of the Year:
Significance: Recognizes educators who have excelled in training the next generation of healthcare professionals.
Engraving Suggestion: "For nurturing minds and shaping the future of healthcare. Your teachings inspire generations."
Patient's Choice Award:
Significance: An award given based on patient feedback, recognizing healthcare professionals who have made a significant impact on their patients' lives.
Engraving Suggestion: "Chosen by those you serve. Your care and compassion have touched countless hearts."
Dedication to Healthcare Service Award:
Significance: Honors those who have shown unwavering dedication to serving patients and improving healthcare services.
Engraving Suggestion: "For your steadfast dedication to healthcare service. Your commitment enriches lives."
Customizing Medical & Healthcare Trophies and Awards With EDCO
Recognition is all about personalization and celebration. Standard awards and trophies might feel too cookie-cutter and impersonal. That's why, at EDCO, we have customizable engravings and inscriptions for each of our awards and trophies.
When you place your order with us, we make sure to get all the important information. We'll ask you to share the recipient's:
Name
Years of service
Specialty within medicine
Professional title
We'll also request that you provide a personalized message for the award. As you fill in these details about your employee, remember that each is important. They represent facets of your employees that they've worked hard to build and maintain over the years.
Since we use laser engraving, you never have to worry about fading, peeling, or any other aesthetic interruptions. Instead, your employees can simply enjoy their prestigious awards. After all, they've certainly earned them.
Creating the Perfect Personalized Engraved Messages
You might not know what to say to your best employees. After all, you probably see them frequently, and you want your message to stand out from all of the other recognition they receive. Any good institution regularly recognizes and celebrates employees. Awards and trophies are just bonus factors that show that you care.
We have example messages on each of our listings for healthcare trophies and awards. It's best to combine professional value statements with personal celebration messages.
For example, if you're recognizing a registered nurse for their clinical excellence skills, you could engrave something like: "Special thanks and recognition to Nurse (Name) for your dedication to clinical excellence. Your skills have saved lives and restored thousands to health over the years. Take this award as a congratulatory token of recognition from our institution."
Customizing Group Awards and Trophies
In some cases, you may be ordering trophies for group achievements. Thanks to our wide array of customizable engravings, we can make this possible for your institution. You can follow the same ordering process for group awards as for individual awards; simply fill out our questionnaire when you place your order.
Why Specialized Medical Trophies and Awards Matter?
In the world of healthcare, where every day is a challenge and every achievement is a milestone, why settle for generic awards? Specialized medical trophies and awards not only celebrate specific accomplishments but also resonate deeply with the recipients. They reflect the unique challenges and triumphs of the medical field. These awards, whether humorous or tailored to a particular medical specialty, add a personal touch and show that the institution recognizes and values the distinct contributions of its professionals. Let's dive into some of the top medical trophies and awards that can make recognition even more special.
Awards Celebrating Clinical Excellence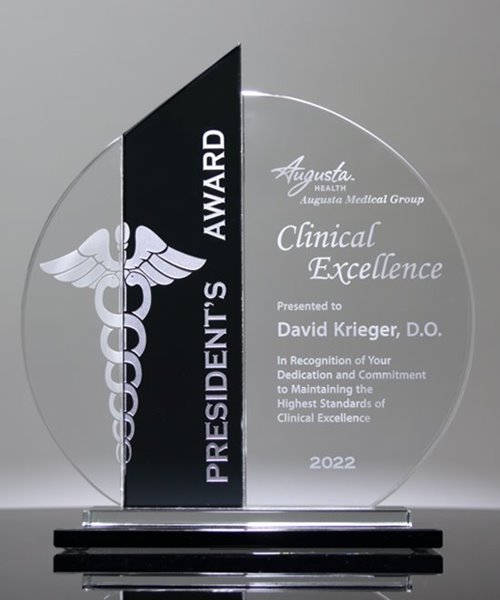 Clinical Crusader Award: For those who champion patient care.
Healthcare Heroics Award: Celebrating the superheroes without capes.
MedTech Maverick Award: For those pushing the boundaries of medical technology.
Awards Honoring Leadership and Dedication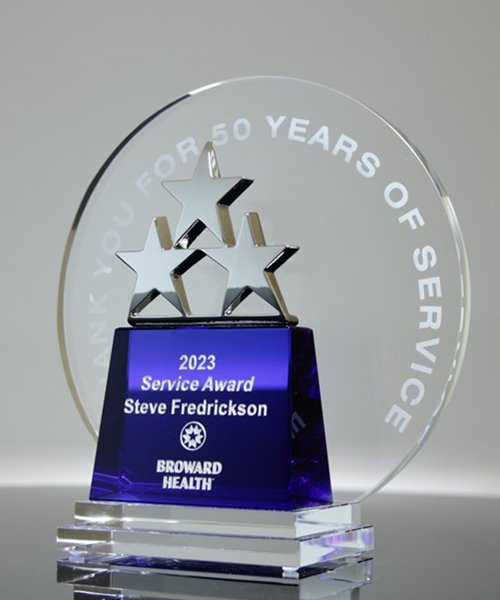 Nurse Navigator Award: For nurses who guide with grace.
Doctor Dynamo Award: For physicians with boundless energy and dedication.
Medicine Maestro Award: Celebrating the virtuosos of healthcare.
Awards Recognizing Specialized Roles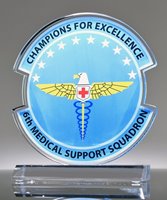 Allied Health All-Star Award: For the unsung heroes of healthcare.
Patient Whisperer Award: For those with an exceptional bedside manner.
Research Rockstar Award: For those lighting up the world of medical research.
EduMed Enthusiast Award: For educators shaping the future of medicine.
Humorous and Light-Hearted Awards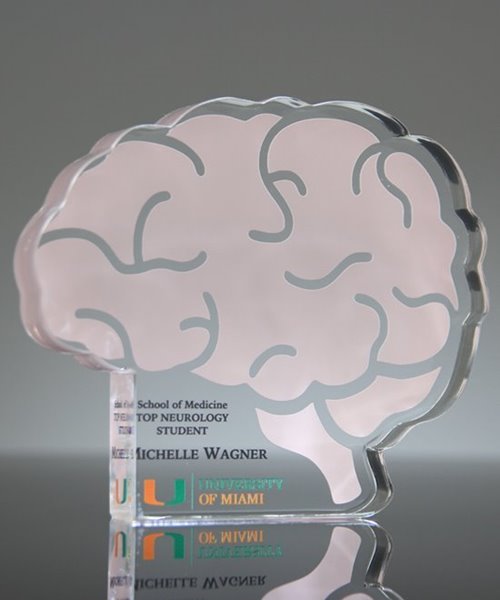 Caffeine Connoisseur Award: For the one always with a coffee in hand.
Midnight Oil Burner Award: Celebrating those late-night shifts.
Pager Paladin Award: For the one always on call and ready to respond.
Stethoscope Stylist Award: For the professional with the most unique stethoscope.
Common Types of Healthcare & Medical Awards to Use at Any Institution
While customized awards and trophies are always nice, there are some more common types of trophies and awards that medical healthcare institutions already use. Learn more about the existing trophies and awards in the medical field so you can better tailor your awards to your employees.
Clinical Excellence Awards
Many educational and professional medical institutions give out awards for clinical excellence. Clinical practice requires a thorough understanding and demonstration of care skills, knowledge, and applied science. It makes sense to award your employees when they demonstrate clinical excellence — it isn't easy.
One of our many options for clinical excellence awards demonstrates this perfectly. The Encore Black Crystal Clinical Excellence Award is personalized for your institution, specific employees, and their accomplishments in clinical practice.
You can customize the engravings to your institution, but the result is the same. The recipient will feel honored and motivated to continue striving for clinical excellence.
Hospitality Awards
Hospitality is an important part of any patient-facing medical care. Options like our Acrylic Pineapple Award demonstrate your institution's appreciation for employees who put their best foot forward in patient care.
It's important to be specific and distinguish employees for the nature of their caregiving skills. For example, you may have a Registered Nurse who is known for being exceptionally responsive and personable with patients. This nurse will likely delight in receiving a hospitality award. Patient satisfaction ratings don't lie.
Military Medical Awards and Trophies
Militaries around the world practice medicine every day, both in hospitals and out in the field. With our Medical Squadron Custom Military Award, you can reward hard-working service members who provide premium medical care all over the world.
This offering is specifically designed to accommodate almost any personal inscriptions and engravings. We offer full-color awards to give to medical service members who have helped make the world a better place, one patient at a time. Being in the U.S. military requires great personal sacrifice, and we're here to help you recognize that.
EMS Recognition Awards
Emergency medical services (EMS) are responsible for triaging and providing first-line care to the wounded. From nurses and assistants to physicians, there are thousands of extremely hard-working emergency medical staff members out there.
Our Star of Life EMS Clear Acrylic Block recognizes the dedication and sacrifices that emergency medical personnel carry every single day on the job. With laser engraving and a clear acrylic background, your emergency medical staff members will delight in receiving this award. After all, they are the protectors of human life.
Healthcare Years of Service Awards
As you retain healthcare personnel at your institution, you'll start to see more staff members reach yearly milestones. You can recognize their hard work and commitment to your institution with "Years of Service" awards.
Our Healthcare Service Award is a great example of this. With a clear circular background and blue crystal base, this plaque recognizes many years of medical achievements and excellent patient care. Your long-term employees deserve to be celebrated for what they've given to your institution. "Years of Service" awards can help you do that for them.
Physician Excellence Awards
Physicians have unique roles in the medical system. While all medical personnel are extremely important to the field, physicians are the leaders in clinical excellence and diagnostic care. After many years of schooling, training, and specialization, physicians deserve to be recognized for excellence and stellar achievements at your institution.
Our Physician of Excellence Award is a prestigious prize for physicians who have dedicated years of expertise and clinical skills to your institution and patients. No matter what specialty your physician of excellence operates in, you can trust that they'll keep this award on their shelf for many years to come.
Visionary Diamond Awards
It takes incredible skill, determination, and vision to contribute to medicine's greatest milestones and achievements. That's what the Visionary Diamond Blue Crystal Award is for, recognizing medical staff members who have contributed excellence to their field for several years.
This honorary award should be reserved for the highest achievements in your institution. From groundbreaking research to stellar clinical skills, visionary achievements are for the best of the best.
Recognizing Retirement: Going Away in Style With EDCO Medical Healthcare Trophies and Awards
There's one special category of medical awards and trophies that is different from the rest: retirement awards. When a beloved member of your medical team retires, it can be bittersweet for everyone.
Retirement means that this employee will no longer contribute to innovative medical research and clinical care at your institution. However, it also means that they should be celebrated and go out in style with one of our medical retirement awards.
In recognizing the importance and value of a retiring employee, you show the rest of your team that their journey with your institution has meaning. They can look forward to a long, healthy, happy career path, knowing that their contributions will forever live on. And what better way to send off a retiring member of your medical community than with a prestigious award?
How to Give Out Medical Retirement Awards
You can make retirement awards a big deal at your institution. If you host annual holiday parties or hand out monthly recognition awards, save your medical retirement awards ceremonies for these events. You should invite as many staff members as possible to watch your retirees receive their well-deserved awards.
Our medical retirement awards are fully customizable with laser engravings and inscriptions. This means you can write heartfelt messages and customize the awards based on each team member's years of service and specialties in medicine. When they receive these awards, they'll know their work will live on past the end of their career.
No matter how you choose to give out your retirement awards, know that they mean the world to retirees. They may even become a prized possession for life.
EDCO Trophy and Award Materials: Premium Acrylic, Crystal, and Glass
Your medical heroes can enjoy their awards for a lifetime since our trophies and awards are all made with premium-grade materials. From acrylic and crystal to glass, we ensure your employees get the best of the best in solid awards and trophies. Learn more about each of our materials and how they hold up over time.
Acrylic Awards
Acrylic is one of the best long-lasting materials for medical awards and trophies. These awards are durable and easy to engrave with inscriptions and personalized messages.
One of the biggest advantages of acrylic trophies and awards is their shatterproof quality. While heavy-duty glass and crystal are gorgeous to look at, acrylic isn't nearly as breakable. If you have children and pets around, acrylic awards and trophies will last for a long time and be resistant to falls and shatters.
Glass Trophies and Awards
Our glass trophies and awards have more weight to them. For more prestigious awards, glass functions as a heavy-duty material that can be showcased for years to come.
We recommend purchasing glass awards for high-level achievements and celebrations. For example, if a member of your medical team is retiring, they will appreciate the quality and beauty of glass awards and trophies. They can showcase them behind elaborate displays or on shelves to be reminded of the work they put in over the years.
Crystal Memorabilia
Crystal looks similar to glass, but it can capture more light both naturally and artificially. If you're looking for aesthetically pleasing awards and trophies with timeless qualities, crystal is the way to go.
Crystal has been used to display trophies and awards for hundreds of years. With our cutting-edge technology, we can engrave crystal awards with personalized inscriptions. We often have colored gems in our crystal awards and trophies as well, allowing for a more colorful display of your appreciation.
Custom Trophies for Specific Achievements
Customized medical awards and trophies show your staff that you see and appreciate what they're accomplishing. Some examples of personal recognition awards include:
Performance-based trophies
Annual review awards and trophies
Customized nameplates with timelines (i.e., "10 years of expertise")
Congratulatory awards (continuing education, promotions, and career success)
Publication awards for medical research
Retirement trophies
These are all dedicated to one specific employee at any given time. If you want your team members to continue growing as professionals, you must foster a sense of pride and recognition through personalized awards.
Order Premium Customized Medical Trophies and Awards from EDCO
For over half a century, EDCO has been producing and shipping out premium, high-quality trophies and awards. We have options for every industry, including the medical field and EMS staff. Medical achievements are no small task. Make sure you commemorate your team's highlights and strengths with custom awards and trophies.
EDCO provides the best of the best in awards and trophies with our expertise and quality manufacturing processes. Shop our wide array of customizable acrylic, glass, and crystal awards and trophies for your medical team today.
Additional Resources for Employee Recognition and Appreciation
About the Company - Why Order Employee Awards from EDCO?
Here is why you should order with EDCO Awards & Specialties:
Responsive in-house team
Been in business for over 45 years
Guaranteed on-time delivery
Highest quality products
Lowest Price Promise
Free engraving & shipping