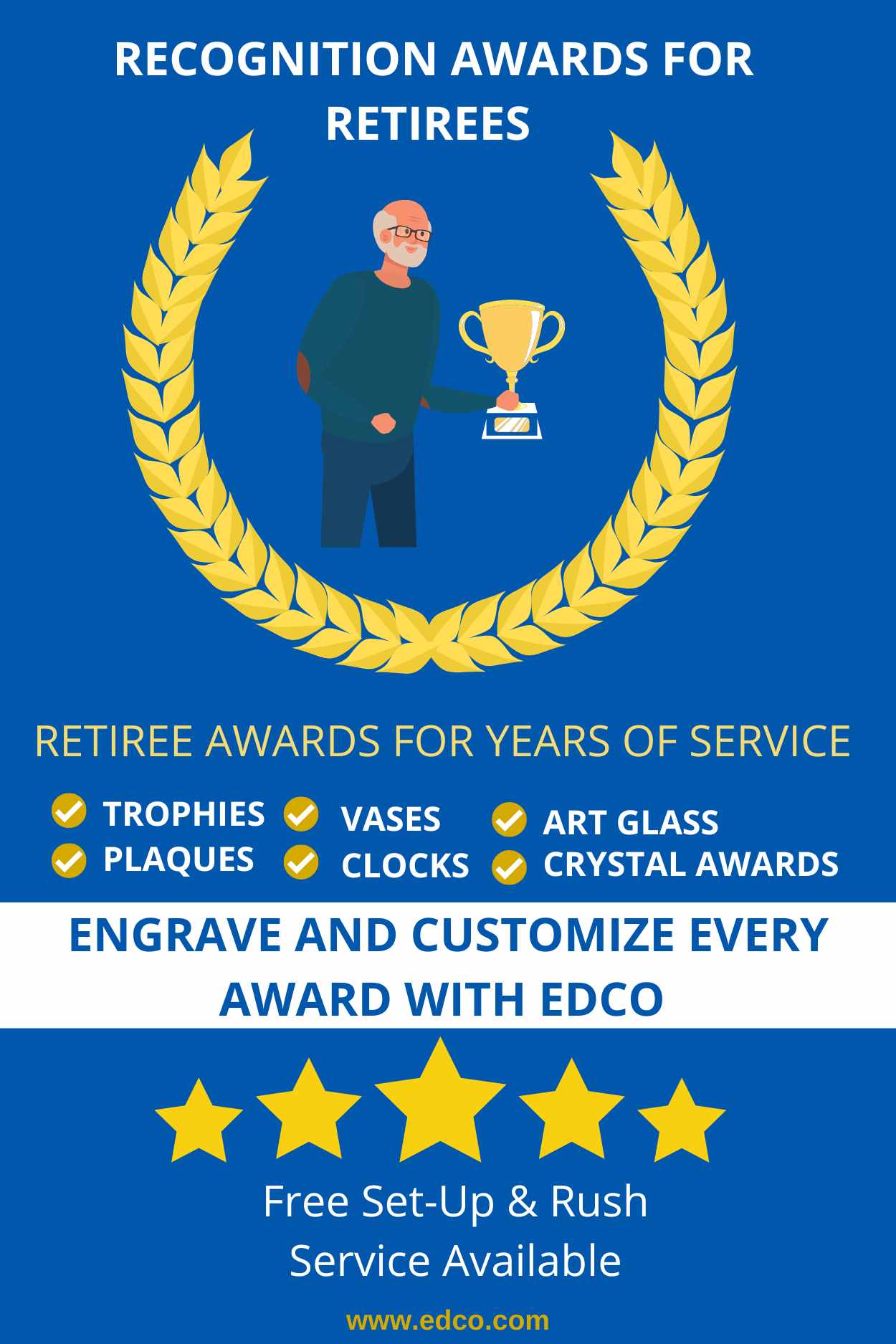 Retirement is a truly once-in-a-lifetime occasion, and when you give it the recognition it deserves with personalized trophies or other awards, you make it even more special.
It's become a common saying that employees just don't stay at their jobs for a long time anymore. The days of pensions, tenure, and a lifetime at the same company are long past. According to the Bureau of Labor Statistics, the average employee has worked at their current job for just 4.6 years. That does rise as employees get older and settle into their careers: workers at age 65 or more have been at their current job about 10.3 years – that's a very long time by today's standards! When those workers retire, they deserve to be recognized with personalized trophies to thank them for their service.
Why You Should Recognize Retirees
Thirty-four percent of companies have a retirement awards program, according to studies. Retirement awards go hand-in-hand with years of service programs – and 85% of companies have those! The retiree who is being honored is often a long-time employee who has dedicated many years of hard work to the company. Why it's important to do recognition awards for retirees:
The employee ends their career on a high note: this will not only solidify their positive experience at your company and promote dedication but may also help with referrals.
Awards help with your company's culture: receiving an award is a fantastic feeling and recognizing employees for their years of service signals to the rest of the company that you are appreciative of their work and long years of dedication.
What To Consider When Choosing an Employee Recognition Award for a Retiree
For most companies, there will come a time when a dedicated employee will decide to retire. Most will never ask for it, but nothing makes a retiree feel more valued than a proper send-off. It may hurt initially to lose such a great worker, but showing respect and appreciation during their transition goes a long way. If you aren't sure about how to properly thank them for all of their hard work, EDCO offers many different trophies, awards, and plaques to help recognize employee dedication and commitment before retirement.
Give them something to remember.
A great way to make a retiree feel important is to give them some sort of physical reminder of your appreciation. A recognition award, trophy, or plaque is a great way to show your appreciation. If you feel it is appropriate, you can even add a custom engraving to make it more personal. Include wording that indicates an appreciation for the value they brought to the company. When you present the award, take a few quality photos. This can also be gifted later to remember their special moments. You never know what will end up on their mantle.
Find out their numbers.
Most employees that are planning to retire have spent a number of years working for the company. It would be a great idea to find out the exact number of years they've been there (brownie points for knowing their start date). Recount any major milestones they contributed to or achieved on their own. Find out how many new employees they trained, how many sales they made, their production numbers, or that huge merger they were so crucial during. This information could be put on an award or mentioned in a speech to show them they matter.
Consider your company's culture.
When thinking of how to send off a retiree, especially if you are considering a party, think of the culture within your company. A smaller company would probably enjoy a potluck during lunch. A bigger, more corporate company may do a small catered lunch. Maybe a more formal after-hours office event would be better. Would it be more fitting to take a moment from a bigger company event, like a picnic or holiday party, to commemorate them? Think about what would be appropriate within your office without seeming too over the top or like you did not care at all. This is also a great time to be able to present them with their engraved award in front of the whole company.
Showing appreciation for long-time employees is a wonderful practice. Not only does it show that you are a caring employer, but it boosts morale for other workers. It shows the retiring employee and current employees that their company cares for all their hard work.
Ideas and Types of Retirement Awards
Years of service and retirement recognition programs encourage company loyalty and create a positive company culture. In fact, more than half of managers view their programs as an investment rather than an expense! And when you give memorable, personalized awards that the retiree will treasure forever, everyone wins. Here are the best ideas to make your retirement recognition program one of a kind – just like your retiree.
Review the rest of our retirement awards here.
How to Create Meaningful Recognition Awards
Your employees don't just want on-the-spot verbal recognition – they want to feel valued and appreciated. The way to do that is through meaningful recognition awards, which should be: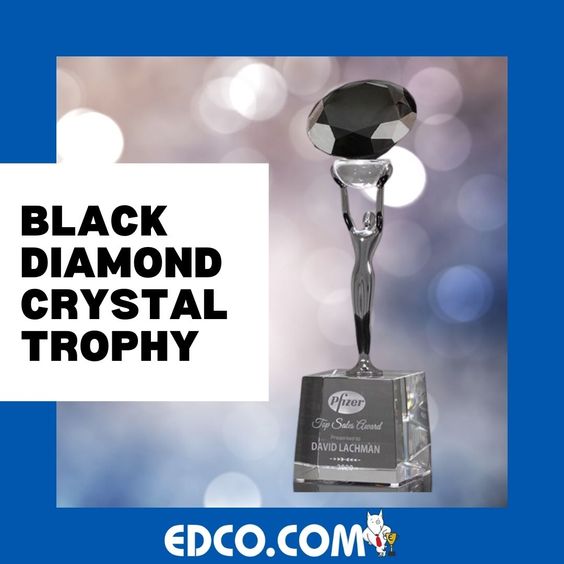 Connected to your brand: Recognition awards should always have your company name and logo on them, but connecting them to your brand goes even further. Choose to reward accomplishments and traits that match your company values and your business goals.
Equal among all employees: Give awards to all departments and all levels of employees. Always reward the same achievement with a similar recognition award. For example, even something as simple as giving a plaque to employees who reach five years of service can create a meaningful program in which having a plaque in your office becomes a symbol of pride.
Personalized: You can't give out "bragging rights" with the company logo printed on a coffee mug or a generic free T-shirt. Effective recognition awards have the employee's name, accomplishment, and a short message about why they are so valued. The recipient can put them on the wall or a shelf and make them a conversation piece – one that they love to talk about.
Presented publicly: The most effective awards are given in front of others. You don't have to have an elaborate ceremony – although that can boost morale even more. Something as simple as giving out custom awards for years of service or recent achievements at a company-wide meeting is ideal.
Once you have your strategy down, the last step is to pick your awards! Here are a few ideas for memorable custom awards your team will love.
Examples of Types of Retirement Awards
Years Of Service Awards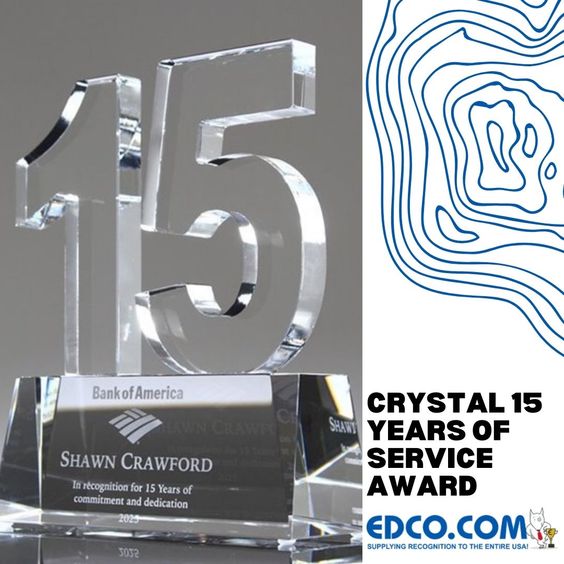 Recognizing service, loyalty and hard work with a stunning Years of Service Award is a great way to praise the retiring employee and demonstrate their dedication to the company.
Crystal 10 Years of Service Award: Honor your retiring and loyal employee with our stunning custom etched Service Awards. Constructed from pure optical crystal, this award features the number 10 elevated on top a deeply beveled base showcasing your company logo and congratulatory message.
Crystal 15 Years of Service Award: Honor your retiring employees with our custom etched 15 Years of Service Award. Constructed from optical crystal, this award features the number 15 of years elevated on top a deeply beveled base showcasing your company logo and congratulatory message. Deliver a message of excellence and add a touch of the WOW factor by recognizing 15-Years of Service with class and style.
Crystal 20 Years of Service Award: Honor your retiring employees with our stunning Crystal Service Awards. Produced from optical crystal, this award features the number 20 elevated on top a deeply beveled base showcasing your company logo and congratulatory message.
Custom Award Plaques
Award plaques are a classic form of recognition for good reason: they're versatile, quickly customized and easy to transport and display. While they might make you think of traditional styles like wood frames with inlaid engraving, there are actually many different varieties available, and some are ideal for executives and for occasions like promotions.
Plaques are a great choice if you have a lot of custom awards to give out. They typically have more space for you to write your message, so you're able to create a more personalized experience for each recipient, while still getting the cost savings of placing a bulk order. They're cost-effective yet professional and will occupy a place of honor on any office wall.
Distinctive Recognition Awards
Give a custom award that's personalized to match the recipient's style – and that's premium quality. Your honoree will only receive these singular awards once in a lifetime, making them the most valuable of all.
Congratulate and inspire your staff. Employees will love to proudly display these beautiful awards for many years to come. Service awards do wonders in minimizing turnover and increasing productivity and EDCO Awards deliver on excellence, style and durability. Shop now and receive free engraving, rush service and free shipping anywhere in the USA!
It takes time and thought to find and design the perfect custom award. But in the end, the effort you put into creating recognition awards that are more than gifts is worth it. Your employees will be thrilled to receive a keepsake that values them as an individual, and you'll get the benefits of a better company culture and increased retention.
How to Personalize Retirement Awards
Keep in mind that it should be:
Personalized: For the highest impact, recognition must be thoughtful and meaningful. The best way to accomplish that is by writing your own personal message on your awards.
High-quality: A major life event like retirement deserves the highest-quality award. Optical crystal, art glass, and fine clocks or barware are excellent options.
Unique: Like all humans, employees want to feel heard. To drive the best performance, get to know your employees on a personal level and give personalized awards that speak to their personalities.
Don't forget to make it a party. Yes – you should definitely throw a retirement party. Why? Everyone loves parties! Organizing a party will improve morale throughout the organization, giving people something to look forward to and providing a shared experience and all the memories that go along with it. Plus, your retiree will get to leave the company on a high note – and hopefully will refer more amazing candidates to your business.
Personalized Award Ideas for Retirement
The wheels are in motion for your retirement party, and now it's time to pick out your personalized trophies and awards. Will you choose a bright color for the "colorful" personality, or perhaps a work of art for the creative type? Here are our favorite ideas, complete with engraving.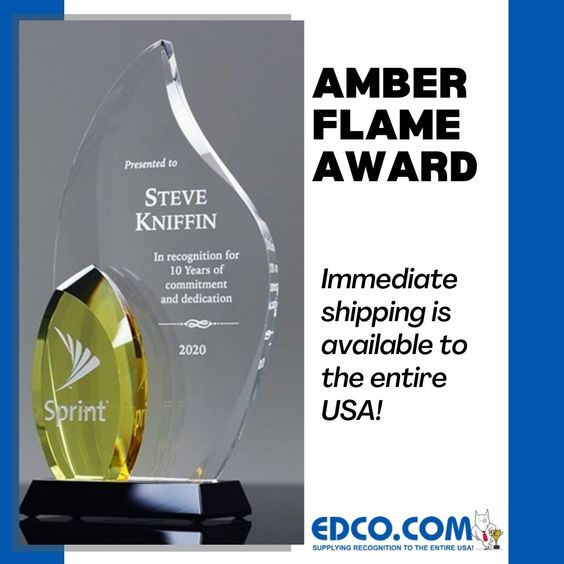 Add Some Color
Color makes personalized trophies "pop" even more – especially when you use your company colors and logo. Check out the Exemplary Red Crystal Award for a handsome pyramid shape Or, go for the Crystal Legacy Full Color Award: If you want your logo or any other image, you can choose the image you want, and we'll digitally print it and insert it right into the trophy!
Company Logo
Presented to [Name]
Congratulations on a
Well-Deserved Retirement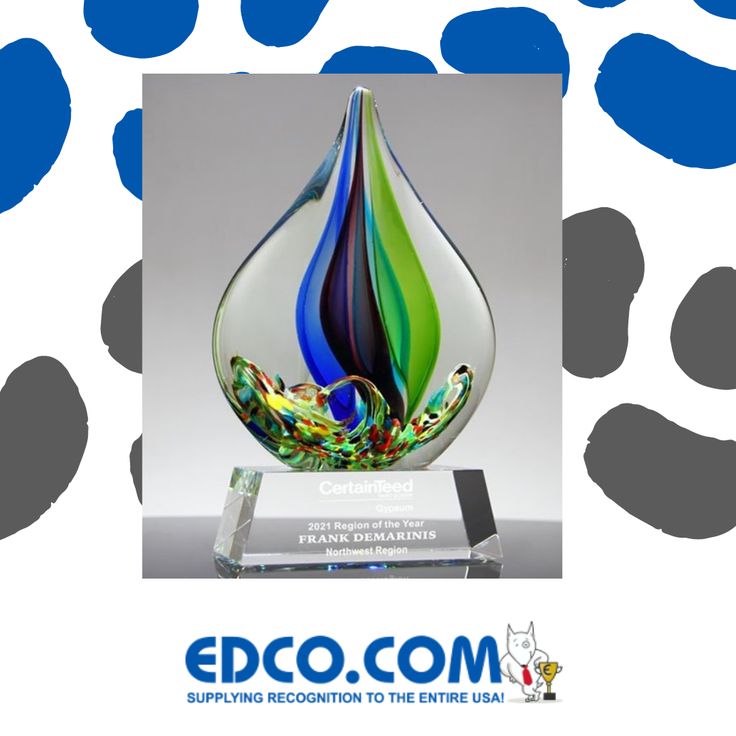 Give a Work of Art
Art glass awards are hand-blown, so each one is truly one-of-a-kind. From spirals to flames, the shapes are unique and created in bright colors that will stand out in any display case or on any shelf. At 17 inches high, the Expression Art Glass Award is one of our tallest personalized trophies, making for an impressive exchange at your awards ceremony. The Vulko Flame Art Crystal is another visually striking option – the deeply colored flame changes from purple to blue, depending on the light!
 In Recognition of a
Lifetime of Service
Congratulations, [Name]
Month XX, Year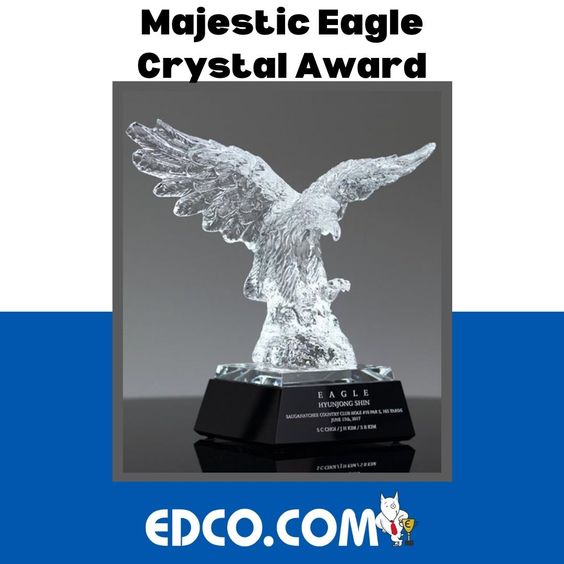 Give a Symbolic Eagle Award
If there was ever a time to present an award shaped like the bird representing freedom, courage, and integrity, retirement is that time. You won't find a personalized award more magnificent than the Soaring Crystal Eagle Award, which shines atop a large crystal base that leaves plenty of room for engraving. Want a timeless design? Go for the bronze-finished Ferocity Eagle Award. We hope your retiree has room on their shelves – it has a 15-inch wingspan!
Soaring Into Retirement
[Employee Name]
XX Years of Service
Or Go a Different Route: Other Engraved Gift Ideas for Retiring Employees
Retirement is a great time to get creative and give a unique gift that really shows how much you've gotten to know your coworker over the years. These are some of our most popular awards, along with the best engraving ideas for each one.
When it's time to recognize the milestone of retirement, don't miss your chance to make the most of it. Retirement is the perfect time to choose personalized trophies that will make an impression and show how much you appreciate your employees.
Find more Retirement Award Ideas here!
About the Company - Why Order Employee Awards from EDCO?
Here is why you should order with EDCO Awards & Specialties:
Responsive in-house team
Been in business for over 45 years
Guaranteed on-time delivery
Highest quality products
Lowest Price Promise
Free engraving & shipping
Additional Resources for Employee Recognition and Appreciation -