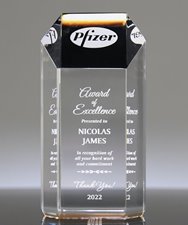 The COVID-19 pandemic changed a lot in the corporate world, and businesses in every industry adapted their "business as usual" processes to be safer for employees, clients, and customers. For many, this meant allowing employees to work from home rather than the office to minimize contact and reduce the likelihood of infection.
Although the times of quarantining and fully remote offices are far behind most, many companies saw the benefits of allowing their employees to work remotely and allowed them to continue working from home even after opening their offices back up. This brought with it new opportunities but also new challenges like how to extend in-office culture to remote employees to make them feel included and boost their morale.
Keeping Remote Employees Connected
Obviously, it's important to keep the morale of all employees high. Higher morale makes employees more engaged in their work and work more productively. They also are less likely to quit or seek employment elsewhere. There are a variety of reasons why a business should strive to keep morale high and employees in good spirits, and while there have been years of insights and experiences that can help when creating a culture like this in an office, there's not much to draw from when trying to extend the same work atmosphere to remote employees.
Most companies don't know where to start when trying to figure out a way to keep teams feeling connected to the larger mission even when working remotely, and, unfortunately, many remote employees won't have very high morale when compared to in-office employees. Thankfully, boosting morale for remote employees is not as challenging as it may sound, and it should fit in perfectly with one of your existing programs. The pandemic made employee recognition even more important than it already was, so include awards specially for remote staff in your employee appreciation program. Recognition awards made just for remote employees will show them how much you appreciate their hard work, and the specificity will make the gesture feel more meaningful. Awards for remote employees won't just boost their morale, they'll also encourage them to be more efficient and more engaged in your company culture.
Are you wondering what the best awards are for boosting the morale of remote employees? Below are some of our favorites and some ideas on how to use them.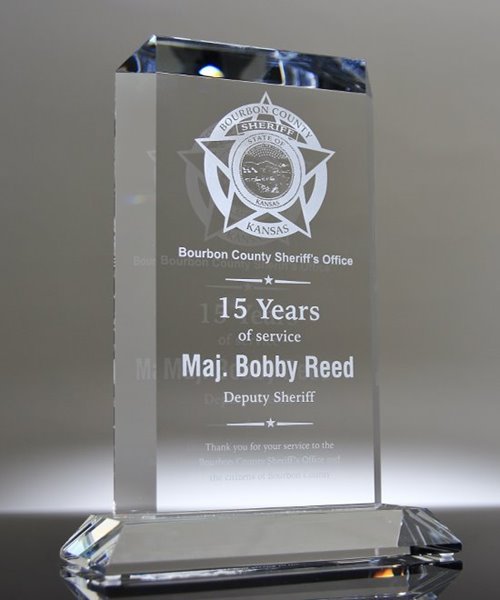 Crystal Service Award Plaque
The Crystal Service Award Plaque is one of the best ways to honor an extremely dedicated employee and something they'll be sure to have on their desk at home. The award is made from a strong crystal material that's not only more durable than glass but also more transparent. Our crystal material also has properties that mimic those of a prism, meaning it's more reflective than glass and sparkles beautifully in the light. Your employee will be reminded of how much you appreciate them every time it catches the light at the right angle.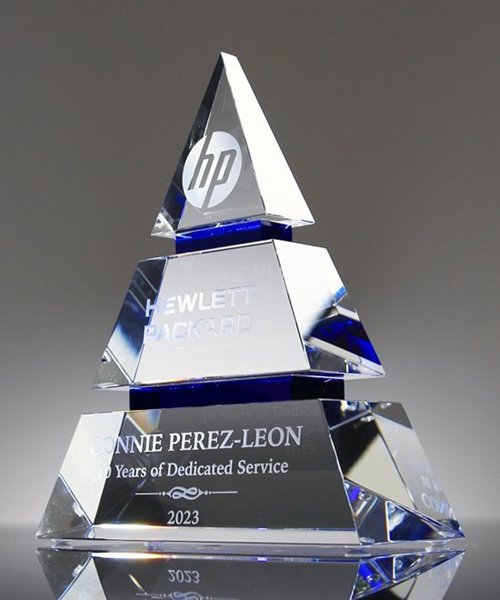 Elemental Pyramid Award
Typically used to recognize employees that exemplify core values, accomplish certain goals, or is quickly rising through the ranks of your organization, the Elemental Pyramid Award is perfect for a variety of uses. It can be awarded to the remote employees that demonstrate your companies values even in a remote setting, a remote employee that consistently rises above and beyond expectations, or your best team leader that works remotely. The award is constructed with a beautifully clear optical crystal and accented with deep blue crystal risers that separate the three separate parts of the pyramid. It's truly a sight to behold that your remote employees will cherish.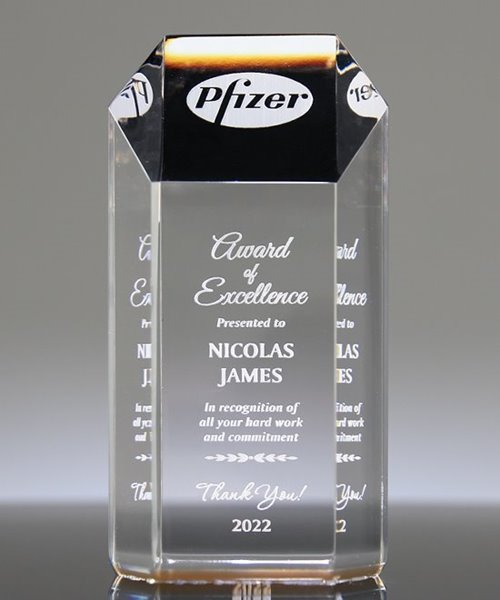 Ambient Gold Acrylic Hexagon Award
Even though it features a classic hexagonal style, this award is anything but traditional. This is mainly due to the injection of gold color that can be seen at the top and bottom of the award and its sub-surface mirror base. Both elements add some visual appeal to the award. Available in two different sizing options, the Ambient Gold Acrylic Hexagon Award is perfect for recognizing outstanding performance in an outstanding way.
Want to find more great award options for your remote employees? Check out our incredible selection of crystal awards, acrylic awards, art glass awards, plaques, and more today!