Employee recognition awards and employee recognition programs do a lot to create and cultivate an encouraging workplace environment for the people on the ground floor and in entry level positions. It shows them that the company truly cares about every one of their employees, no matter what their position is, how many hours they work a week, or how new they are. It also reinforces ideals of meritocracy and work ethic, allowing company culture to become more engaging, competitive, and enjoyable.
Most employee recognition programs tend to put most, if not all, of their focus on these and neglect to recognize the work of those in managerial positions. This shouldn't be the case. While managers have been in a sense "rewarded" and "recognized" for their hard work with a higher position in the company, they still deserve to be recognized for their hard work, leadership, innovation, and more. So, how do you cultivate an encouraging environment among managers?
Awards for Managers to Motivate Your Teams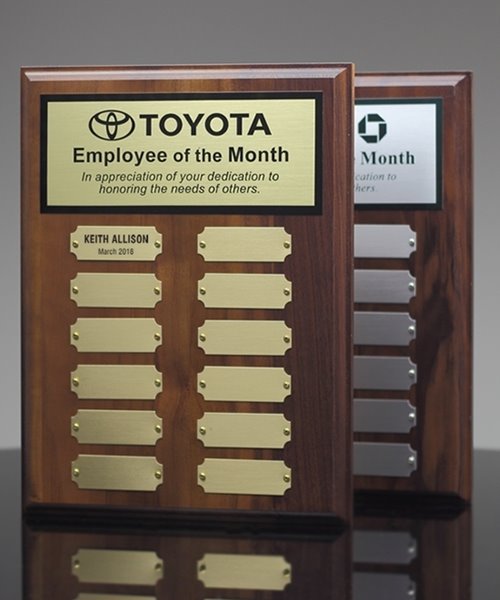 The first step towards cultivating an encouraging environment amongst managers is to have dedicated awards for them. In addition to assigning an employee of the month or innovator of the month award to employees, consider adding a "manager of the month" or "leader of the month" award to your employee recognition program. This will not only show managers that you appreciate them but also encourage them to fulfill their position to the best of their ability.
Managers may compete among themselves to see whose team can rack up the most sales, complete the most client work, or produce the most quality work in a month. This friendly competition can increase the productivity of all the employees they manage, thus making the entire company more productive. The only limit to what kinds of awards you want to bestow upon your managers is your imagination!
Improve Collaboration with Manager One-on-One Meetings & Events
Another way to cultivate an encouraging environment among managers is to conduct regular check-ins or schedule one-on-one meetings to see how they're doing. Managers will often have these types of meetings with the employees they oversee, thus taking on the stress and concerns of multiple other people all the time. This is a lot to put on one person, and managers need an outlet to vent their own frustrations and go over their own concerns as well.
Giving managers the opportunity to have one-on-one meetings where they can do so with a department head, or their direct supervisor will go a long way in making them feel encouraged and supported at work. You may also want to implement manager-only meetings where managers can discuss their frustrations and concerns with others in their position. This not only gives them an opportunity to confide in others like them but also learn from them and discover or share new solutions to common problems they all face.
Because managers deal with a lot on a daily basis, creating events just for them to get away from it all and relieve whatever stress they may have is another great way to create an encouraging environment. Perhaps plan a monthly event for managers like a dinner paid for by the company or a trip to a place like Dave and Busters where managers can unwind and develop bonds outside of work. At the very least, a yearly event for managers should be a priority for any company. Get out of the office and create an unforgettable experience for your managerial team.
Help Managers Level Up Their Skills
Lastly, you should facilitate ways for managers to learn and grow their skills and support them in doing so. This takes a more literal approach to creating an encouraging environment but creating learning opportunities will do more than that. Managers, and all other employees, will thrive and you'll see performance increases when your company becomes an organization that encourages and prioritizes personal growth and development.
Awards for Business Managers
If you've been inspired to add awards for managers into your employee recognition program, there's no better place than EDCO to find them. With everything from crystal and acrylic awards to plaques and clocks, we're you're one stop shop for all things recognition.