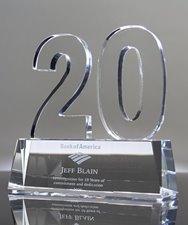 Finding talent that's loyal and dedicated to your company has always been important to succeeding in the corporate business world, especially today with employee turnover rates steadily increasing. Since 2010, turnover rates have increased by an astonishing 88% despite the fact that more and more people enter the US workforce every year. In 2021 alone, 42% of American companies said employee turnover had increased that year, costing them an average of $26,511 in lost productivity. This number can get even higher for larger companies, especially when they must replace highly skilled employees.
It is crucial to create a supportive and engaging work environment where employees enjoy coming to work and can see themselves doing so for years to come. It also makes recognizing and rewarding those who have been with your company for 10, 15, 20 years or more important. You should show them how thankful you are for their years of dedicated work not only because they deserve it but also because it will show shorter tenured employees the kind of treatment they can expect if they work for your company for 10 or even 20 years. But what do you get an employee for 20 years of service?
What Do You Get an Employee for 20 Years of Service?
You likely already have an employee recognition program that includes employee recognition awards in place, but simply giving a long tenured employee a plaque or award alone won't suffice. In addition to a plaque or beautiful crystal service award, these employees should receive other items like a gift basket customized to their tastes and interests, tickets to a special event, gift cards, fun trips, or extra personal days off or paid time off.
There's no one right answer to a question like "what is a good gift for 20 years of service?" and it can depend on what the company can reasonably afford and what kind of passions and interests the employee has. Regardless of how you answer the question "what do you get an employee for 20 years of service?" and the gifts you get an employee for their 20 (or more) years of service, something that will make them even more special is presenting them at a ceremony or special presentation in front of the whole office. This makes it a celebration, something your long tenured employees deserve.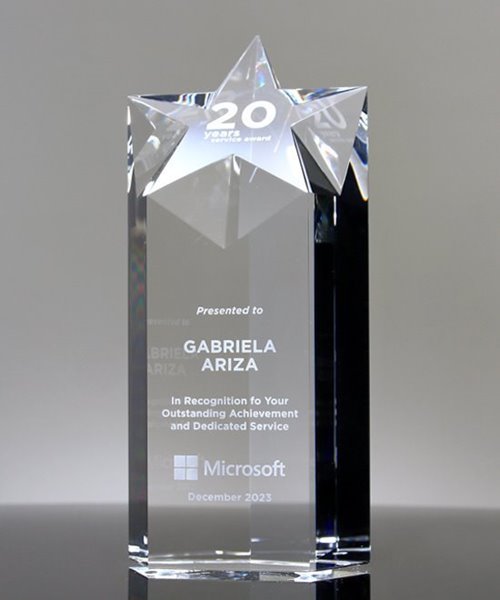 Personalized Employee Service Awards
When deciding what to get an employee for 20 years of service, you should consider how you'll want to personalize their award. Personalized awards will always be received better than a generic one because they show that an employer put a lot more time and effort into selecting the award, and this makes employees feel more appreciated. Every recognition award we offer can be personalized, and each offer several lines of customizable text in addition to space for the employee's name.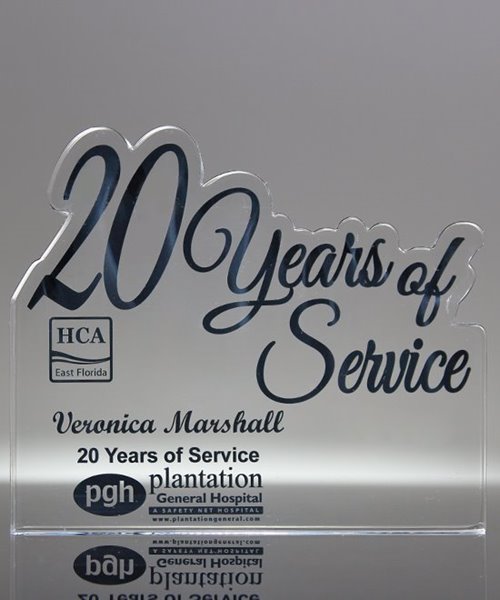 Years of Service Awards
EDCO's years of service awards are made from gorgeous crystal that's reflective, transparent, and more durable than glass. Our Crystal 20 Years of Service Award features a large number 20 elevated on top of a deeply beveled base with room for a company logo in addition to several lines of text for your custom message. It's the perfect way to recognize and commemorate an employee's two decades of service. We also offer years of service awards for 5, 10, 15, and 25 years of service, each with the same large number(s) and beveled base that has plenty of room for personalization.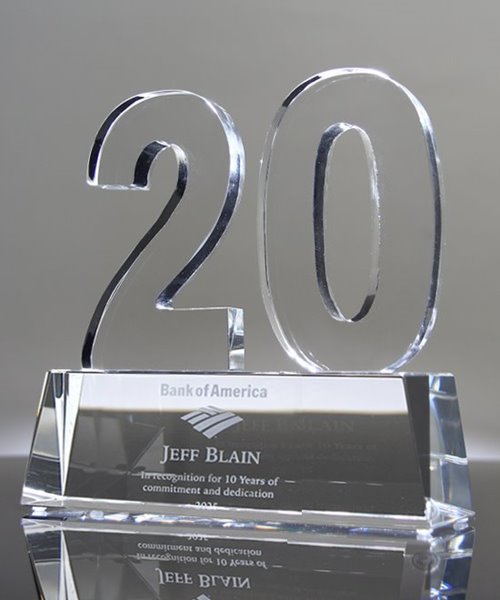 Find Employee Recognition Awards at EDCO Today
As the nation's leader in recognition, EDCO has all the plaques, trophies, and awards you need for your employee recognition program. With our help, you can create a great work culture and engaging workplace that will help you retain your talent for years and even decades to come.