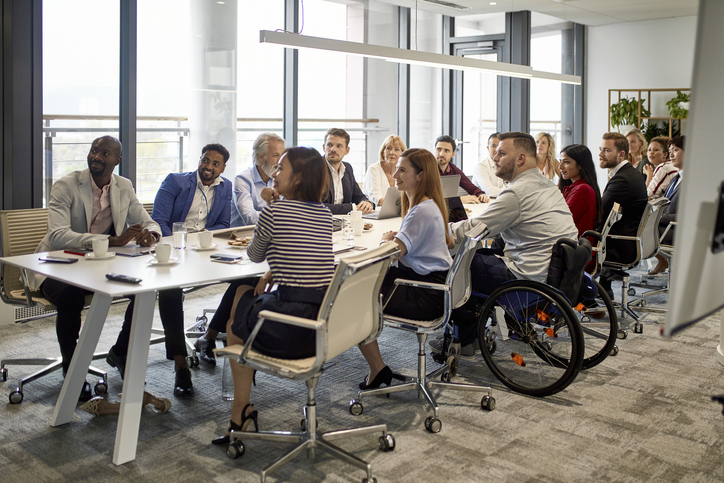 As a manager, leader, coach, or anything in between, demonstrating your ability to see and appreciate value in your team is the easiest way to earn loyalty, trust, and respect. Often, people just want to feel that the work they are doing counts for something. 
At the heart of award-giving is the expression of gratitude for a job well-done. If a group or individual's work is having or has had a positive impact on the success and trajectory of a company, team, or humanity, it should be celebrated with a teamwork award from EDCO.
Creating a Collaborative Work Environment
There is an endless amount of literature on team building, employee engagement, and workplace success. As such, leaders have many tools at their disposal for fostering a collaborative work environment.
Given that different factors drive motivation for each individual, identifying the most effective strategy for fostering teamwork can be difficult.
Some leaders like to use competition as a means of driving performance. This can be effective in many areas like sales or sports, where outcomes are tangible and definite. For more ambiguous or elusive objectives, competition can kill the creativity needed to achieve a goal.
Other leaders might like to take a hands-off approach and let individuals guide each other towards the goals and objectives of the team. It is no secret that empowered employees are those who feel trusted to do a good job without constant oversight. 
This may be effective in building individual motivation but could prove difficult for team-based work. Reminding individuals of their role within the larger picture is essential in fostering collaboration across the entirety of a collective mission.
Use Teamwork Skills to Improve Outputs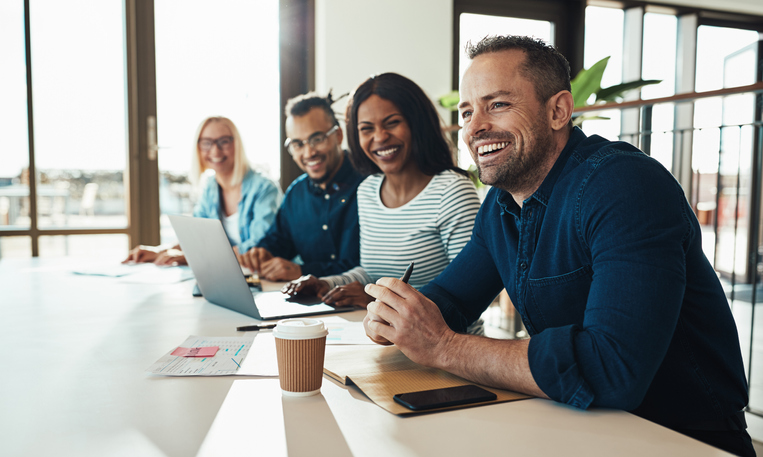 As a leader in the workplace, getting teammates to collaborate effectively can be a challenge. It is not enough for each member of the team to independently achieve their portion of a project. The team must be united by a singular goal and needs to have a good toolbelt of teamwork skills to work well together.
Some of the most essential skills for effective communication and collaboration are:
Active listening: helps with clarification and understanding
Logical argument: allows constructive debate on important project decisions
Respect: keeps civility in team relationships
Questioning: ensures that projects and goals remain in focus and on track
Helping: makes teammates feel supported and valued
Participation: builds a team-centric attitude
Oftentimes, it is difficult to ensure that all team members buy into the goal, mission, or objective of the project. Consistent acknowledgement of individual and group efforts will go a long way in providing motivation and perspective for any task.
No matter which motivational method you use to create a collaborative environment, pausing to recognize the result is paramount in having a well-rounded, cyclical leadership strategy.
Expressing Gratitude to Drive Performance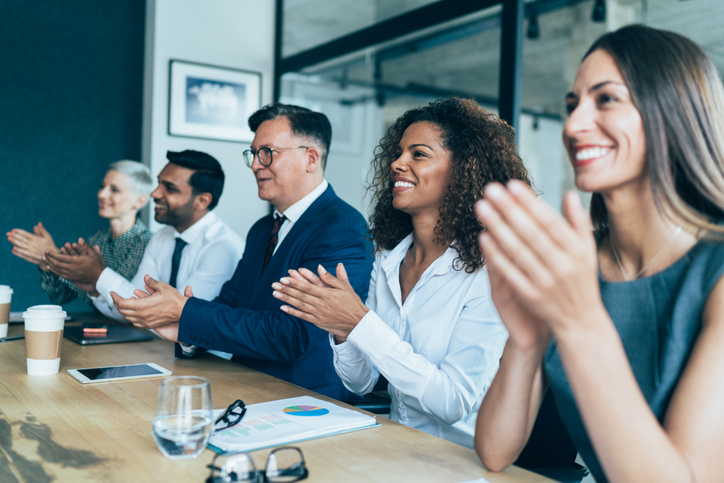 A Gallup poll found that direct supervisors typically provide the most meaningful contribution recognition for employees. By giving out special awards to recognize valuable contributions, you can significantly improve your team's morale and provide increased motivation for employees to perform well. 
Nothing is worse than the leader who pushes and drives results without ever stopping to say, "thank you."
Investing time into your team is essential for driving results. These small investments can add up over time to build something powerful. You should express gratitude frequently, and award-giving is an easy, cost-effective way to make people feel appreciated and valued.
The EDCO line of awards, plaques, trophies, and branded products provides many options for leaders looking to express their appreciation. For teamwork awards, we offer many collaboration-focused products that can still recognize individuals in the scope of their role within a team.
Use Awards to Acknowledge Contributions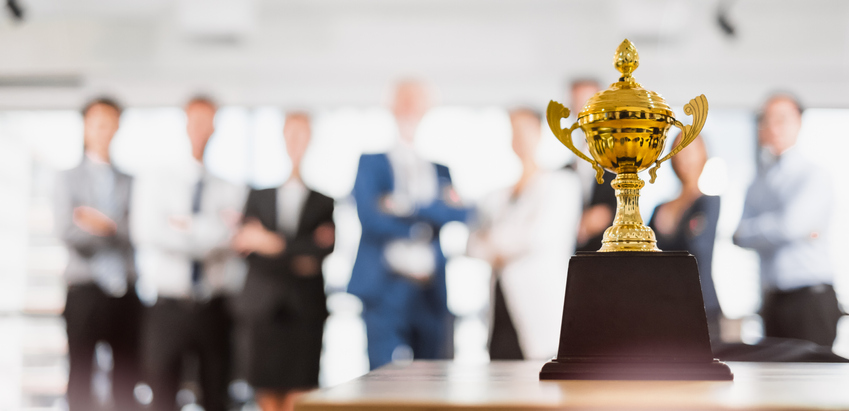 It is important to consistently acknowledge successes so that teams will feel motivated to aim high all year long. From buying lunch to organizing team outings, there are many ways to recognize teamwork.
Collaboration awards are a special way to pause collectively and allow individuals and groups to feel proud of their accomplishments.
Types of Collaboration Awards
Collaboration awards can take many forms, but ultimately you want something that accurately depicts the nature of the contribution.
At EDCO, we have many different award styles and designs that will reflect any type of accomplishment. From team trophies to individual awards, here are some of our favorite styles: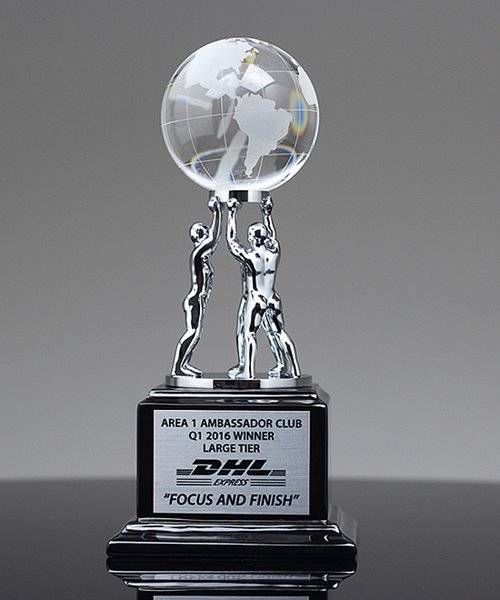 Nothing says: "you've just conquered the world" like a globe trophy. Some projects or tasks feel monumental and larger than life, and a globe award signals these major, lasting impacts. This type of award could be useful for recognizing both individual and/or team efforts.
Our Alliance World Globe Trophy and Team Perspective Award both emphasize a team achievement, while other globe awards symbolize a single person's worldly contribution.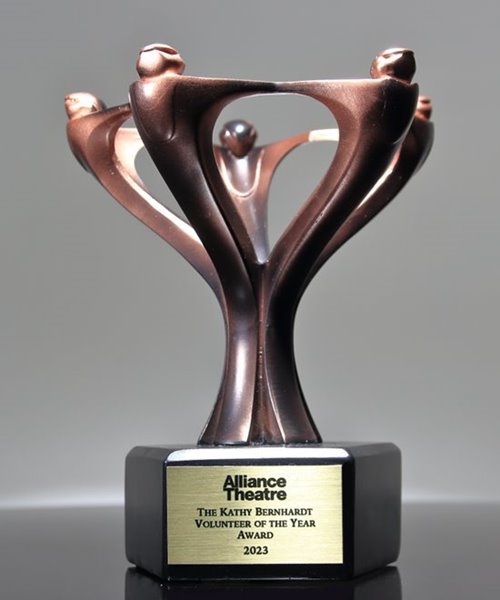 For companies with a focus on the future, modern award designs provide a uniqueness that mirrors innovative contributions.
We offer many minimalist and contemporary awards styles made from sleek metals or metal coatings to fit different budgets. Modern designs like the Stellar Achievement Award or Circle Teamwork Award would be excellent options for teams who have propelled the company further towards the future.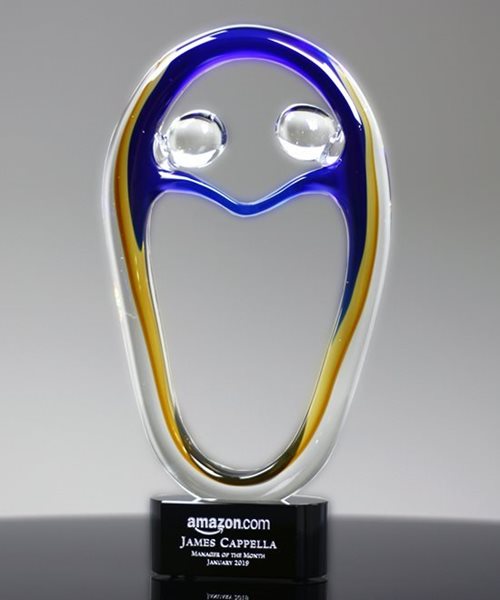 If you want to recognize teamwork contributions on the individual level, figure awards are the way to go. You could even use figure awards to recognize duos that have worked in harmony, as one, to make a significant contribution.
The Team-Up Award and Together Recognition Awards are two of our most popular figure awards. Their classic crystal design is a representation of the lasting impacts of collaboration and teamwork.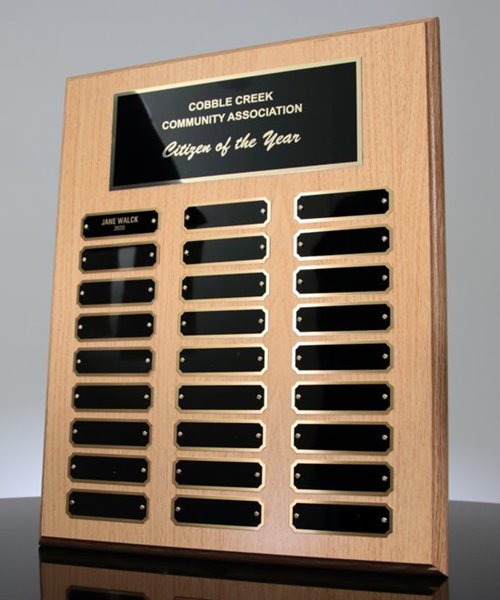 Public achievement recognition can have a lasting impact on an employee's resolve and commitment to their work. Perpetual plaques keep a running list of individuals who have gone beyond the call of duty and made a lasting impact.
Hang them up in your office to acknowledge dedicated employees for years to come and see how they motivate others to work just as hard.
All in all, employee recognition is one of the most powerful tools that leaders have in creating collaborative environments. It is important to find a leadership strategy that works well for your specific team, but acknowledging contributions is what keeps people performing at a high level.
EDCO collaboration awards are the perfect way to express gratitude, and they can go a long way in creating a forward momentum that propels your team into the future.